About Our Karma Yoga Program
As a Karma Yogi, you contribute to the positive and uplifting environment at Ananda Village. The energy and enthusiasm that you bring helps to maintain the high vibration and spiritual focus that our community embodies. Embark on The Inner Journey of the Karma Yogi and see how this magnetic program of simple living and high thinking can transform your reality!
What is The Inner Journey?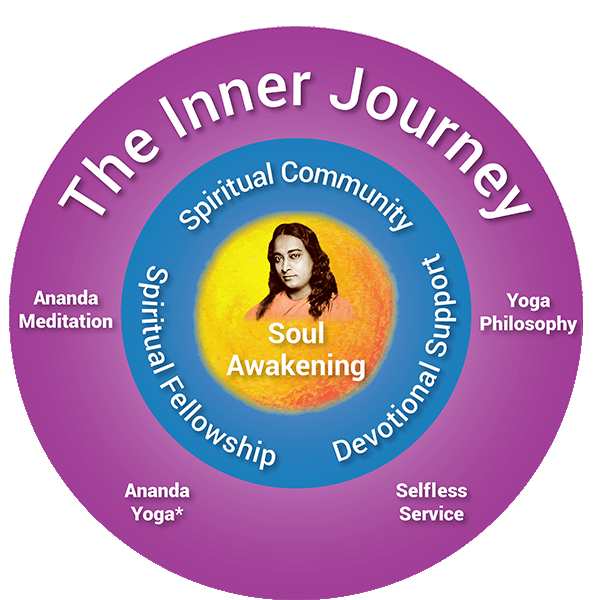 The Outer Layer
Ananda's Karma Yoga Ashram Program facilitates The Inner Journey of the Karma Yogi, balancing outward activity with inner realization. Through Ananda Meditation, Ananda Yoga, applied Yoga Philosophy, and Selfless Service, we gain tools to spiritualize our daily activities. Application of these spiritual principles helps us to dive ever more deeply into our inherent divinity, awakening our soul nature.
Our Daily Spiritual Practices:
Participation in daily sadhana is a required part of your routine as a Karma Yogi. Our twice-daily sadhanas feature Energization Exercises, Ananda Yoga, and Ananda Meditation.
During your stay as a Karma Yogi, you will learn the Hong-Sau technique of meditation, the Energization Exercises, and study The Art and Science of Raja Yoga. These are all stepping-stones on the Path of Kriya Yoga.
Yoga Philosophy: Our study program is structured on The Art and Science of Raja Yoga, by Swami Kriyananda based on the teachings of Paramhansa Yogananda. Raja, or "Royal" Yoga, integrates the yoga paths of devotion, wisdom and selfless service along with deep meditation. Yoga means union. In our daily discussion groups and twice-weekly classes, we explore the different levels of union from the outward harmonization of strength and softness to the ultimate union of our little self with the infinite Divine Self.
Selfless-Service: True Karma Yoga depends not so much on the nature of our actions, rather on the spirit behind our actions. The spirit in which we serve is more important than the service itself. When we act without desire for the fruits of our actions, then we act selflessly. This enables us to let go of thoughts for future and past allowing us to live in The Eternal Now.
What is Karma Yoga?
"Live quietly in the moment and see the beauty of all before you. The future will take care of itself." — Paramhansa Yogananda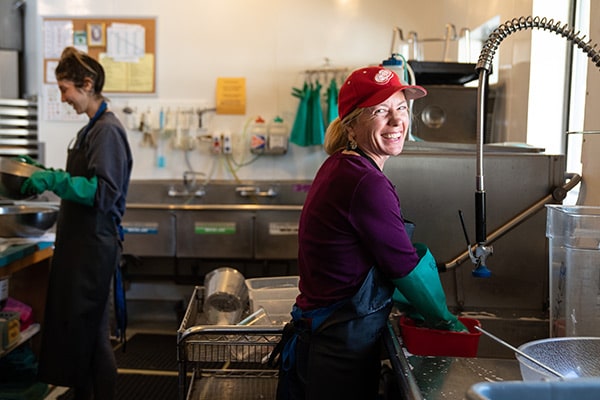 The most basic definition of karma is action. This definition makes karma yoga the path of action. Karma yoga, however, requires more than just running around doing more and more in a frenzy of activity. The attitude with which we act is of supreme importance to the karma yogi. Nishkam karma, or action without desire for the fruits of our actions, is karma yoga. Eliminating desires eliminates the disappointment that all too often results when our desires are not met.
Service in Ananda's Karma Yoga Ashram Program helps us to live more in the moment. Tasks repeat themselves day after day. It is impossible to wash the dishes so well that there will be no dirty dishes tomorrow! All daily chores will need to be completed again tomorrow, and the day after, and the day after, and on it goes. Flowing from day to day, the rhythm of service grounds us in the present moment, with no concern for either the past or the future. This allows us to remain present, focused on our current actions in this moment. The Eternal Now.
"...The [Karma] Yogi, by his selfless actions, develops an awareness of the divine power flowing through him…" — Swami Kriyananda
By acting consciously as a channel for the Divine we realize that it is not how hard we work, but how fully we can express God through our work that is truly important. Seeing God as the Doer cultivates greater Divine attunement. The more we act as God's channel and the more we can express God's joy through everything we do, the greater our happiness and the happiness of others.
"The vessel is blessed by that which flows through it."
The Art & Science of Raja Yoga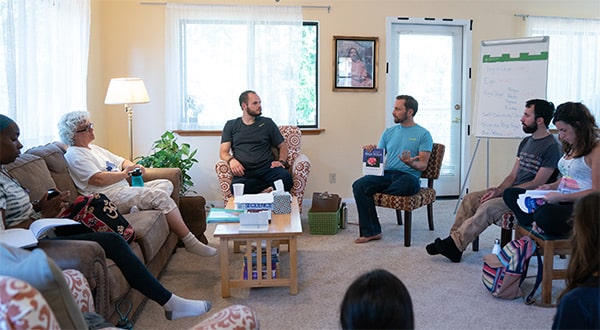 Our course curriculum of yoga philosophy is based upon the book The Art and Science of Raja Yoga written by Swami Kriyananda. Each week we have classes exploring the wealth of information in this book. The themes discussed during these classes carry on throughout the week during morning meetings, assignments, and interactive learning.
Raja Yoga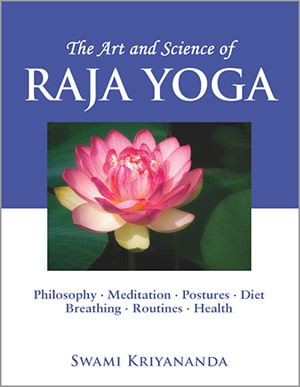 Raja Yoga, or the 'royal' yoga, is the harmonious combination of the paths of Bhakti/Devotion, Gyana/Wisdom, and Karma/Action with meditation. Meditation is integral to the path of Raja Yoga, and for that, we have several specific meditation techniques that were taught by our Guru, Paramhansa Yogananda.
Deep love and devotion to God, as practiced in Bhakti Yoga, is vital to success on the spiritual path, but without meditation, that devotion can turn outward into mere emotion. Meditation without Karma Yoga, or selfless God-reminding activity, may make the yogi become selfish or lazy.
Gyana Yoga, or the yoga of wisdom, is essential because we must use discrimination and wisdom in order to understand ourselves, our desires and attachments, and all the ways in which we can go astray on the spiritual path. Gyana Yoga without Karma Yoga, however, can become mere armchair philosophizing, of no real use.
This is the barest of explanations of how these yogas work together; to help the yogi become balanced, and to integrate their inner spiritual experiences. These diverse practices all serve the real goal of yoga—"union with God", or as Paramhansa Yogananda put it, "union of the little, ego-self with the divine Self, the infinite Spirit."
Swami Kriyananda's The Art and Science of Raja Yoga is an extraordinary guide for people on any spiritual path, and gives a much fuller explanation of Raja Yoga and how the different facets come together to polish the jewel of inner realization.
Guideline and Resources
Guidelines:
Ananda's Karma Yoga Ashram Program functions within an ashram environment. We ask that you help us to maintain our peaceful uplifting atmosphere. To ensure an enjoyable experience for all we ask that you follow these guidelines during your stay:

No recreational drugs or alcohol of any kind while in our program.
Dress modestly. Please check out our "What to Bring List" for clarification on clothing.
Smoking is permitted only outdoors and only on the paved parking lots both out of consideration for our guests and to reduce fire hazard.
No pets on the grounds (with the exception of service animals).
Quiet hours are from 9:00 pm to 9:00 am.
Thank you for helping us to provide a beautiful experience for all that come to our program and our retreat!
Resources:
Suggestions for what to bring for your stay: Printable version of What to Bring List pdf
Transportation:
For information on transportation to our retreat, visit Directions.
We have many resources that we can offer for your transportation. If you have more questions about getting here, please contact our Guest Services Department, they will be happy to help!
The Expanding Light Retreat
Guest Services
(800) 346-5350
Medical Insurance:
During your stay, we require that you have medical insurance. Travel medical insurance can be an inexpensive alternative during your stay in our program. We recommend checking out this website for more information on travel medical insurance.
Daily Schedule, Service Shifts and Housing:
Your Daily Schedule:
As a Karma Yogi, you serve one to two shifts each day either at the Expanding Light Retreat or at another department within Ananda Village. (10 shifts per week). Each shift ranges from 1.5-2.5 hours. During your stay, you will find that you have plenty of free time to enjoy Ananda Village's 700 acres of scenic beauty; including our quaint "downtown" Ananda, our local farms, goat dairy, and Crystal Hermitage Gardens. You may also enjoy taking time to experience local hikes around the scenic Yuba River and explore historic Nevada City.
Printable version: Daily Schedule pdf
Here is sample Karma Yoga schedule:
| | |
| --- | --- |
| 6:30 - 8:00 am | Sadhana (Energization Exercises, Chanting and Meditation) |
| 8:00 - 9:00 am | Breakfast in silence |
| 9:00am – 10:45 am or noon | Breakfast cleanup and class/activity* |
| 12:00 - 12:30 | Meditation |
| 12:30 - 1:30 pm | Lunch |
| 1:30 - 4:00 pm | Karma Yoga service shift* (or free time) |
| 4:45 - 6:30 pm | Sadhana (Energization, Yoga, Meditation) |
| 6:30 - 7:30 pm | Dinner |
| 7:30 - 9:30 pm; | Karma Yoga service shift* (or free time) |
*Karma Yogis have a total of 10-11 service shifts per week.
***Daily Morning Classes:
Monday - "What is Karma Yoga? Video series and group seva; Tuesday -Lessons in Meditation; Wednesday - rystal Hermitage Garden seva Thursday -The Art & Science of Raja Yoga; Friday -Sharing Nature activities; Saturday -Devotional chanting; Sunday -Sunday Service
Your Service Shifts: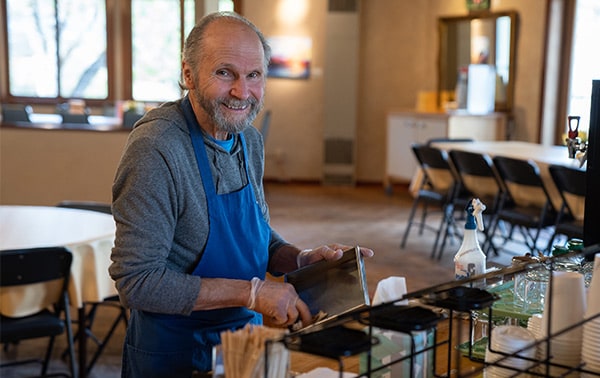 In Ananda's Karma Yoga Ashram Program, individuals help to keep The Expanding Light Retreat running smoothly. Karma Yogis are valued and indispensable members of our staff. Throughout your stay, you will be serving in the following areas:

Housekeeping
Dish washing
Cleaning the dining room
Cleaning the kitchen
Serving with our maintenance department
Assisting the chefs in our vegetarian kitchen
Landscaping
NEW ADDITION
Beginning in the fall of 2021, Karma Yoga Ashram Program participants will begin serving in various areas within the larger Ananda Village community. Depending on availability and scheduling, you could serve in the following departments:

Crystal Hermitage Gardens
Master's Market
Ananda Farm
Temple of Light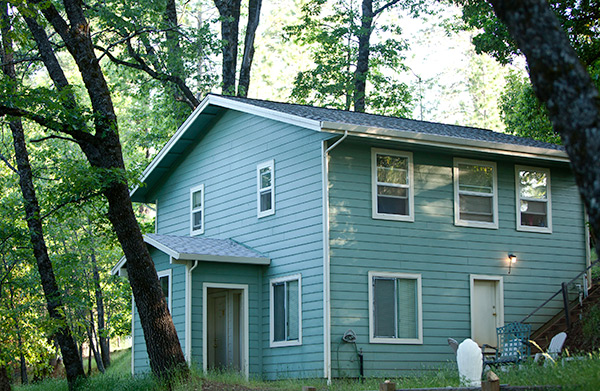 Housing during Your Stay:
Seva House
Seva House will be your place of residence during your stay. Located at The Expanding Light Retreat, Seva House sits right in the heart of your daily surroundings and illustrates community living. In Seva House, there are eight bedrooms with two twin beds each; six of these shared bedrooms are equipped with bunkbeds. During your stay, your room may be shared with another Karma Yogi of the same gender.

Located next to Seva House are our men and women's shower houses.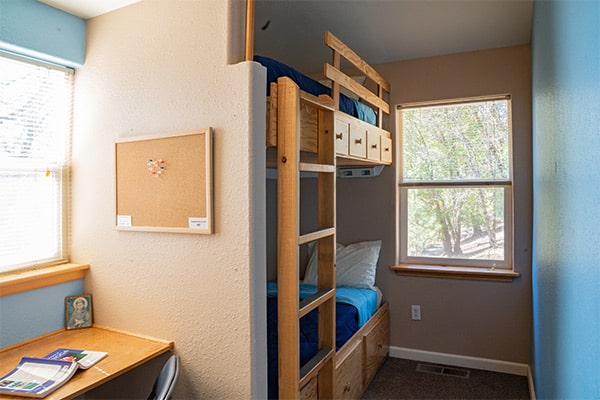 Tenting:
From May-October, you have the option of bringing your personal tent to camp in during your stay. Our designated camping location is situated right next to Seva House.