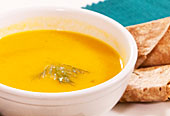 Carrot-Ginger Soup Recipe

a seasonal favorite
Serves: 4 - 5
Autumn, Winter
In a pot or pressure cooker, sauté:
1 cup onion, minced
2 stalks celery, chopped
1-2 cloves garlic, minced
1 tablespoon ginger, peeled and grated (more if desired)

Add:
3 cups carrots, peeled and chopped
2 tablespoons vegetable broth powder
5 cups water
If using a pressure cooker, secure lid and turn to high heat. When pressure cooker comes to full steam, lower heat and simmer for 7 minutes (or as needed according to pressure cooker used).
Turn heat off. Let pressure cooker cool down until it is safe to open.
If using a regular pot, bring to a boil and simmer for 20 minutes, or until carrots are soft.
Allow soup to cool slightly. Dish soup in batches into a blender or use a hand blender and blend in the pot. While blending, add
1 1/2 teaspoons sea salt
1 tablespoon fresh lemon juice
Serve, garnishing with fresh dill.
More recipes
Holistic Health

Receive monthly news and inspiration.
Global Kitchen
Create Healthy, Flavorful Meals with an International Flair