Radiant Health Tip for June: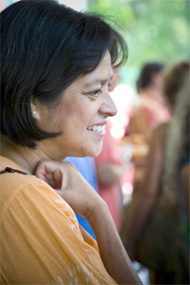 The secret of radiant health is Gratitude for everything that comes to us!
When we make a conscious effort to thank God for everything, it keeps our hearts open, expands and uplifts our consciousness, and keeps us attuned to the Divine Giver. Gratitude keeps our energy flowing freely and makes it easier to feel the love and joy that are our soul's true nature.
Practice thanking God throughout the day for whatever comes to you, especially the challenging things. Then observe your thoughts and emotions and notice the fullness and love in your heart. The next step can be a sharing of this heart-filled, joyful energy as you mentally send it out to bless others. You can focus on people you know who are in need of healing, and/or you can send it out to the world in general, visualizing the blessings of gratitude spreading out to heal hearts everywhere.
At Ananda, we use the word 'God' and other expressions like 'Divine Mother'. Some people feel more comfortable with 'universal consciousness', a 'Higher Power' or another way of describing the Great Spirit. That's okay with us. We don't prosletyze at The Expanding Light; we support you on whatever your spiritual path is. (But we do say God! And we do share proven practices to support spiritual growth.)