Radiant Health Tip for July is Good Company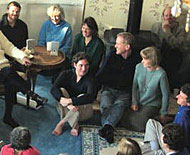 The secret of radiant health is good company. Mix with generous, energetic, deeply concerned individuals; avoid the company of talking zombies. For the company you keep can either magnetize you, or else rob you of all magnetism.
Stop periodically during your day and analyze with whom and what you're spending your time. This includes not only people, but movies, music, news, TV, etc. Seek the company of those people and activities that uplift your consciousness.
Remember to be positive and cheerful yourself and you're more likely to attract that same kind of person. Be good company, and you'll also attract good company.