Radiant Health Tip for December is to


Be More Conscious of Colors
as Channels of Energy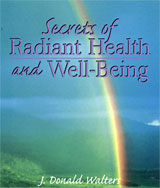 Surround yourself with cheerful, harmonious colors; inhale them mentally.
Shun colors that are dark, muddy, or depressing.
In selecting food, choose foods for their diversity of colors. This diversity will help to provide your diet with proper balance.
From Secrets of Radiant Health and Well-Being, J.D. Walters, 1995