Holiday Yoga Getaway

2 days
There are no dates currently scheduled.
Enjoy an after-Christmas "breather" —literally. With yoga postures, centering breaths, and meditation, you'll reclaim your inner peace and refresh yourself deeply before the coming New Year.
You'll be amazed how restored you'll feel after two days of focused and deep relaxation time. You'll enjoy a glorious retreat that includes:
An evening of Restorative Yoga—yoga postures with the body supported by pillows and blankets, and all you do is relax deeply. Ideal for erasing all traces of holiday fatigue.
Guidance in a practical and inspiring technique of meditation given by Yogananda. An important way to maintain your peace of mind in the coming year.
A personalized yoga postures session to help you get more from your yoga practice.
Through all the classes: how to use the breath for deeper calmness and centering.
A free afternoon to enjoy a healing massage.
This rejuvenating getaway will be led by Surana Van Alstine.
More details about your reservation for Holiday Yoga Getaway

Receive monthly news and inspiration.
Come a Day Early
Relax, Take a Walk,
Get a Massage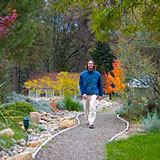 Stay an Extra Day, Relax,
Absorb Your Experience