Ananda Chair Yoga

Feel immediate benefits from this daily energizing routine!
2 days
There are no dates currently scheduled.
Experience a Yoga routine you can do— stretch and strengthen your body, and feel the joy of energy.
As you become more flexible, your circulation will improve and you'll reduce the chance of injury.
Maintaining strength and flexibility is important for health, and is essential for returning to an active, pain-free lifestyle.
Learn how yoga can be easily adapted to your body's limitations. Yoga is known worldwide for its wonderful, healing benefits and is an important element to relieving daily stress.
In this midweek course you will learn:
A simple warm-up routine to increase flexibility and muscle tone
Exercises that can be done in a chair
How to modify postures for any injuries, physical weakness, or stiffness you may be experiencing
Breathing, energizing exercises and short meditations that will help you relax and increase endurance
Affirmations to help you bring more positive energy into every day
A personalized daily routine to take home
Uddhava Ramsden, your course instructor, began teaching yoga in 1996 with a focus on extra-gentle yoga for seniors and special needs. The class size will allow him to help with each student's unique situation, so yoga will be comfortable and enjoyable for you and still give you the often life-changing benefits. This course will inspire you to use these postures as a regular part of your day.
Treat yourself to this healing, transformative, and fun weekend!

Receive monthly news and inspiration.
Come a Day Early
Relax, Take a Walk,
Get a Massage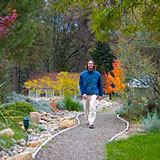 Stay an Extra Day, Relax,
Absorb Your Experience