Creativity Workshop

4-day weekend
There are no dates currently scheduled.
Have you been feeling stressed or pressured or too boxed in lately? Let yourself break out and play. The focus of this retreat is to help you open to your own creative power and joy through playful exercises with painting, collage, writing, and movement.
During this weekend you can drop self-judgment in a safe environment, have fun, and feel free to discover parts of yourself that may need expression or healing.
Your weekend will include:
Playing with color through painting both on paper and on wood
Guided painting exercises that help release your own creative flow
Energizing free and structured movement
Creative Writing activities that tap into your originality & imagination
Carianne James and Nayaswami Nefretete Rasheed, Ph.D. team up to co-facilitate this special weekend.
Carianne is an accomplished painter, artist, and artisan, who's been teaching art and creativity classes to adults, children, and teens for the past 12 years. Her "out of the box" techniques help people loosen up and drop their self-judgments and feel a joyful, creative flow. Her style is playful, non-threatening, and affirmative.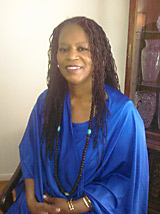 Nefretete hails from the East Coast and has received awards for her work in theater and poetry. She has a rich and varied background in the arts and has conducted many workshops and classes using writing, movement, and drama.
You are welcome to continue your weekend after Sunday lunch, by reserving for one or more days on Personal Retreat. We hope you'll join us for this fun and rejuvenating weekend!
Here's a comment from Cheryll of Nevada City, CA:
"I had a great experience in Carianne's art class. She is not only a talented teacher, she is organized, creative, knowledgeable, and fun!! Her class uncovered my love for painting and also left me feeling nurtured in body, mind, and soul. Thank you, Carianne, for enriching my life!"

Participant comments from Nefretete's workshops:
"Thank you again for putting together such a relaxing, informative, and inspirational retreat. I'm glad to know you. I do hope you'll do a retreat again!"
-Shirley, D., CA
"Thank you for everything you did. It was tremendous, magical, perfect."
-Dana M., NJ
"Not only did I have a great time. I learned a lot!"
Nicholas B., CA
More details about your reservation for Creativity Workshop

Receive monthly news and inspiration.
Come a Day Early
Relax, Take a Walk,
Get a Massage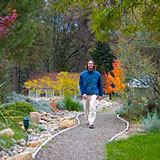 Stay an Extra Day, Relax,
Absorb Your Experience