Enlightened Aging

2-day weekend
There are no dates currently scheduled.
Life is a school, and we're getting close to graduation! It's time to celebrate the learning of a lifetime and all that we've become through it. It's a time to celebrate the potentials within us for making the very best of this special time of life.
We've done a lot of learning on the battlefield of life, and now we're free of some of those major battles (acknowledging of course the joy that we found through those years of family-raising and income-earning).
In this last phase of life, we want to strengthen our connection with God. This workshop will help us get in touch with the many ways we have been living in God and may never have appreciated. It will help us open to new levels of spiritual understanding.
We will have "the time of our lives" together, celebrating how far God has brought us at this point and looking at the opportunities ahead.
We will focus mostly on the "retirement years," with their many interesting possibilities for living happier and more fulfilled lives.
After an explanation of the Yuga Cycles, we will use them as an analogy to trace our individual journey in this lifetime from descending Satya Yuga to ascending Satya – a road from our youth, with its varied learning experiences and adventures; through the years of being absorbed in the mental and material aspects of life; on to a place of awakening to a larger vision; and eventually to the fourth stage: The time and space to pursue our heart's longing for a deeper connection with the Divine.

The weekend will include time for devotion, discussion, inner exploration, and a visual presentation, allowing us to go more deeply into ourselves and our relationship with God.
Saturday afternoon, we will expand our knowledge and thinking about the 4th Stage, guided by a panel discussion with an exciting group of wise, "maturing adults" who have great experiences to share on such questions as: "How do you know God exists?" and "How are you using this knowledge in your life?'
This workshop will be led by Nayaswamis Janakidevi and Byasa Steinmetz, two long-time Ananda members and ministers. Janakidevi, a wife, mother, and grandmother, retired from an active life in the world, which included stints at two different East West Bookshops, first in Menlo Park and later in Seattle. Meanwhile she earned a degree at the Institute of Transpersonal Psychology and did spiritual counseling as a part of Ananda for many years. Byasa retired from his work in astronomy and technology and has gone on to a variety of careers, including lecturing, writing, researching, and most recently, teaching at the Ananda College of Living Wisdom. As part of their work with Ananda, they have traveled widely to such places as India, Italy, Egypt, and Peru.
More details about your reservation for Enlightened Aging

Receive monthly news and inspiration.
Come a Day Early
Relax, Take a Walk,
Get a Massage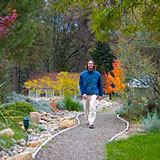 Stay an Extra Day, Relax,
Absorb Your Experience