How to Be Happy All the Time

There are no dates currently scheduled.
We all want to be happy. However, happiness is often elusive, sometimes there and then where did it go? What is the secret key to lasting inner happiness?
During this weekend retreat to discover happiness, you will:
Get in-depth instruction to help make meditation part of your life, and discover meditation's role in true happiness
Outwit the happiness "thieves"
Learn how to strengthen your mind to make better choices
Learn how to feel connected to higher awareness
Enjoy a nurturing retreat, with gentle yoga and meditation daily, in a restful environment with delicious vegetarian fare
You will also gain strategies and tools for handling difficult situations with other people. Learn how to:
Experience more harmony in yourself and in your relationships
Protect yourself from negative energies
Learning moment-to-moment habits that promote happiness
How to take all that you have learned home with you and keep it going
You will receive as part of this course, How to Be Happy All the Time by Paramhansa Yogananda. We will use it as a resource throughout the week.
Take a retreat, and return home happier, healthier, and stronger!
What Others Are Saying:
"The most important condition for happiness is even-mindedness, and here the author of Autobiography of a Yogi brings some of this sense to a treatise on how to be happy under virtually any condition. From identifying habits, thoughts, and practices which steal from happiness to understanding simplicity is the key and sharing happiness with others, How to Be Happy All The Time: The Wisdom of Yogananda, Volume 1 is a fine starting point for reaching contentment."
—Bookwatch
From our guests:
"I have joy in my heart that I had forgotten could exist. I have a new appreciation for my life. I have changed forever and while I am grateful, I wish I had done this long before now. Nothing will ever be the same. Thank you for being there to help me save myself."—Nancy, Spokane, WA
More details about your reservation for How to Be Happy All the Time

Receive monthly news and inspiration.
Come a Day Early
Relax, Take a Walk,
Get a Massage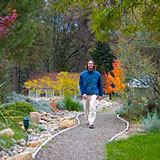 Stay an Extra Day, Relax,
Absorb Your Experience