Painting Magic Into Your Life

There are no dates currently scheduled.
One of the secrets of

creativity

is to live in the moment, and in the work of the moment. A work of art must be a projection outward from one's center within.

Swami Kriyananda, from Art as a Hidden Message.

Come ignite your creativity with Carianne James as you play with paint, pastels, collage and more. Carianne will guide you through a layering technique using paper, writing, stamps, and paint that is both a really fun process as well as creates beautiful and often whimsical art.
You will clarify personal vision and intentions that you would like to bring into your life and which will be brought into your art. This method of creative play combined with intention is surprisingly powerful as well as incredibly joyful. You will leave feeling more alive, creative, and enthusiastic about your life.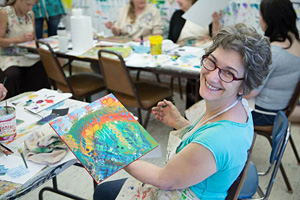 "Carianne's events are always fun and fulfilling. She has guided me to tap into my inner artist, thus I know myself better and can express my joy in this world. Carianne is great at working with a group and seeing that each individual finds their own means of creativity. I greatly appreciate her willingness to share her talents with me and to always make me feel loved and accepted right where I am!"
—D.B., Nevada City, CA
"Carianne is an inspired, nurturing, and intuitive art teacher. She is guaranteed to boost your confidence and help you expand!"

—D.F., Nevada City, CA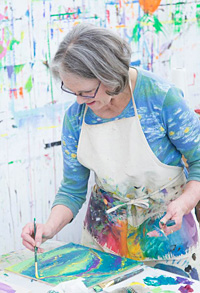 Carianne is a long-time member of Ananda Village, and is the Visual Arts Director for The Living Wisdom School. She teaches creativity workshops for 5th through 12th graders as well as for adults —helping and inspiring them to shed layers and awaken their creative spark. Her out-of-the-box approach is fun, playful, and unintimidating as well as uplifting.
"When I paint, I ask to be a channel of joy into whatever I'm about to create. I often have no idea what I am going to create, and I let the process unfold. Of course, it's not always easy! It gives me great pleasure to share this process with others and see the creative joy awaken in each student."
—Carianne James
More details about your reservation for Painting Magic Into Your Life