Ananda's Anniversary and 40th Anniversary of Education for Life Schools

3-day weekend
There are no dates currently scheduled.
Discover and experience the principles behind Ananda, one of the world's most successful intentional communities. If you're interested in communities, join us! If you're interested in making your life more harmonious and inspiring, join us!
This year, as we also celebrate the 40th anniversary of Ananda's Education for Life Schools, you'll learn about education for the whole person…education that can enrich your life at any age.
This weekend will effervesce with great fun, joy, and practical wisdom. We hope to have Swami Kriyananda heading the weekend. You'll also enjoy the lively wisdom, stories, and humor from a panel of Ananda School teachers, graduates and parents, keynoted by Nitai Deranja, the founding director of the Ananda Schools.
Refresh your own education with extremely useful insights for students-of-life of any age! For example, how to:
Relate sensitively to other people's realities
Focus attention, concentrate, and ignore distractions
Stay even-minded and cheerful amidst life's challenges
Speak and behave in tune with inner truth
Your weekend will include:
Thursday, June 28
Orientation led by Ananda's Spiritual Directors, Nayaswamis Jyotish and Devi
Friday
Morning: Keynote talk by Nayaswami Nitai, and talks by Ananda School alumni and their parents
Afternoon: Learning Education for Life through Games and Activities; Applying Education for Life for Everyone
Evening: Kirtan led by the Ananda students' White Light Kirtan group
Saturday
Morning – Swami Kriyananda (health permitting) speaking on the communities movement and Education for Life
Afternoon – Talks by Education for Life teachers
Evening: Videos of Education for Life Schools around the world
Sunday
Sunday Service led by Swami Kriyananda or Nayaswamis Jyotish and Devi
More details about your reservation for Ananda's Anniversary and 40th Anniversary of Education for Life Schools
Special Events

Receive monthly news and inspiration.
Come a Day Early
Relax, Take a Walk,
Get a Massage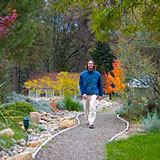 Stay an Extra Day, Relax,
Absorb Your Experience