Meditation Course Testimonials
How to Meditate Retreats
My experience at The Expanding Light, twice daily energization / yoga / meditation, nutritious and delicious food, and the energy of The Expanding Light reignited my personal spiritual practices, which, now two weeks later, I still maintain at a higher level than ever. Thank you!
– Terry, Carson City, NV
I enjoyed everything! The food is wonderful, the sadhanas were inspiring and invigorating, the facilities were clean and welcoming, the staff is friendly, helpful and kind. I loved my class. I feel I can attempt meditation now on my own and then come back for "tune ups."
– Kathryn
The peace and love that pervades the entire community is testimonial (eloquent) to the workability of the philosophy you embrace. Refreshing, inspiring!
– Wilma, Los Osos, CA
I rediscovered a peacefulness I had lost, my yoga improved, I met wonderful people, the instructors were wonderful, were beautiful people, and gave me the assurance from their modeling that I can continue to have the gifts I received here continue on in my life. I am grateful and appreciative for all their gifts of acceptance and love.
– Joanne, Culver City, CA
I love this place and keep it in my mind and heart as a place I go when I need refreshment.
– Stephanie, Mountain View, CA
It is not easy to describe this experience. Obviously, I am on an inward spiritual journey, or I would not be here. This experience has helped me in my journey.
– Marsha, San Antonio, TX
The spirit soars here. If you have ever wondered what it would feel like to fly, come try your wings here.
– Beth, Cheyenne, WY
My experience was very calming. I love that I feel free to do almost anything. The nature and the vegetarian food makes life complete.
– Philip, Piedmont, CA
Our teacher kept a balance between teaching and leading us in practicing meditation and answering our questions, as we sought to understand yoga and meditation on our way to making meditation a "lifestyle."
– John, Oakland, CA
Meditation Programs Scheduled:
Meditation

Receive monthly news and inspiration.
Come a Day Early
Relax, Take a Walk,
Get a Massage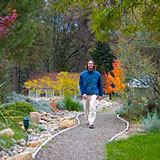 Stay an Extra Day, Relax,
Absorb Your Experience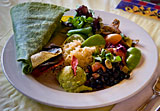 Three delicious and satisfying
vegetarian buffet meals are included
with the cost of your stay