Upcoming Chakra Retreats
Balanced Energy Brings Inner Clarity & Peace
Over our 40 years of sharing the teachings of Ananda Yoga and Ananda Meditation, we have also become experts in sharing about the chakras system. We offer four different and outstanding retreat weekends that focus on the chakras from different approaches: a basics retreat weekend, an Ananda Yoga asana weekend, a weekend with Mantradevi about relationships and the chakras and a NEW program with Diksha about opening the Chakras for deeper intuition.
In each retreat weekend our experienced and positive teaching staff will guide you through direct experiences of the chakras on progressively deeper levels. Learn HOW your chakras were made; WHAT they are made of; WHY they were made; and most importantly, how you can harness their energy and use it for further personal and spiritual growth.
Everyone has a need for harmony, love, openness, communication, and deep friendship in all relationships. Subtle energies often guide the success or difficulty in relationships. Your chakras hold important information, and can be the key to self-understanding and self-transformation.
Locate and un-block your chakras
Increase the flow of life-force in your astral body
Use your core energies for healing of body and mind
Your chakras hold the keys to personal and spiritual transformation. Come and join us for one of these uplifting weekends!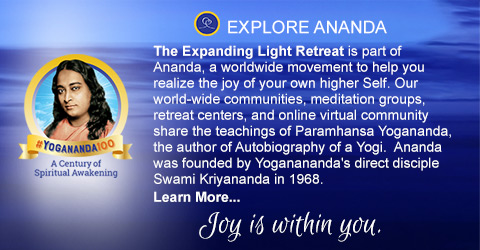 CONNECT
14618 Tyler Foote Rd
Nevada City, California 95959
Toll free 800-346-5350
Outside US 530-478-7518
SUBSCRIBE
Receive uplifting emails with inspirational content and news about our retreat programs, travels, and trainings.