Yoga Teacher Renewal

4-day weekend
There are no dates currently scheduled.
Special: Donation-only basis for RYT's and Ananda Yoga teachers
Open to all yoga teachers
Renew yourself—and your teaching—in the spiritually charged ashram environment of Ananda Village. This "yoga teachers only" experience offers professional training, personal deepening, relaxation, quality time with your peers, and universal appeal for all yoga teachers.
The core of your experience will be rejuvenation and inspiration, including: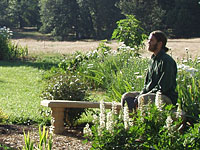 Twice-daily sadhanas (sessions of spiritual practice, featuring Ananda Yoga, meditation, and the Energization Exercises of Paramhansa Yogananda)
A dynamic kirtan (chanting)
Ananda restorative yoga
Sunset walks to scenic Rajarshi Ridge
Sharing with other yoga teachers (including organized discussion)
Massage or energy work (extra cost)
Enjoying nature's beauty in the Sierra Nevada foothills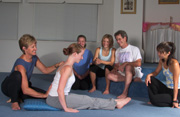 Your workshops and practice sessions will be led by some of Ananda's finest teachers from throughout the West Coast.
Experience how to tailor asana practice to one's Ayurvedic constitution
Creative meditation — freshen your practice while staying with tradition
Teaching chair yoga (not just super-easy; also for challenging poses in which you need to work around an injury)
Experiencing the Bhagavad Gita through asana & meditation practice
Teaching students with total hip replacements
Gain new insights into how to apply the Yoga Sutras to asana practice.

Additional Benefits
Through this retreat, you can fulfill Yoga Alliance's entire 3-year continuing education requirement for RYT's and E-RYT's.
If you are interested in entering Ananda's Level 2 Yoga Teacher Training track, you can use this retreat as Part 1 of Bridge to Ananda Yoga, in which case certain sessions during this retreat will be mandatory, including the very first session; please notify us in advance of your intention.
Please note: The first workshop/practice session begins on Wednesday, June 6 at 4:00 pm. If you are coming from a distance, we recommend that you arrive by Tuesday (see "Extending Your Stay" below); otherwise it may be difficult to arrive and get settled by the first session, which will be especially valuable for those not familiar with Ananda Yoga.
Extending Your Stay
If you are coming from a distance—or if you'd simply like more time for renewal—we encourage you to come early or stay on after the retreat ends for some Personal Retreat. You'll enjoy guided Ananda Yoga practice sessions every morning and afternoon. If you are in the donation-basis category described above, your additional days qualify for a 20% discount on our usual Personal Retreat rates.
Ananda is a worldwide movement to help you realize the joy of your own higher Self. It is based on the teachings of Paramhansa Yogananda and was founded by his direct disciple Swami Kriyananda in 1968.
Learn More...

CONNECT
14618 Tyler Foote Rd
Nevada City, California 95959
Toll free 800-346-5350
Outside US 530-478-7518
SUBSCRIBE
Receive uplifting emails with inspirational content and news about our retreat programs, travels, and trainings.