Ananda Yoga Therapy Private Sessions Online
Do you have some personal health issues? Back or joint pain, low bone density, high blood pressure, autoimmune illness, anxiety/depression, stress? Combining ancient practices with modern tools Ananda Yoga® Therapy can help with these and other conditions by unlocking your natural ability to heal.

Ananda Yoga® Therapy uses personalized yogic movements and uplifting mind-body techniques to ease symptoms, prevent further flare-ups and bring an improved sense of well-being. Ananda Yoga Therapy empowers you to access deeper levels of your being, where health challenges originate.
Scientific studies have documented over 100 health conditions that benefit by yoga therapy.
Private sessions will help you gain a valuable perspective on your health, learn a practice routine designed for you to use at home and receive the support and tools you may need to adapt that practice into your lifestyle thereafter.
Group classes offer you a peaceful and supportive environment to experience powerful techniques made accessible for everyone to increase your level of wellness, mentally, physically and spiritually.
Our staff of Ananda Yoga® Therapists are certified by the International Association of Yoga Therapists and bring a high level of expertise to their client sessions, addressing all levels of wellness: body, mind, and spirit.

Our tools include:
Yoga asana (postures), postural alignment
Stretches and strengtheners
Pranayama (breathing exercises), relaxation, visualization
Restorative yoga, chakra awareness, and basic Ayurveda
Energy healing and Energization Exercises, control of life force
Positive attitude and affirmations
Chanting, mantra, gratitude, and prayer
Meditation
OUR GOAL: To greatly improve your health on all levels, empower you with tools for a more vital and happy life and help you find doorways that can lead to greater inner fulfillment on your spiritual journey.
ONLINE Private Sessions
ONLINE Private sessions are easy to schedule and have many benefits which in-person sessions have.
Our professionally trained staff will work with you in advance of your first session so you have the props you will need.
Choose from many online ways to connect: SKYPE, Google Chat and more
Initial session is 1.5 hours
Follow-up sessions are 1 hour
Enjoy 15 minute mini-consults

Our Staff
Ananda Yoga Therapists are highly skilled yoga teachers with over 800 hours of additional training (beyond their initial 200 hours of training as a yoga teacher) in how to help individuals with specific health challenges through the application of yoga techniques and principles. In addition, our staff of Ananda® Yoga Therapists dedicate themselves to their own personal evolution by following the path of Kriya Yoga recognizing Self Realization as the highest form of self-healing.
Our yoga therapist, Melody will help you develop a routine of easy yoga postures, breathing exercises, and relaxation/visualization techniques suited to your individual need.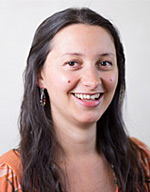 Melody Hansen
Melody is a Certified Yoga Therapist, and she teaches Ananda Yoga Teacher Training for the Ananda School of Yoga & Meditation. She offers therapeutic yoga for private sessions and groups. She has been practicing yoga since she was 14 years old, and has developed a very deep personal understanding of many areas of yoga for wellbeing. She is an extraordinary yoga teacher, who conveys her great knowledge of yoga asanas, physical mechanics & spiritual upliftment with graciousness, authority, and fun. One of Melody's greatest strengths is the purity of her transmission of Yoga. She is registered at the highest level through Yoga Alliance, as an E-RYT500 (Experienced Registered Yoga Teacher).