Spiritual Counseling Services
You can grow stronger and happier, and your inner life can flourish

with the support of a trained and caring spiritual counselor. This challenging time holds profound potential for each of us to connect with own higher consciousness. Our experienced and uplifting counseling staff are here to listen to you and help you cultivate your own intuition.

Our approach to working with you
Our professionally trained and experienced counselors will provide specific suggestions to help you reinforce new attitudes, to help you become stronger through daily practice.
We want to help you:
Listen to, and assess, your intuitive feelings
Explore possible solutions, to move beyond being overwhelmed by the challenges you face
Recognize subconscious, conscious, and superconscious thinking - to learn what blocks you, what energizes you, and what leads you forward
Learn to ask questions that will open doorways for you
Learn how to find solutions for your challenges
Our spiritual counseling works well for people who:
Have a spiritual approach to life
Feel that there is a higher Goodness or Power within them and they want to access their innate divinity to promote change
Already have a practice of meditation or prayer
Are open to learning a basic meditation you can begin to use (if you don't already have a practice)
Are open to looking at what can be done now to help lift and free your energy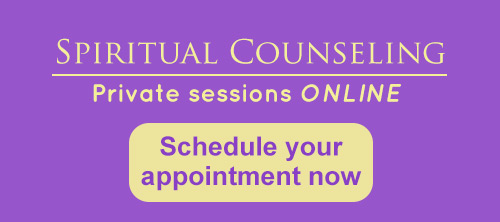 We can be most helpful to people who have time and a personal commitment to their spiritual growth
Would you like to:
Work daily to release habits of blame, hopelessness, or negativity that have drained your energy and made you feel stuck?
Work with new, good habits? - To explore the positive within you and let that become strong enough to overcome the negative.
Stay open and responsive to our counselors questions discovering a doorway to allow your energy flow in a positive direction.
Seek the sliver of light in whatever darkness you face. By clinging to that light, you will discover your pathway to a new experience of life. Even if your circumstances remain the same, you can become a different person within them.
We can help you change and grow
Our challenges, if we view them in the right way, can be the steppingstones to our greatest strengths. Blaming ourselves, blaming others, or self-pity – all of these, even when they seem unavoidable – are great obstacles for us in our journey. We will release these, with the awareness that the obstacles we face are meant to make us stronger in ourselves, freer, and greater in our soul nature.
We have to know that we can change ourselves. We have to know we are meant to change and that our unique life was created as the perfect vehicle to help us grow. Everything in our past lies in the world of the subconscious. As we bring stronger, clearer energy to face situations as important opportunities for changing ourselves, old energy can often be changed quickly and we can become free.
ONLINE Private Sessions
ONLINE Private sessions are easy to schedule
Choose from many online ways to connect: SKYPE, Google Chat and more
Initial session is 1.5 hours
Follow-up sessions are 1 hour
Enjoy 15-minute mini-consults
Our Spiritual Counselors
Diksha McCord
Nayaswami Diksha has a deep and broad background that has enabled her to help many people troubleshoot meditation issues, find ways to overcome life challenges through meditation, and build a regular, ever-deeper meditation practice. Diksha is known for her ability to discern what will be most helpful and rewarding for every individual she works with.
She has served at the Expanding Light Retreat for 30 years, teaching many aspects of yoga and meditation and counseling hundreds of guests and visitors. Along with her husband, Diksha led many spiritual retreats in different parts of the world.
She developed the Ananda Spiritual Counseling Training in 2005, and taught it in person, for many years, at the Expanding Light Retreat.
Nayaswami Diksha has taught meditation and trained meditation teachers and yoga teachers for more than 20 years. Now, she teaches a variety of courses online, including directing Ananda Spiritual Counseling Training online. She also co-directs Ananda Meditation Teacher Training online.
Nayaswami Mantradevi
Nayaswami Mantradevi guides truth seekers with insight, clarity and joy, gained from her over 35 years of meditating and sharing yoga philosophy. As a spiritual counselor her concern for others is a key spiritual quality that underlies her innate ability to communicate with those dealing with real life situations on their spiritual path. Her wisdom is both grounded and creative as she creates a caring aura around those she listens to and guides.
In her roles as an Ananda Community leader, spiritual travel host, retreat workshop teacher, and artist, she has come in contact with thousands of people seeking to live by yogic principles. Working with others with a wide variety of life challenges she has time and again seen how the healing wisdom of Paramhansa Yogananda can shed LIght and Love in all situations.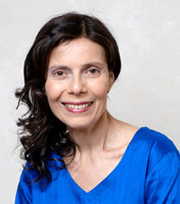 Diksha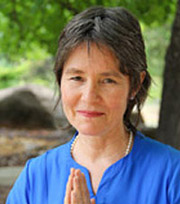 Mantradevi