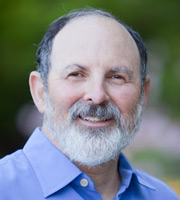 Nayaswami Bharat Cornell
---
Bharat Joseph Cornell has helped people experience inner peace through his meditation and nature awareness work for thirty years. He has written six "Sharing Nature" books that have been published in twenty foreign languages and have "sparked a worldwide revolution in nature education." Millions of people around the world have enjoyed his joyful and inspiring nature writings and workshops.
In 2002, Bharat created Ananda's Meditation Support site to help people learn meditation and receive ongoing support and inspiration for their practice. Thousands of new and experienced meditators from different religious traditions have benefited from this free service. Easily accessed on this website are over one hundered meditation articles and the monthly e-newsletter, The Daily Meditator.
Bharat also created a 5-minute video about meditation, called "The Gift of inner Peace."
He will share his meditation-oriented nature activities as part of two programs at The Expanding Light: Meditation for Successful Living and the Meditation Teacher Training. Bharat is also a Kriyacharya at Ananda.