Join us for meaningful, spiritual holiday programs.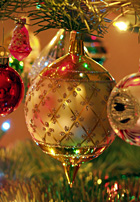 During the winter months it's easier to explore the more inward part of ourselves. November, December, and January are beautiful months at The Expanding Light. The facilities are cozy and festively decorated. It's a perfect time to enjoy yoga, meditation, and quiet reflection.
Special Events Courses Scheduled:

Personal Retreat is available almost every day, except the nights of:
2017
Nov 17-19, Nov 22-25, Nov 30-Dec 2, Dec 22-25, Dec 29-Jan 1
2018
Feb 1-3, Apr 26-28, Jul 5-7, Aug 2-5, Sep 20-22, Dec 13-15
2019
Feb 28-Mar 2, Mar 14-17, Apr 11-14, May 9-11, Nov 14-17
Ananda is a worldwide movement to help you realize the joy of your own higher Self. It is based on the teachings of Paramhansa Yogananda and was founded by his direct disciple Swami Kriyananda in 1968.
Learn More...

CONNECT
14618 Tyler Foote Rd
Nevada City, California 95959
Toll free 800-346-5350
Outside US 530-478-7518
SUBSCRIBE
Receive uplifting emails with inspirational content and news about our retreat programs, travels, and trainings.