The Ananda Movie Showing Weekend

2-day weekend
There are no dates currently scheduled.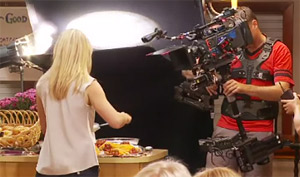 Join us for a historic moment in Ananda, the private showing of Ananda's first movie, "Finding Happiness." You'll meet director, Ted Nicolaou, and starring actress, Elisabeth Rohm. You'll hear stories of how the movie was made and where it will go from here. Those who have seen the earliest version of the movie have raved about it.
Weekend Schedule for an event to remember and cherish forever!
Thursday, July 25 (if you'd like to come a day early on Personal Retreat)
7:30 pm Babaji Gratitude Ceremony Evening at Hansa Mandir
Friday, July 26
7:00 pm Cast and crew present: "Our spiritual journeys with Finding Happiness." Not to miss!! Guest speakers include Elisabeth Rohm (Juliet), Ted Nicolaou (director), Roberto Besi (producer) and others from the cast and production crew.
Saturday, July 27
• Private showing of Finding Happiness at the Del Oro Theater. Doors open at 9am; reservations required.
• Garden Party Re-reenactment, 4-6 pm at Crystal Hermitage, entertainment and refreshments. Come in costume if you wish (contact Maghi for costume rental)
• Evening screening of surprise, "behind-the-scenes" clips and photos, 7.30 pm Amphitheatre. Panel of speakers: "Finding Happiness and the future of Ananda."
Sunday, July 28
11:00 Sunday Service
About the movie
Swami Kriyananda said, "I have just returned from a celebratory dinner after watching the movie. I am still teary eyed from the experience. This movie is the culmination of so many years of ardent efforts to serve Master. I can't begin to tell everyone how proud and happy I am for and of you all. You were so natural so eloquent, so intelligent! In fact, the most beautiful thing about the movie is that all of you were so YOU!!! It was completely genuine: not a false note throughout...
"Really, I am not only proud of all of you for helping so outstandingly to bring Master's vision to the world. With this movie I see the realization of Master's prophecy that this ideal would "spread like wildfire" throughout the world. The movie's impact will be global. As an ancient prophecy foretold for me recently, 'Ananda will become no longer a place: It will become an ideal.'"



More on the movie itself: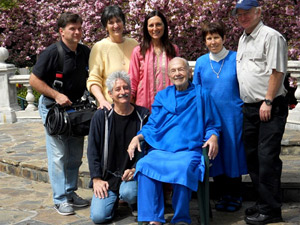 It was a two-year-long runway, but the Ananda Movie took off this year, and has been flying at very high altitudes, in the rarified skies of grace upon grace, miracle after miracle. Those miracles have been channeled through many of you, and they will soon reach out to touch the hearts and minds of, we hope, millions of souls. Thank you for all that you have and will do to help the film achieve its destiny.
The film has alread transformed the lives of those who have worked on it, from the director, Ted Nicolaou, to the film's leading lady, Elisabeth Rohm, to others in the cast and crew.
Interesting facts about the film:
Producer Roberto Bessi's choice for USA producer was the highly professional and experienced Frank Hildebrand, who was able to engage excellent film makers and equipment, all within our modest filming budget of $2.5 million.
The addition of Santoshi Kendall to the management team opened up the film's support structure to investment opportunities, which made it possible for the film to be shot and nearly edited in less than a year.
Dedicating over a month of her busy life, Asha came on board as script coordinator, helping the Ananda actors to focus on the essence of their on-screen interviews with Juliet.
The search for the ideal lead actress was especially blessed, requiring only three telephone calls: one to the casting director, his call to Elisabeth Rohm, and her call to Swamiji. It was clear that this role was her destiny.
The Ananda lead acting role went to David Eby, who not only served as guide to the film's journalist, but also directed the live music. David is now serving as the Music Supervisor and has selected from Swamiji's compositions the musical themes for each scene.
One other professional actor is in the film, John M. Jackson, who played one of the leading roles in the TV series, JAG.
The film includes the historic 1949 Garden Party in Beverly Hills, where Yogananda first "sowed the seeds in the ether" for the idea of World Brotherhood Colonies. Playing the part of Yogananda is Sujon Datta, the great-grandnephew of Master, through his sister Roma.
Also included in the movie is an exceptionallly beautiful dance, Life is a Dream, performed by Mirabai Deranja and Christopher Selbie, professional dancers both born and raised at Ananda Village.
The movie was shot in 26 days of principle photography, of which 22 were at Ananda Village, 3 in Sacramento and at the Yuba River, and 1 at the Empire Mine in Grass Valley. The crew was on set for 12 hours each day.
Swami Kriyananda appears in two of the movie's major scenes. Another 24 Ananda people are interviewed in the film.
30 film makers participated, and they were assisted by a support team of well over 100 people, including our self-sacrificing nurses.
Ananda Assisi is featured in a couple of minutes of background filming and the singing of "Brothers" in Italian in the plain below Assisi.
Ananda India is shown in a couple of minutes of background, and the singing of "Brothers" at a temple near Delhi.
Ananda Palo Alto was the location for a full day of background filming on Ananda's urban communities, and footage from Ananda Portland, Laurelwood, Seattle, Sacramento, and we hope Los Angeles, will be included.
A choir of 20 voices recorded the live music; 24 singers appear on screen.
400 extras appear on screen, of which 65 appear in the Beverly Hills Garden Party in period costumes from 1949, and 40 children in the school and market scenes.
For more on the movie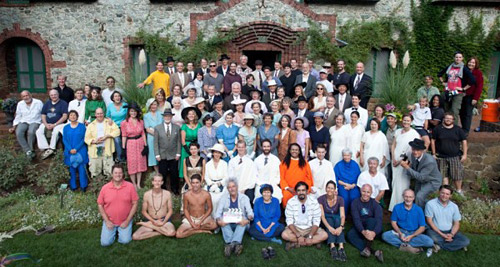 Marketing and distribution. We are working with a Los Angeles company, The Penny Karlin Connection, to establish a comprehensive marketing and distribution plan. The website and social media portion of the plan is being handled by the Ananda Web Services.
More details about your reservation for The Ananda Movie Showing Weekend
All rooms at The Expanding Light are full, but we should be able to accommodate more people nearby. Please contact us if you are interested.
Special Events

Receive monthly news and inspiration.
Come a Day Early
Relax, Take a Walk,
Get a Massage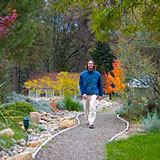 Stay an Extra Day, Relax,
Absorb Your Experience