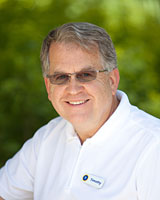 Nityananda (Timothy Hickey) – Managing Director of The Expanding Light
Nityananda has been the General Manager of The Expanding Light since February 2009. He worked in the business world prior to coming to Ananda in 2007. His positions included founding and running a few small businesses, serving as International Director of Sales for Productivity Press, President of Lingo Systems, Vice President of Marketing & Product Management for Columbia Ultimate - a software company, and serving as a consultant. He has an MBA from Northeastern University.
In these roles, Timothy won and oversaw major contracts and ongoing relationships with many small and large corporations, including Hewlett Packard, Bristol Myers Squibb, Motorola, Ford, Lear, United Technologies and Chase CardMemberServices. He initiated alliances with companies including EDS, IBM, Experian and Lexis/Nexis.
Timothy believes that you are where you are for a reason – and that wherever you are and what your role is, your job is serve. He has always particularly enjoyed demonstrating that you can succeed in business - not just while acting responsibly and respectfully – but by acting responsibly and respectfully.