Family Guidelines at The Expanding Light Retreat
Bringing Your Family to The Expanding Light Retreat
The Expanding Light Retreat and Ananda Village are committed to providing a haven of harmony and joy to everyone who comes here. We ask parents visiting with their children to join us in helping to maintain and co-create this uplifted environment. Here are a few guidelines:
Embrace the opportunity to unplug
We encourage guests to embrace the opportunity to take a break from screens and devices, and allow yourself to be fully present during your visit. Therefore, we ask that no devices be used in any common spaces, or during group activities. Music, movies and other screen time all have a powerful influence on one's energy and consciousness. This is an opportunity to take a break from outside influences, and fully embrace the environment and vibration of our intentional spiritual community.
Eat together, consciously
The Expanding Light kitchen provides 3 healthy, vegetarian meals each day. Fresh fruit and tea are available in the dining room throughout the day. We begin each meal with a prayer, or blessing, for the food, and eat together in our dining room, or at tables outside. Whether inside or out, we ask that you help us maintain a calm, safe environment around meal time, and redirect or move rowdy or noisy "play" energy elsewhere as needed. We know firsthand how tough it can be for children to sit still, or be quiet for extended periods. We are more than willing to get creative and work together on how to make your stay here be a positive experience for your family, and all of our guests.
Support safety
A few community-wide basics to know to keep us all safe:
No recreational drugs or alcohol of any kind during your stay.
We live in an area of high fire danger. Smoking is permitted only outdoors and only on the paved parking lots, both out of consideration for our guests and to reduce fire hazard.
No pets on the grounds (with the exception of service animals).
Be aware and redirect energy
While we certainly don't expect (or desire!) children to be perfectly still and quiet at all times, we do ask that parents keep in mind this is a yoga and meditation retreat, essentially a sanctuary environment. Please be aware of your child's energy and capacity for self-control. Once again, we will do our best to work with you to find solutions and alternatives to meet your child's needs, but keep in mind the overall environment.
Quiet time is from 9pm to 9am. In addition, sadhanas (meditation and yoga practice) for guests are from 6:30-8 am and 4:45-6:30 pm. These are times when we want to do our best to be mindful of maintaining a quiet environment around the retreat. There are many paths for hiking and nature walks, and spaces like Sunset Ridge, and the Market playground, where children and families are free to play and explore, any time. For older children, there is a tennis/pickleball court that sees a lot of activity by Ananda members. Ask about how you can join in.
We also have many beautiful, sacred spaces to visit that require a more quiet and inward energy. We ask that when families visit these spaces they work with their children to practice "temple behavior" - silence or quiet voices (depending on the space), walking, rather than running, and sitting up while in the space. This might not be something every child is interested in, or capable of, and that's okay - we want to support each child's needs and help you make choices that support a positive and joyful experience for all. Please ask questions if you're uncertain. These spaces include the Temple of Light, The Expanding Light Teaching Temple, Crystal Hermitage gardens, Moksha Mandir, Hansa Mandir, Lahiri Mandir and the Shrine of the Masters.
Note about childcare: At this time there is no childcare provided for visiting families, even during family friendly weekends. There are family-oriented activities, but if parents want to attend sadhanas, or other classes, they will need to make their own arrangements, or take turns participating.
If you have questions about having your family visit The Expanding Light Retreat please contact Guest Services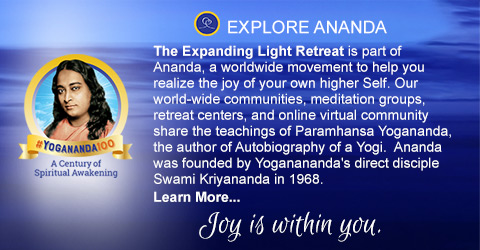 CONNECT
14618 Tyler Foote Rd
Nevada City, California 95959
Toll free 800-346-5350
Outside US 530-478-7518
SUBSCRIBE
Receive uplifting emails with inspirational content and news about our retreat programs, travels, and trainings.