What You Will Find Here
You are likely a seeker, someone working on your life, looking for spiritual solutions. You are continually seeking to grow and change. You're not looking for the superficial "fix," but want to see the whole of life and make conscious choices to improve yourself.
This description best fits our guests,
a continually growing group of outstanding new and old friends—with whom it is our great joy to share the spiritual journey.
If you are new to our yoga and meditation retreat in California, you will feel much more at home here than you can imagine. You will be welcomed with genuine interest in your highest needs. We honor your spiritual journey, no matter what path you follow. We look forward to serving you.
Services



Personal Instruction in Meditation

This is available to everyone Monday, Wednesday, and Saturday at 10:00 am or at other times by appointment and is included in the cost of your stay. Even if you currently meditate, we encourage you to take the class which includes: how to focus your mind, how to sit comfortably, when and where to meditate, and more.

3 delicious and healthy vegetarian buffets a day

The food was fantastic! Whether it was the ingredients or the conscious intention - I loved it!
- Guest, San Francisco, CA.
I particularly enjoyed the vegetarian food. Everything was delicious!
- Kristen V, CA

Individual Spiritual Counseling

Receive assistance and guidance tailored to your needs with counseling available from our Ananda ministers for a fee of $75 per hour. If you are interested, contact the front desk to schedule a private session. You can also receive Spiritual Counseling at a Distance

Private Yoga Classes

Personally tailored to your body and needs, these classes are available with one of our certified Ananda Yoga® teachers for a fee of $75 per hour. You can focus on classical hatha yoga or restorative yoga. Contact the front desk to make an appointment.

Healing Prayer

Healing prayer, on an individual basis, is offered through the Healing Prayer Ministry for a suggested donation between $40 – $100 (session lengths vary based on individual need). To schedule a private appointment call 530-478-7560 ext. 7028.

Massage

Massage can be a wonderful, healing addition to your stay. All our massage practitioners are Ananda members and work through the Center for Radiant Health. The center offers a variety of types of massage, as well as Ayurveda counseling, CranioSacral therapy, astrological readings and more. Call 530-478-7549 to schedule an appointment.

The Expanding Light Boutique

The Boutique is located in the Guest Services Building and is open from 9:00-5:00 pm daily. Full of unique treasures, The Expanding Light Boutique is a favorite destination shopping stop for guests and locals alike. You can contact the Boutique at 800-346-5350 ext. 7083
Places to Enjoy
Lotus Lake

This lovely lake fills with water lilies and lotus flowers in summer. It is a beautiful area ideal for walks where you can often see wild birds. A path around the lake includes outdoor altars to our line of Masters.

Lahiri Mandir

This is a small chapel on the path to Lotus Lake. A sacred space ideal for meditation, Lahiri is open all the time for quiet reflection and meditation.

The Temple

This temple, located just off the dining room, is a beautiful space in which we hold daily practice of yoga postures and meditation, as well classes and evening programs. When not in use for a scheduled class or event, it is open for meditation and hatha yoga.

Guest Services Lounge

The Guest Services Lounge is a lovely room with a cozy fireplace located in the Guest Services Building. When not in use for a class, it is open until late at night for guests to use.
Serenity Lounge

is a homey room located in the Serenity Building. When not in use for a class, it is open to guests for relaxation, reading, yoga, meditation, watching videos, listening to music or just socializing. Serenity Lounge is also stocked with tea and coffee and equipped with a small refrigerator, microwave, and electric teapot for guest use.
Computer Lounge and Wi-Fi


Guests are welcome to use the computer lounge in the main building; guests in deluxe rooms and most of our standard rooms can use Wi-Fi in their rooms if you bring your own computer.
Other Amenities
Laundry facilities: We have a coin-operated washer and dryer available for guest use.
Cell phones: Most cell phones do not get reception on The Expanding Light property. Guests can take a beautiful 10-minute walk to Ananda's Sunset Ridge, where you can get cell phone reception.
Limited Handicap Accessibility: Because The Expanding Light has several buildings at some distance from each other, it is difficult for those with mobility challenges. A guest must be able to walk at least 400' over uneven ground and to climb 6 steps.


Activities
Daily Sadhana (Spiritual Practices)

Sadhana is offered twice a day in the Temple. The morning session is from 6:30-8:30 am, and the afternoon session is from 4:45-6:30 pm. Sadhana includes Yogananda's Energization Exercises for increasing the flow of energy in the body; Hatha Yoga postures ; chanting; a 15-30 minute meditation; and healing prayers. No experience is necessary, and guests are advised to wear comfortable, loose-fitting clothing.

Noon Meditation

Noon meditations are held Monday, Wednesday, Friday and Saturday in The Expanding Light Temple. These 30-minute sessions include chanting, meditation, and healing prayers.

A Swami Kriyananda Video (Tuesdays at Noon)

A different taped talk is shown each week in The Expanding Light Temple. Ananda's founder, Swami Kriyananda, now living in India, has recorded 20-minute talks currently being aired on stations in India and in the Far East. Each week we watch one of these shows and have a short meditation afterwards. Available free online at Ananda.org.

Sunday Service

Sunday Service is offered weekly at Hansa Mandir from 11:00 am – 12:30 pm, and includes music, chanting, meditation, affirmation, a reading of parallel passages from the Bible and the Bhagavad Gita, and a 20-minute talk based on that reading. The Service ends with the Festival of Light, a beautiful ceremony including poetry and music that expresses the soul's journey toward God . Online video talks of our services are available at Ananda.org.
About Us
Weather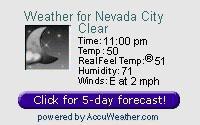 The Expanding Light is located at about 2500-foot elevation—we're in the foothills, not the mountains. We normally get a little snow each winter, but the winters are not severe. Though temperatures occasionally dip below 32 degrees, we also get many very beautiful days during the winter. In January it's common to have what we call mid-winter spring, with temperatures in the 60s. We can't promise there won't be snow when you visit, but it's very rare for snow to cause travel problems.



Receive monthly news, inspiration, radiant health tips and recipes, and stay up-to-date.
Come a Day Early
Relax, Take a Walk,
Get a Massage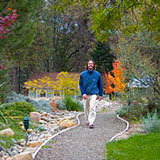 Stay an Extra Day, Relax,
Absorb Your Experience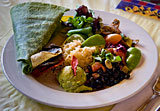 Three delicious and satisfying
vegetarian buffet meals are included
with the cost of your stay