Meditation Retreats & Meditation Training
Meditation is much more than physical and mental relaxation. Meditation can help you experience your own highest qualities of calmness, joy, wisdom, and love. It can provide solutions for your most difficult life situations.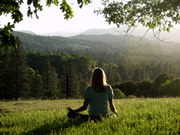 At The Expanding Light you will experience the depth and power of a meditation technique used by millions of seekers for centuries. You'll learn the science of redirecting your energy inward, to experience the rejuvenating stillness of meditation.
Your teachers here have devoted their lives to this profoundly useful style of meditation and will guide you from their own love of the practice and love of people.
Whether you have already learned meditation (and practice it or not), or whether you know nothing about meditation– you can benefit from the meditation techniques of Paramhansa Yogananda, which are offered at The Expanding Light.

Guests in any of our introductory meditation programs will learn Yogananda's Hong-Sau technique of concentration. Yogananda said that one hour of Hong-Sau practice is worth 24 hours of ordinary "sitting in the silence." The Hong-Sau technique helps to quickly focus and direct the mind for effective meditation. More...
These programs are for people who are already practicing the Hong-Sau technique of concentration. More...
Kriya Yoga is the most advanced technique of meditation that Paramhansa Yogananda brought to the West. It is described beautifully in his Autobiography of a Yogi, in which he calls it "the airplane route to God." More...
Meditation is becoming well known in today's world as an invaluable tool for enhancing one's quality of life – mentally, physically, emotionally, and spiritually. Meditation teachers are needed and wanted in yoga studios, churches, businesses, health clubs – the list goes on and on. More...
A rich assortment of inspiration, including instruction by Swami Kriyananda and Ananda's spiritual director, Nayaswami Jyotish. More...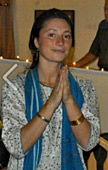 The most insightful advice an Ananda Meditation Teacher has presented is this: Just leave everything behind except for this very moment. You are here now.
Meditation


Ananda Meditation comes from the renowned Raja Yoga / Kriya Yoga tradition of Paramhansa Yogananda, author of Autobiography of a Yogi.
Based on the teachings of Paramhansa Yogananda, and founded in 1968 by his direct disciple, Swami Kriyananda, The Expanding Light is a retreat center in Northern California welcoming seekers from all backgrounds.