Group Retreats Client List
"The Ananda experience is a seamless slice of heaven. From the gracious staff, immaculate grounds and gardens, and high vibration meals. I've never been in an environment where every human smiles so warmly. My seminar participants glowed." With Gratitude,
Jan, RN, MA, CMP — Sound and Light Healing Arts
Groups that have enjoyed retreats at Ananda Village
Alexandra Group
Andrea Spacek Group
Ananda Encinitas
Ananda Europa
Ananda Palo Alto Yoga Teacher
Ananda Portland
Art of Living
Asian Classics Institute
C.A.S.A. Retreat
China Family Group
Center for Spiritual Living:
CSL, Redding, CA
CSL, Reno, NV
CSL, Sierra Grass Valley, CA CSL, Tahoe,
CSL, Tahoe/Truckee Practitioner's Retreat
Dance of the Deer
Dayenu Women's Retreat
Deaf Yoga + Life
Divine Spark Center

Earth Shakers Forum
Inner World
Institute for Internal Transformation
Interlight Mystery School
James Kelleher Vedic Astrology Training
Joe Hudson Group
Kim Litton Women's Retreat
Laughing Lotus Yoga Studio
Luminous Awareness Institute
Partner Earth Education
School of Natural Cookery
Shamatha Retreat
Sharing Nature China Group
SOAR with Jan Circonne
Sound & Art Healing Lights
Women's Heart Group
Women Veterans Writing Group
Writers Club Retreat
Unity of Davis Women's Retreat
Unity of Davis Minister's Retreat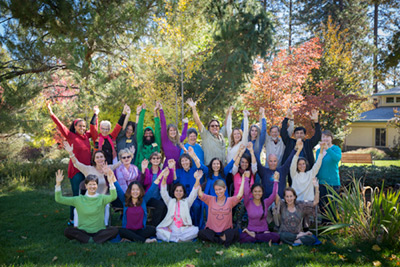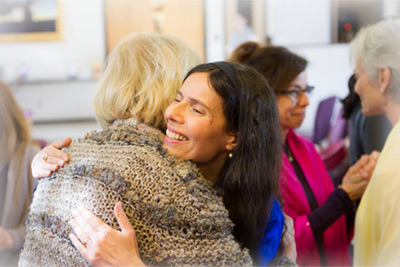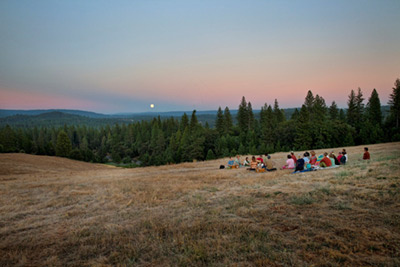 What Our Guests Say
"Thank you from the Chaplain Program of Unity Center of Davis California for an absolutely fantastic weekend at Gaia House Retreat. The peace and tranquility emanating from the grounds and people were the perfect backdrop for our retreat/training. We enclose a gratuity in thanks for the welcoming Spirit of Gaia House and The Expanding Light Retreat and the transformation you are bringing to our planet and people. Again, thank you. We all hope to return soon."
- Unity Center of Davis, CA.
"To stay at Gaia House is to be held and nurtured by the Great Mother in the physical sense of comfort, spiritual attunement, enlivening of the senses through beauty, and rich nourishment in the form of fresh and delicious food. The Ananda family (staff) have set up this space to anticipate your every need, and are available for you throughout. I have led two spiritual retreats there over the past year, and every person (including me) left feeling deeply nourished, restored, and glowing with a taste of deep ananda (bliss). I am profoundly grateful for the high vibration of love that resounds throughout the walls of Gaia House, the Ananda landscape, and afterwards, in my heart. Namaste."
- Andrea S., RYT, Women's Retreat, First Congregational Church of Auburn
"The women LOVED Gaia House as well as the wonderful vegetarian lunches and the privilege of walking around the grounds, the shop, and little museum at Crystal Hermitage. The accommodations were comfortable, and I know everyone was happy with the arrangements.
Thank you so much again for helping me with this! Planning my first retreat was a bit overwhelming but your patience and understanding got me through it with flying colors! I am already thinking about the next one and the thought of it doesn't scare me at all. That's saying a lot!
Thanks to you my first retreat was a great success!"
—Cristie
"We absolutely loved our time at The Expanding Light, and in fact, all of our students were asking me if we would be sure to book the center again. It makes us so very happy to practice in an environment that matches the intentions of our own practice. We could all feel the wonderful practice that has created and developed Expanding Light; an honor and pleasure to practice within the realms of the community there.
"The service was outstanding. The harmony of the way people work together at Expanding Light is inspiring. I took a poll of all the students during our last meeting time, and everyone was astoundingly happy."
—Melissa and Chris, The Institute for Internal Transformation
"What a beautiful property. I so enjoyed the energy and tranquility of this place. The room was clean and met my expectations. The food was fabulous."
—Janna, I.I.T.
"Amazingly welcoming, kind, and flexible staff."
—Alex, I.I.T.
"I loved it all. So happy and appreciative of the Ananda Community and facility. We are a lucky group to have the opportunity to stay here. Tenting is a pleasure here."
—Melissa, I.I.T.
"Conducting retreats at The Expanding Light has been an exceptional experience: The serviceful staff, beautiful environment, and powerful energy of the retreat center make it the perfect place to hold my ongoing retreats. All my participants love it there!"
— Vina, Sacramento, CA
"I want to thank you for a wonderful weekend! I thoroughly enjoyed the yoga, meditation, meals, and the peaceful rain. I especially appreciated Catherine's personal attention. I couldn't have asked for a better way to begin my 50th year!" – Shawn
"Within a few days I began to experience a peace and joy that I had never felt before in my entire life. What was unique and wonderful about this vacation was that the new level of peace I felt was a direct result of the yoga lifestyle I was living at The Expanding Light Retreat."
- Annalisa Cunningham, Author,
Yoga Vacations: A Guide to International Yoga Retreats
"It is so beautiful here – serenity abounds. The staff was friendly, helpful, but not intrusive – wonderful! I like the openness of the community, and the "take what fits, leave the rest" attitude. A wonderful experience. Loved sadhana. Thanks!"
– Alline, CA
"My time at Expanding Light was extraordinarily rewarding and peaceful. I wanted a lot of time alone to deepen my meditation practice, and to read, write, and walk, and Expanding Light met all of my expectations and more. It took me a little while to adjust to the "quiet," but I quickly got over that and worked myself into a pleasant daily routine, albeit only for 3 days. When I returned home, I still had 4 days off before I returned to work (today), and a couple of my co-workers told me how "relaxed" I seemed. I will always carry my experience with me. A little lady named Adrienne who was in the Karma Yoga program at The Expanding Light came across my path and told me that I'd probably leave there with the "Ananda Glow," and I do believe that happened. Thank you so much for everything."
– Caryn