Willow Kushler
Certified Ananda Yoga Teacher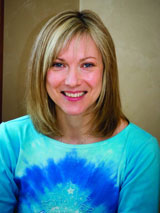 With great joy and enthusiasm, Willow brings to life the universal teachings of yoga in such a way that students can readily apply the principles in their daily lives. Her classes are filled with a spirit of high energy, Self-honesty, and Self-expansion. Her heart-felt instructions and clear guidance lead students to the very center of their being where they can once again reconnect with their spiritual essence. With kindness and respect for each individual, Willow guides students to embrace their next step. Her sensitive consideration for each individual's spiritual needs and her thorough and creative preparations have made her programs and retreats successful on every level.
Willow, an Ananda minister, has taught yoga since 1998 and served as the Director of Ananda Yoga in Seattle. While serving in Seattle, she was in the forefront of the ongoing development of Ananda Yoga and the Yoga Teacher Training. She has taught Superconscious Living for Health and Happiness, Restorative Yoga, Ayurveda and Yoga, the Yogasana Intensive Series, and team-taught the Raja & Hatha Intensive - Ananda Seattle's most popular 14-week course. She has also taught art, design, and sacred art retreats and training programs, both privately and at the college level.
Willow's philosophy:
"As we practice yoga, divine union, we empty ourselves of human littleness. In that emptying we expand to touch a soul-satisfying stillness permeated with Divine Love and Joy. We feel complete, and desires are quelled. If we can touch that place for even a moment during a class or in our daily lives, we are nourished. It is my joy and great privilege to guide students in this inner quest."
From her students:
"Living the qualities of kindness, compassion and joy, Willow opens her heart to everyone she meets. After one class with her, you will walk away knowing that you have made a friend for life."
— Lorie Gail, Seattle, WA
"Willow is an amazing and gifted teacher. I really appreciate her calming presence and inspirational words. I always learn something new from her."
— Susan Fleenor, Kenmore WA
"A class from Willow lasts for months, and for me it lasts for years. I can hear her gentle, knowing instruction still. And it comes to me at the most perfect of times. Just when I need it."
— Theresa Roberts, Kenmore, WA
Programs scheduled for Willow Kushler: