Developing Deeper Love for God

2-day weekend
There are no dates currently scheduled.
Learn how to awaken within yourself the deep love for God that is seen in the saints of all religions. That intense craving and devotion is natural to everyone – we are born with it. All we have to do is re-awaken and cultivate it.
Devotion is also the most important quality on the spiritual path. Paramhansa Yogananda said that people with devotion will never fall spiritually, because that yearning, along with the receptivity to the help and grace of God, will always pick them up.
In this weekend you will fully appreciate how natural devotion is for each one of us. You will learn how to rediscover this love within yourself, awaken it, and keep that flame growing stronger and stronger throughout your life.
The weekend will include devotional exercises and practices you can use at home, as part of your everyday life. These practices will help you develop and deepen your personal relationship with God, in whatever form you worship God.
On Saturday evening there will be a kirtan (group devotional chanting), and guidance in making devotional chanting part of your daily practice. On Sunday, you can join the Ananda Community's Easter Sunday Service.
Finally, you will learn how to tune in to, and experience, God's love for you. A Catholic Saint, St. Jean Vianney, said, "If you only knew how much God loves you, you would die of joy!" Knowing that love, and experiencing that joy, is your divine birthright.
Read Devarshi's helpful and inspiring blog, Devotion as a Habit.
Joining Devarshi in leading this weekend will be Nayaswami Maria.
Prices are all-inclusive and cover accommodations, meals, classes or activities, and course materials. You can add extra personal retreat days before and/or after your program. Check availability and costs for the days and accommodations that you require.
Developing Deeper Love for God starts the afternoon of the first date listed. It's ideal to arrive before 4 pm, if you are able to. That way, you can join in the afternoon session of yoga and meditation, which begins at 4:45 pm. Dinner is at 6:30. The first real gathering of your group is at 7:30 pm. If you need to arrive here after 5 pm, that's fine, but it helps us if you let us know at 800-346-5350. We can also put aside a dinner for you if you need to arrive after 7 pm. The program ends with lunch on the last date. Please see our Daily Schedule.
See Transportation and Directions whether you are coming by plane, car, bus or train. Our Frequent Questions page answers many of the questions you might have about How to Go on Retreat.

Receive monthly news, inspiration, Radiant Health tips & recipes, and stay up-to-date.
Come a Day Early
Relax, Take a Walk,
Get a Massage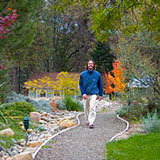 Stay an Extra Day, Relax,
Absorb Your Experience