Creativity and Opening Your Chakras

3 days
There are no dates currently scheduled.
Experience & Understand Yourself on Many Levels
Your chakras are an integral part of your make-up. They are a major influence of your energy, and your perception of the world. Chakras play an enormous role in how you express yourself. Each one has a unique energy that is personally yours.
Understand the whys of your talents, tendencies and resistances. Explore your uniqueness and break through blocks that hold you back.
Free Your Creativity
Access the part of you that wants to express and channel your creative energy. Delight in the sheer pleasure of creativity without judgment. Experience the inspiration in raising your consciousness, the dynamic peace when fully engaged.
Tap into Your Higher Self
Tune into the vibrational energy of each chakra and how it relates to you. With color, sound, written word, yoga and meditation, you will take part in the process of becoming the person you strive to be.
Included will be:
The philosophy behind each chakra
Creativity with art and writing
Music and consciousness class
Yoga postures for the chakras
Meditations on the chakras
Artist-teacher Mantradevi will guide you sensitively through an experience of gradual unfoldment. What is your next step? Ah, the joy of self-discovery!
This is NOT just for artists—but for everyone who is interested in using the 'whole mind' approach to experience a new inner world of possibility. If you've taken a chakras course before, this course will take you deeper – a good next step. No experience necessary, however.
This course is led by Mantradevi, Minister, Raja and Hatha Yoga Teacher, Director of Creativity Courses. Mantradevi teaches with insight, clarity and joy, gained from over 30 years of meditating and sharing yoga philosophy. Her concern for others is one of her key qualities, and she has the innate ability to communicate and apply spiritual principles to real life situations. Her classes are creative and experiential, with humor and discussions keeping them lively and interactive.
Prices are all-inclusive and cover accommodations, meals, classes or activities, and course materials. You can add extra personal retreat days before and/or after your program. Check availability and costs for the days and accommodations that you require.
Creativity and Opening Your Chakras starts the afternoon of the first date listed. It's ideal to arrive before 4 pm, if you are able to. That way, you can join in the afternoon session of yoga and meditation, which begins at 4:45 pm. Dinner is at 6:30. The first real gathering of your group is at 7:30 pm. If you need to arrive here after 5 pm, that's fine, but it helps us if you let us know at 800-346-5350. We can also put aside a dinner for you if you need to arrive after 7 pm. The program ends with lunch on the last date. Please see our Daily Schedule.
See Transportation and Directions whether you are coming by plane, car, bus or train. Our Frequent Questions page answers many of the questions you might have about How to Go on Retreat.

Receive monthly news, inspiration, Radiant Health tips & recipes, and stay up-to-date.
Come a Day Early
Relax, Take a Walk,
Get a Massage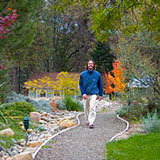 Stay an Extra Day, Relax,
Absorb Your Experience