How to Live with More Energy!

Gaining Vitality, Peace, and Joy in Your Life
2-day weekend
There are no dates currently scheduled.
Few people realize that the secret of high energy is personal choice. We can have more energy when we use our will power in the right way. When we are willing, when we want to do something, we have all the energy in the world for it. When we are UN-willing, resistant for any reason, suddenly our energy is in our toes.
One of the central elements of Yogananda's teachings is how to work with energy—how to attune to it, how to increase it, how to direct it. During this weekend, you'll learn a number of techniques and practices Yogananda created. You'll learn how to use your will power to instantly raise your energy level, and to have energy when you need it.
Some of the weekend will be philosophical—there are a lot of fascinating things to learn about energy:
The 3 kinds of energy: energy that inspires and uplifts, energy that activates the mind, and energy that pulls you down. You'll learn how to recognize these energies and to work with them in practical ways.
How willingness and unwillingness work, and how to cultivate a willing attitude for a happier life.
The effect of environment on your energy level, and how to change this if necessary.
There will also be plenty of experiential tools that you can use to raise your energy when needed:
Superconscious Living Exercises
Energization Exercises
Breathing exercises
Affirmations and visualizations
Devotion and healing prayers
Activities outdoors in nature
Your instructor for this weekend, Premdas Ghirla, is known for his energy and enthusiasm, and his great ability to share practical spiritual teachings with all.
Prices are all-inclusive and cover accommodations, meals, classes or activities, and course materials.
How to Live with More Energy! starts the afternoon of the first date listed. It's ideal to arrive before 4 pm, if you are able to. That way, you can join in the afternoon session of yoga and meditation, which begins at 4:45 pm. Dinner is at 6:30. The first real gathering of your group is at 7:30 pm. If you need to arrive here after 5 pm, that's fine, but it helps us if you let us know at 800-346-5350. We can also put aside a dinner for you if you need to arrive after 7 pm. The program ends with lunch on the last date. Please see our Daily Schedule.
See Transportation and Directions whether you are coming by plane, car, bus or train. Our Frequent Questions page answers many of the questions you might have about How to Go on Retreat.
Holistic Health Workshops and Free Resources:

Receive monthly news, inspiration, radiant health tips and recipes, and stay up-to-date.
Come a Day Early
Relax, Take a Walk,
Get a Massage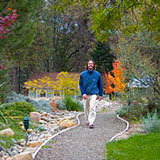 Stay an Extra Day, Relax,
Absorb Your Experience