Original Teachings of Yogananda: Mystical Keys to Awakening

3-day weekend
There are no dates currently scheduled.
Contact us if you are interested in taking this course.
In this class, you will learn about:
How to achieve different states of consciousness at will;
The meaning of dreaming and dream interpretation;
The Divine Magnetic Diet: Yogananda's teachings on diet and nutrition;
Karma, reincarnation, and principles of self-rejuvenation;
Life, death, re-birth, and immortality.
Led by Savitri Simpson.
Prices are all-inclusive and cover accommodations, meals, classes or activities, and course materials. You can add extra personal retreat days before and/or after your program. Check availability and costs for the days and accommodations that you require.
Original Teachings of Yogananda: Mystical Keys to Awakening starts the afternoon of the first date listed. It's ideal to arrive before 4 pm, if you are able to. That way, you can join in the afternoon session of yoga and meditation, which begins at 4:45 pm. Dinner is at 6:30. The first real gathering of your group is at 7:30 pm. If you need to arrive here after 5 pm, that's fine, but it helps us if you let us know at 800-346-5350. We can also put aside a dinner for you if you need to arrive after 7 pm. The program ends with lunch on the last date. Please see our Daily Schedule.
See Transportation and Directions whether you are coming by plane, car, bus or train. Our Frequent Questions page answers many of the questions you might have about How to Go on Retreat.

Receive monthly news, inspiration, Radiant Health tips & recipes, and stay up-to-date.
Come a Day Early
Relax, Take a Walk,
Get a Massage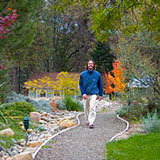 Stay an Extra Day, Relax,
Absorb Your Experience