How to Love and Be Loved

5-days
There are no dates currently scheduled.
"If you want to be loved, start loving others who need your love. If you want others to sympathize with you, start showing sympathy to those around you. If you want to be respected, you must learn to be respectful to everyone, both young and old. Remember, whatever you want others to be toward you, first be that yourself, then you will find others responding in like manner to you." — Paramhansa Yogananda
One finds love not by being loved, but by loving. Love is the very essence of your being, the quality of your own soul. Would you like to deepen your experience of this truth?
Join us for a uniquely inspiring and practical 5-day retreat. With talks, discussion, guided introspection, and other activities, you will explore some of the common problems to giving and receiving love, and explore workable solutions. We'll consider such obstacles as:
Lack of self-acceptance and self-respect
Useless and harmful attitudes
Fear, negative emotions, selfishness
Co-dependency
We will also explore tools for:
Good communication
Keeping your center
Stronger marriages and partnerships
Greater kindness in all relationships
In addition to discussions and guided introspections, you'll also enjoy:
Healing visualizations
Yoga postures to open the heart
Breathing techniques to calm agitated emotions
And we'll explore how to develop a relationship with your Highest Self, with the Divine. As God becomes your divine Friend, a greater sweetness comes into your heart. You feel nurtured from within, and all relationships flow more smoothly.
You will gain the ability to
Heal negative or challenging relationships
Communicate more sensitively and truthfully
Use your attunement with your higher Self to heal disharmonies.
Make changes and move forward.
Your instructors for the course, Nayaswamis Mantradevi and Anandi, used these principles in finding happiness as single women, as well as in creating fulfilling marriages.
Please register early so that we can include your specific interests in the program.
"I was surprised how much I have learned while here. The tools for daily practice are tools I will take with me for the rest of my life. Mantradevi and Anandi were the best teachers I could have had on my journey of self-love. They gave each day without judgment and only with love. The environment was relaxing and serene." —Melissa, Murrieta, CA
"I came to find myself after raising a family and taking care of my parents. I not only found who I am, I found God. As a result, I found love for myself, others, and God. This course wouldn't have been as effective and powerful without Mantradevi and Anandi. Amazing experience, spiritual knowledge, and the love and peace they give. Everything was explained so well." —S.O., Oregon
"Life changing, soul opening. I learned more about myself and how I deal with relationships. This course will be a catalyst for amazing changes in myself and my relationships with others...It was a comfortable and safe environment to share and open one's self." —Steve, Portland, OR
"I most appreciated how caring and loving both of my teachers were and how willing and vigilant they were to make sure we each got what we came here for." —Laura, Salt Lake City, UT
"This program brought me back to myself and connected me with God in a way I've never connected before. ... I leave here knowing I stand firm within my being and take full responsibility for my life and my happiness....The days were scheduled with lots of great information, but also allowed for personal free time to let it sink in. Thanks to my teachers—you have truly changed my life." —Jessica
"Words and gratitude are not enough to express how amazing and incredible this 5-day program was and what a profound impact it made on my entire being. There is no judgment, no dogmatic ways, no agenda – just complete and total love, respect, support, and understanding. I cannot recommend this class and retreat center enough. It truly is the most accepting, loving place I've been." —VP, California
"These 5 days restored my soul, my faith, and my sense of purpose in the world. Thank you!" —DA, California


"I have been truly blessed with my time at The Expanding Light and will return. Thank you so much for your acceptance, guidance and support. My life has changed for the better after my visit. My highest regards to Mantradevi—her teachings have been life changing and I use them daily! "—Melissa, California
"This week was powerful. I came a little cautiously—I felt How to Love and Be Loved couldn't be as good as my experience during my first visit here, and I'm not in a relationship. But this was even better than my first experience. The emphasis that you have to work on yourself and feel centered before you can make healthy changes in a relationship was ideal. I think I received a whole new way of looking at myself. Plus, many of the specific affirmations and tools were very helpful. And being with such a diverse group of people who were all open and receptive to this material was a life-changing experience. It met my needs, and was much more than my expectations."
—Laura, Graeagle, CA
More details about your reservation for How to Love and Be Loved

Receive monthly news and inspiration.
Come a Day Early
Relax, Take a Walk,
Get a Massage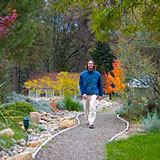 Stay an Extra Day, Relax,
Absorb Your Experience