Spiritual Growth Retreats
Spiritual Growth
We are each on a journey of Self-discovery. Meditation and the yogic path give us the tools to feel more at peace, self-integrated, and in control of our bodies, minds, and emotions. Within us we discover the inherent wisdom and joy of our own souls. Spiritual growth means living inspired.
Choose from 5 program areas:
Videos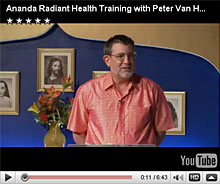 Prefrontal lobes: centers of higher brain function
The direct effects of meditation on prefrontal lobes
Changing brain chemistry through meditation
Please see our videos on Meditation and Yoga
Articles
| | |
| --- | --- |
| | "In a deeper sense the word chakra describes the whirlpools or vortices of energy located along the central axis of our bodies, in the 'deep' or astral spine." |
| | "If there is a single quality that society needs today, it is integrity. The worlds of business, of entertainment, of our culture in general, are crippled by a lack of morality." |
| | "Everyone occasionally feels a need for inner rejuvenation.… going on retreat can be a perfect solution." |
| | "A vegetarian diet can actually provide us with much more variety in tastes and textures than the typical meat-based fare…. a vegetarian repast may be composed of a number of dishes combining legumes, grains, vegetables, nuts, fruits and seasonings." |
| | "Recipes of the month from The Expanding Light" |
| | "Though raised in this devout, joyful tradition, in my teenage years I found myself questioning the existence of God and the purpose of life..." |


Receive monthly news, inspiration, Radiant Health tips & recipes, and stay up-to-date.