Using Energy to Bring Us Health
Make an ever greater connection with the
Source of your energy at The Expanding Light Retreat
At The Expanding Light Retreat all of our Holistic Health programs will help you learn to make an ever greater connection with the Source of your energy as the source of health and as the source of all well-being. Our workshops are based on the teachings of Paramhansa Yogananda who showed how to make more and more of a connection with the Divine in your life, and through this direct connection to have more of a a flow of energy in our life. The more energy you have the more you will at experience inward health and outward health as well.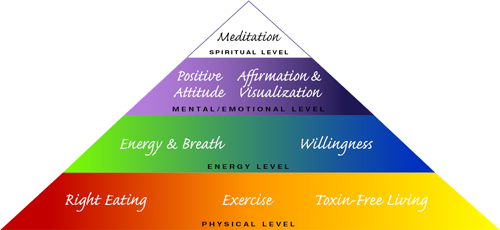 Essentials for Radiant Health
"Health does not mean mere existence or clinging to the body. Keeping out of the hospital for a number of years is not health. To be able to resist disease, to bear strain and stimulate mental vitality, to feel the body as a luxury, as a bird feels while shooting through the air, and as a child does always, is health."
— Paramhansa Yogananda
Here are some suggestions you might consider, based on the areas you'd like to focus on:
Physical Wellness
Improve your physical health by increasing your energy level. Revitalize your body with foods loaded with living energy. Here are some suggestions:
Emotional Wellness
Improve your emotional health - develop positive habits to increase your health, manage stress, and attain a more balanced life. Here are some suggestions:
Spiritual Wellness
Uplift your spirit - make an ever greater connection with the Source of your energy. Discover happiness within yourself and develop a life changing attitude of joyful living for the longer rhythm. Here are some suggestions:
Overall Wellness
Make a commitment to change your physical, emotional and spiritual well-being. Learn More...
April
Friday, Apr 21 – Sunday, Apr 23

Learn techniques of yoga to improve your health in body, mind, and spirit. Discover the healing power of posture, movement, energy flows, breath, self-talk, and focus.
Maitri Jones
May
Sunday, May 7 – Friday, May 12

Ananda Holistic Health Retreat
Achieving Glowing Health and Vitality

Immerse yourself in an environment that supports you in every way - diet, exercise, meditation, changing habits, living a balanced life.
Maitri Jones, Nayaswami Mangala and Nayaswami Anandi

Friday, May 12 – Sunday, May 14

Restorative Yoga to Relax and Rejuvenate

Restorative yoga is currently the most popular style of yoga in the United States - with good reason. Restorative yoga is safe, nurturing, and systematic, and helps you relax and release deep tension with no effort.
Melody Hansen
What guests are saying:


How to Achieve Glowing Health and Vitality at The Expanding Light turned out to be the most precious gift I have ever given myself. The immersion into the beautiful environment amongst such nurturing people inspired a hope that I took home, and now feel everyday.
What teachers are saying:
Stay Youthful with Yogic Principles:


My body is the garden of my soul. My goal is to use it to live my dharma and to know that I am an ageless child of God.
Finding Calmness in Action:


Breathing deeply or simply observing the breath can be a very simple, but powerful practice.
Holistic Health