The Ananda Holistic Approach to Life:
Wellness and Spiritual Growth Retreats
Empowering individuals to progress toward improved health and wellbeing through the understanding of Energy and how to bring that into every aspect of your life.
Our Radiant Health Pyramid shown below represents how we organize our programs for body, mind, and spirit. Each of our programs shares a scientific and spiritual system of self-evaluation, self-transformation, and self-realization that help our guests learn specific tools and ways of thinking to use energy to be well.
This approach was brought to the West by Paramhansa Yogananda, his universal teachings encompassed the whole being.

Our Model For Holistic Health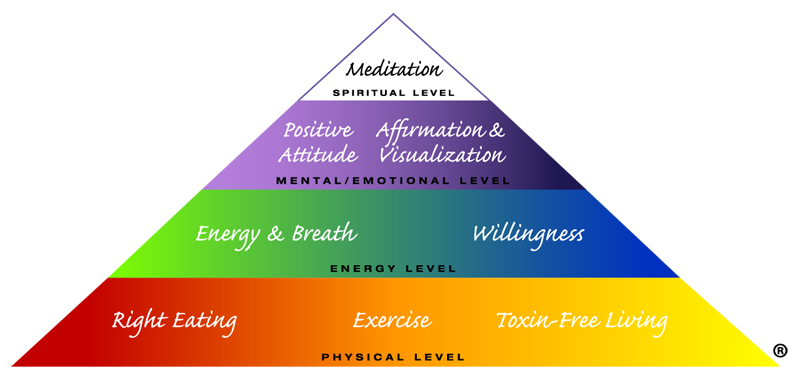 Levels of Energy – Essentials for Radiant Health
Spiritual Level: All holistic health retreats provide the opportunity to learn and practice a simple meditation technique, the Hong Sau method of breathing. We welcome truth seekers of all Paths and support each individual's spiritual well being.
Mental/Emotional Level: Our talented and deeply attuned staff provide uplifting support to all guests during holistic healing retreats. Each program provides unique tools and experiences you will need to increase your focus and heal your heart.
Energy Level: Each morning and afternoon our guided yoga and meditation sessions also include Yogananda's Energization Exercises for you to learn and practice. The concept of increasing your energy to increase you wellbeing is explained and discussed in all our retreat programs.
Physical Level: Ananda Yoga and yoga therapy are the primary ways we support guests coming to strengthen and improve their physical well being. All therapeutic yoga retreats are suited for any age or health challenge as long as it doesn't seriously limit function. Check our individual programs for more details.
Holistic Health
Paramhansa Yogananda on using our willpower to be well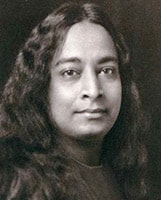 "God gave you will power, concentration, faith, reason and common sense to help yourself in your bodily or mental afflictions.
You must use them all as you seek the Divine help.
But remember in using your own will power or common sense to get rid of a difficulty or disease, that you must not rely wholly on, or harness yourself solely to, your Ego, and thus disconnect yourself from the Divine Force."
—Scientific Healing Affirmations
UPCOMING HOLISTIC HEALTH RETREATS
More than 100 inspiring retreat programs a year designed to help people to:
Learn with dynamic, joyful, experienced teachers
Sample a simple, non-religious meditation technique
Connect with the teachings of Paramhansa Yogananda, author of Autobiography of a Yogi
Acquire contemporary, 'right-living' tools to feel more at peace, self-integrated, and in control of our bodies, minds, and emotions.
Experience our exquisite setting in Ananda Village, the world-respected ashram community
Realize the inherent wisdom and joy of our own soul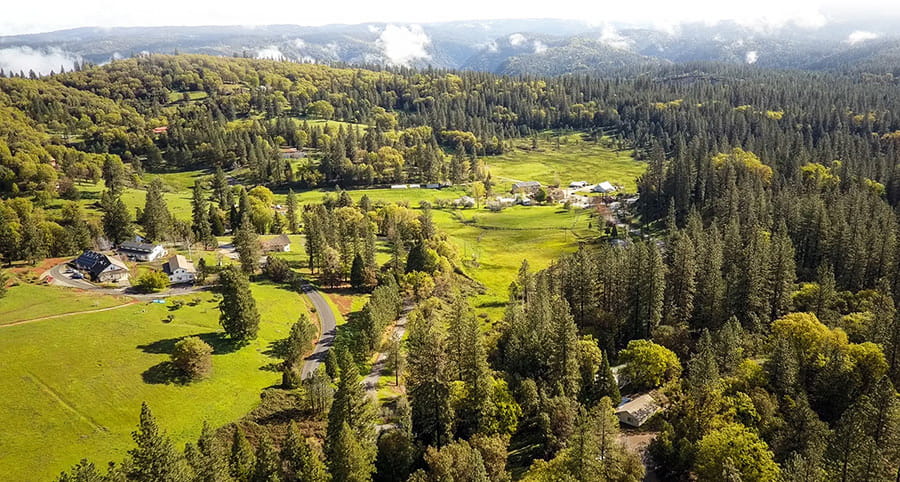 Ananda is a worldwide movement to help you realize the joy of your own higher Self. It is based on the teachings of Paramhansa Yogananda and was founded by his direct disciple Swami Kriyananda in 1968.
Learn More...

CONNECT
14618 Tyler Foote Rd
Nevada City, California 95959
Toll free 800-346-5350
Outside US 530-478-7518
SUBSCRIBE
Receive uplifting emails with inspirational content and news about our retreat programs, travels, and trainings.