Online Bridge to Ananda Yoga
with Melody Hansen, Vahini, Karen Buckner, Nayaswami Gyandev, Nayaswami Diksha and Barbara Bingham

Tuition:
$749 (early-bird, apply by Jan 6, 2023 and pay by Jan 8, 2023)
$850 (regular price after Jan 6, 2023)
Become an Inspiring, Profound, and Professional Ananda Yoga Teacher
Zoom Info Session
Register below to receive a recording of the free introductory session to meet the teaching staff and learn more about this training.
Register Here
Bridge Your Skills & Transfer to Ananda Yoga
Welcoming yoga teachers seeking to deepen and spiritualize your own practice: Our Ananda Yoga® Bridge training online shares a teaching approach that will help you to deepen your own intuitive understanding of your inner life. At the same time you will learn how to guide your students into more transformative experiences during yoga classes. Our inspiring faculty have extensive experience connecting with yoga teachers of many paths and styles with respect and friendship.
Our mission is to joyfully and professionally share with you ways to ignite and heighten your ability to utilize yoga science to best serve your students as a whole person—their body, mind and spirit. Once you complete the course work, you will receive a Letter of Completion from the Ananda School of Yoga & Meditation, and you'll be ready to share Ananda Yoga with your students. If you are a Yoga Alliance RYT (Registered Yoga Teacher) you are also then eligible to enter Ananda's Yoga Alliance Registered Level 2 Yoga Teacher Training and receive 500 hour certification.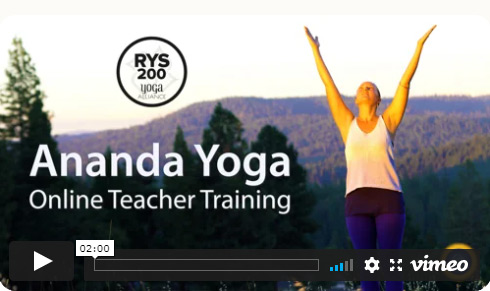 A Transformative Experience to
Expand and Share Your Light
Bridge to Ananda Yoga® Online is a dynamic, best-practice, professional training focused on your own personal and spiritual growth. If you're looking for something deeper in your own practice and would like to offer more than just a physical experience to your students, transferring to Ananda Yoga may be the right step for you. For more than 40 years, the Ananda School of Yoga & Meditation® faculty have been training students to become certified teachers of yoga, meditation, and spiritual counseling. The foundation of our approach is based in the full range of the yoga tradition as taught by Paramhansa Yogananda—from asana, pranayama, and meditation, to health and yoga philosophy. Ananda Yoga® is a classical and spiritual approach to Hatha Yoga. Using yoga postures to uplift consciousness, increase awareness and then ultimately unite our energies with the unlimited divine source of power.
A Spiritually Dynamic Training
For the first time ever, the Ananda School of Yoga and Meditation is now offering a Yoga Alliance approved yoga teacher training online. From the comfort of your home, you will receive training to become a skilled Ananda Yoga® instructor, with a Registered Yoga School (RYS) of the Yoga Alliance.
Learn about the profound universal teachings of the self-realized Master, Paramhansa Yogananda
Explore ancient philosophies of India through the study of classical Raja Yoga and meditation
Utilize the best online teaching methods and participate in 30+ hours of live interaction with our team of expert teachers
Receive personalized coaching and feedback from our inspiring faculty who have experience teaching online
Learn how to use, and teach about traditional, scientific yoga techniques to develop energy awareness and raise consciousness
You will extensively study and practice a broad spectrum of educational materials presented in our core curriculum covering 4 main categories:
Techniques, Training, Practice
Yoga Humanities
Anatomy & Physiology
Professional Essentials
Best practices in online training
Receive over 30 hours of live interaction with our team of expert teachers
Gain experience teaching with several live practice teaching sessions with your classmates
Partake in lively discussions and Q&A forums filled with insights. Have all your questions answered.
Build confidence in what you're learning by receiving personalized, supportive feedback from our instructors
Take mini practice quizzes throughout the course to deepen and clarify your understanding of the course content
Create meaningful connections with your fellow trainees through group projects, sharing circles & online community.
Receive post-graduation support from The Ananda School of Yoga and Meditation, which offers a wide variety of resources, inspiration, and community interactions
Immerse Yourself in Yoga As a Way of Life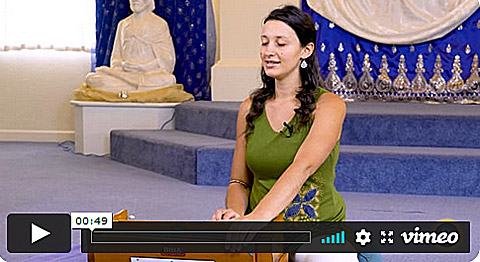 Bridge to Ananda Yoga® is an immersive and transformational experience, not just a training program. Students dive deep inwardly while experiencing the power of yoga postures and meditation. Through participation in this program, you will undergo spiritual growth and expansion on all levels.
Develop a personal sadhana routine (spiritual practice) of Energization Exercises, Ananda Yoga postures, devotional chanting, and meditation
Learn with experienced yoga teachers who live what they teach
Be the change: create a positive life enriched by a connection to higher consciousness
Discover more about yourself through philosophy, meditation and introspection
Experience this immersive training broadcasted from an Intentional Spiritual Community established over 50 years ago
Included in this Training
Ananda Yoga Asana Video Library – professional and easy to download, instructional videos for each asana (30 Level 1 poses) and pranayama (10 techniques)
High-quality pre-taped learning modules for each curriculum category, and recordings of all live classes to review and deepen your understanding
Ananda Yoga Teacher Training Manual – 8 sections, 248 pages, printable PDF
Ananda Yoga Asana and Affirmation flashcards for study, practice and class planning
By completing this course you will receive a letter of completion and you can begin teaching Ananda Yoga. Nurses can request documentation of completed continuing education hours.
Meet Your Instructors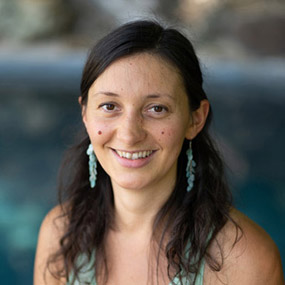 Melody Hansen
Melody, E-RYT 500, directs the Ananda Yoga Teacher Training and Restorative Yoga Teacher Training online programs. She is a Certified Ananda Yoga Therapist, C-IAYT and a trained Prenatal Yoga Instructor. Melody has been practicing the teachings of yoga since the age of 14, and began teaching at age 17. She loves to help her students experience the depth of Ananda Yoga and Meditation. She will be the main asana instructor for this course and will support you every step of the way in becoming a confident yoga teacher. It is her joy to serve you!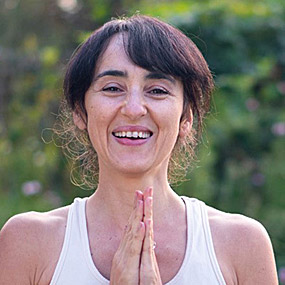 Vahini Sleighter
Vahini, E-RYT 500, native of Italy, is a disciple of Paramhansa Yogananda. She is a level 2 Yoga Instructor and a trained Restorative and Prenatal Yoga instructor. She has been living in Ananda and sharing Yoga for almost a decade mostly in Assisi, Italy. She has guided programs on several yoga topics and now she is helping in the Ananda Yoga Teacher Training at Ananda Village and teaching yoga for kids at the Ananda School. Vahini will be a lead asana instructor. It is her joy to serve!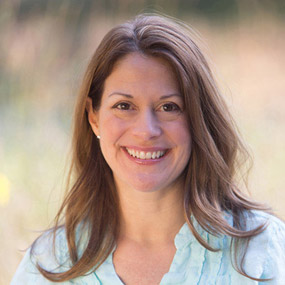 Karen Buckner
Karen, RYT 500, is a Certified Ananda Yoga Therapist, C-IAYT and has been teaching yoga since 2003. Originally from Texas, she directed and operated successful yoga studios in Dallas for over 13 years. Karen has experience working with students of all levels in studio, privately and corporate settings. She loves to mentor teachers and help them discover their unique gifts while strengthening their self-reliance and positivity. Karen will be a lead asana instructor for this course while encouraging and assisting you throughout this journey!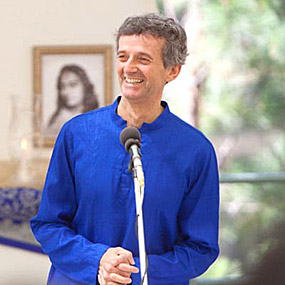 Gyandev McCord
Gyandev, E-RYT 500, is director of Ananda Yoga worldwide, co-director of Ananda Meditation Teacher Training (in person and online), a Kriyacharya (teacher of Kriya Yoga), Ananda minister, and co-founder of Yoga Alliance. He has authored 3 books, including Spiritual Yoga, and 9 videos on Ananda Yoga (so far). His greatest joy in teaching is in making the inner quest feel natural, doable, and fun. Gyandev will be teaching a little bit of everything for this course, but primarily yoga philosophy.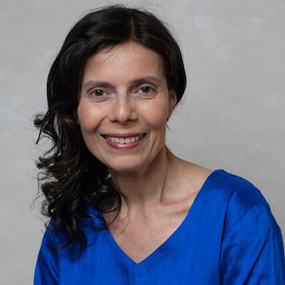 Diksha McCord
Diksha, E-RYT 500, is an Ananda minister, Counselor, and Level 2 Ananda Yoga teacher, and co-directs the Ananda Meditation® Teacher Trainings in person and online. She also directs the Spiritual Counseling Training Online course, and teaches many of the Level 2 Ananda YTT courses such as The Essence of the Bhagavad Gita and Advanced Pranayama. Diksha leads pilgrimages around the world with her husband, Gyandev. She feels that sharing the teachings of yoga is a privilege and a joy. Diksha will be teaching meditation for this course.
Barbara Bingham
Barbara is a Hatha Yoga teacher, a Registered Physical Therapist and a former gymnast. She brings all of her training together in her yoga teaching and helps people enjoy using their bodies in the healthiest way possible. Barbara teaches anatomy and physiology classes, which she makes fun, interesting, and accessible to everyone. Barbara brings compassion and sensitive awareness to her yoga teaching.
Tuition:
$749 (early-bird, apply by Jan 6, 2023 and pay by Jan 8, 2023)
$850 (regular price after Jan 6, 2023)