Online Ananda Yoga Teacher Training

A Transformative Experience to Expand and Share Your Inner Light
with Melody Hansen, Vahini, Karen Buckner, Nayaswami Gyandev, Barbara Bingham, Alba Simaku and Tracy Anderson

Tuition:
$2995 (early-bird, apply by Jan 6, 2023 and pay in full by Jan 8, 2023)
$3350* (regular price after Jan 6, 2023) *payment plans available
Zoom Info Session
Register below to receive a recording of the free introductory session to meet the teaching staff and learn more about this training.
Register Here
A Transformative Experience to Expand and Share Your Inner Light
For more than 40 years, the Ananda School of Yoga & Meditation® faculty have been training students to become certified teachers of yoga, meditation, and spiritual counseling. The foundation of our approach is based in the full range of the yoga tradition as taught by Paramhansa Yogananda—from asana, pranayama, and meditation, to health and yoga philosophy. This online certificate training experience is a dynamic best-practice professional training focused on your own personal and spiritual growth. Ananda Yoga® is a classical and spiritual approach to Hatha Yoga. Using yoga postures to uplift consciousness, increase awareness and then ultimately unite our energies with the unlimited divine source of power.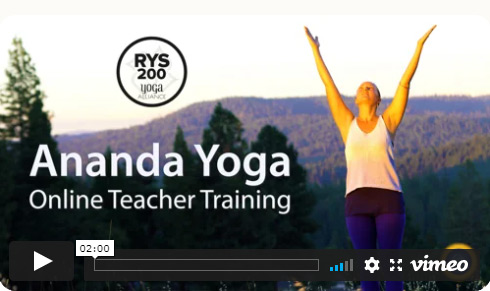 A Spiritually Dynamic Training
For the first time ever, the Ananda School of Yoga and Meditation is now offering a Yoga Alliance approved 200-hr teacher training online. From the comfort of your home, you will receive training to become a skilled Ananda Yoga® instructor, with a Registered Yoga School (RYS) of the Yoga Alliance.
Learn about the profound universal teachings of the self-realized Master, Paramhansa Yogananda
Explore ancient philosophies of India through the study of classical Raja Yoga and meditation
Utilize the best online teaching methods and participate in 100+ hours of live interaction with our team of expert teachers
Receive personalized coaching and feedback from our inspiring faculty who have experience teaching online
Learn how to use, and teach about traditional, scientific yoga techniques to develop energy awareness and raise consciousness
Become an Inspiring, Profound, and Professional Ananda Yoga Teacher
200-hr Certification in 4 1/2 Months
Our teaching approach will support you to deepen your own intuitive understanding of your inner life – your challenges, your gifts – as a path to becoming an inspiring yoga teacher. We will share with you ways to ignite and heighten your teaching ability to utilize yoga science and your intuition to best serve your students as a whole person—their body, mind and spirit. You will extensively study and practice a broad spectrum of educational materials presented in our core curriculum covering 4 main categories:
Best practices in online training
Receive over 100 hours of live interaction with our team of expert teachers
Gain experience teaching with several live practice teaching sessions with your classmates
Partake in lively discussions and Q&A forums filled with insights. Have all your questions answered.
Build confidence in what you're learning by receiving personalized, supportive feedback from our instructors
Refine your teaching skills during live video workshops, and participate in group coaching
Take mini practice quizzes throughout the course to deepen and clarify your understanding of the course content
Film yourself teaching a volunteer student to apply your new skills
Create meaningful connections with your fellow trainees through group projects, sharing circles & online community.
Receive post-graduation support from The Ananda School of Yoga and Meditation, which offers a wide variety of resources, inspiration, and community interactions
Immerse Yourself in Yoga As a Way of Life
Ananda Yoga® Teacher Training is an immersive and transformational experience, not just a training program. Students dive deep inwardly while experiencing the power of yoga postures and meditation. Through participation in this program, you will undergo spiritual growth and expansion on all levels.
Develop a personal sadhana routine (spiritual practice) of Energization Exercises, Ananda Yoga postures, devotional chanting, and meditation
Learn with experienced yoga teachers who live what they teach
Be the change: create a positive life enriched by a connection to higher consciousness
Discover more about yourself through philosophy, meditation and introspection
Experience this immersive training broadcasted from an Intentional Spiritual Community established over 50 years ago
Included in this Training
Ananda Yoga Asana Video Library – professional and easy to download, instructional videos for each asana (30 Level 1 poses) and pranayama (10 techniques)
High-quality pre-taped learning modules for each curriculum category, and recordings of all live classes to review and deepen your understanding
Ananda Yoga Teacher Training Manual – 8 sections, 248 pages, printable PDF
Ananda Yoga Asana and Affirmation flashcards for study, practice and class planning
By completing this course you will receive a certificate of completion as a level one Certified Yoga Teacher. Nurses can request documentation of completed continuing education hours.
Tuition:
$2995 (early-bird, apply by Jan 6, 2023 and pay in full by Jan 8, 2023)
$3350* (regular price after Jan 6, 2023) *payment plans available

Nursing CEU Eligible: 100 hours

What our Graduates say:
"Ananda's YTT is more than learning to teach yoga – it is about learning to live your yoga. The breadth and depth of the program astounded me. I can't imagine a more complete program. Your program is really the holistic approach for those who want to transform their lives." – Michelle, Ashland, OR
"This is an extremely inspirational insightful course for any yoga student whether for teaching or self-nurturing, deeply spiritual all would benefit greatly from participating in Ananda Yoga."
– Kelly Whitcombe, England
"I was deeply impressed with how the teachers really help each student overcome their obstacles (spiritual, mental, physical) to achieve certification." – Katherine C

"All the teachers are fine and gifted people, who live their lives with great integrity and with a spirit of dynamism and generosity I've rarely witnessed within a training environment."
– Anaya, Stratford, Ontario
"Participating in AYTT brought my yoga practice to the next level. I can't wait for my students to experience deep inner yoga."
– Mary Meckley, FL
For more information, please send us a Question or Comment:

Receive monthly news and inspiration.

or e-mail or call us at 1-800-346-5350
Costs (OAYTT)
Tuition:
$2995 (early-bird)
$3350 (regular)
For early-bird Tuition:
Apply by December 07, 2021
pay by December 09, 2021