Discounts and Specials
To receive a discount, please request it when you reserve your space. Contact us for details.
Discounts cannot be combined or used on already discounted programs.
Come Back with a Friend : 15% off the cost for each of you

If you have stayed with us before and you bring someone with you who never has been to The Expanding Light before, you AND they will each receive a 15% discount on that visit. This offer does not include teacher training programs or major events like Inner Renewal Week, Spiritual Renewal Week, July 4th Weekend or Swami Kriyananda's Discipleship Celebration.
Senior Discount (for 65 and over)
15% discount for programs.
Awake and Ready Discount
(10% off)
Book your stay at least 2 months in advance and receive a 10% discount on most programs. Not applicable for certification programs like Yoga Teacher Training and Meditation Teacher Training. Not applicable for Karma Yoga or Cooking Apprenticeships.
Longer Visits (20% off)
If you'd like to stay at The Expanding LIght for a month or more on Personal Retreat, you can receive a 20% discount on your visit.
Reservations
About Us
Weather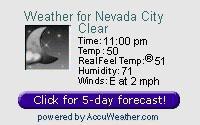 The Expanding Light is located at about 2500-foot elevation—we're in the foothills, not the mountains. We normally get a little snow each winter, but the winters are not severe. Though temperatures occasionally dip below 32 degrees, we also get many very beautiful days during the winter. In January it's common to have what we call mid-winter spring, with temperatures in the 60s. We can't promise there won't be snow when you visit, but it's very rare for snow to cause travel problems.