Sharing Ananda Yoga® with Children
An extraordinary opportunity to learn with a master teacher of children's yoga, Arathi Gianno, from Ananda's community in Assisi, Italy.
Teachers
More Information
Please note: Reserve your space in the program by July 1.

Welcoming all RYT certificate holders! Please join us in this joyful training.
Prerequisite: All participants must be 200-hours certified yoga teachers (in any style of yoga)
Teaching yoga to children is both a spiritual privilege and a responsibility. Arathi will lead this training program to give you the knowledge, techniques, and inspiration to share the wonderful message of yoga with children ages 3-10.
This weeklong training program (adults only) will prepare you to teach young people an ancient discipline that can lead human beings to the realization of their higher Self. You will have a deeply nurturing experience, and learn to:
Enhance the physical, emotional, mental, and spiritual growth of children, discovering how all aspects work together
Increase children's self-confidence and creativity
Teach the importance of listening to oneself and to others, and offer communication skills and the ability to relate to others
Create a positive identity as a group
Foster ethical and universal values such as friendship, peace, tolerance, courage, calmness, and trust
Help children develop self-control, concentration, and improved learning skills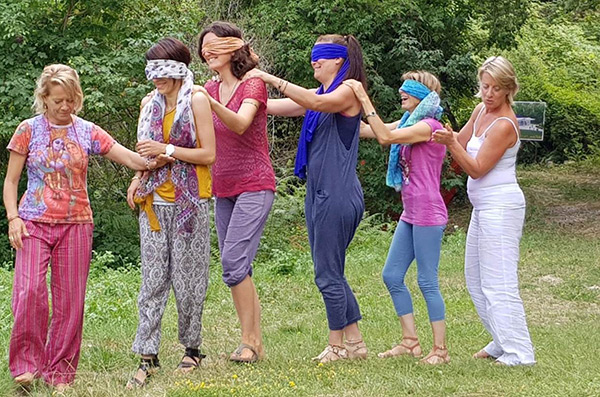 Your class topics include:
The benefits of yoga for children
How to organize a yoga class according the Flow Learning educational principles of Joseph Cornell
The tools of maturity, energy levels, and the states of consciousness according to Education for Life by Swami Kriyananda
Physical and energetic exploration of the five elements of our universe and our beings through yoga postures and games:
Earth = stability, safety, groundedness, reliability, and positive affirmation of one's existence
Water = feelings, listening, acceptance, and ability to go with the flow
Fire = self-esteem, courage, expansion, enthusiasm, and ability to control one's energy
Air = friendship, love, equanimity, lightness, and solidarity
Ether = self-expression, creativity, calmness, and sonorous vibration
Super-ether = thought, imagination, attention, and concentration
Pranayama for children
Warm up exercises
Superconscious exercises of Swami Kriyananda
Yoga poses practiced individually, in pairs, and integrated into games
Creative ways of sharing
Concentration and meditation exercises
Relaxation
This yoga training program is led in conjunction with the "Light Cards of the Little Yogi " by Arathi Gianno. They are colorful cards with affirmations for each yoga pose according to the Ananda Yoga teaching style.
For more information, please send us a Question or Comment:

Receive monthly news and inspiration.
No dates scheduled for Sharing Ananda Yoga® with Children at this time.
Prices are all-inclusive and cover accommodations, meals, classes or activities, and course materials.
Sharing Ananda Yoga® with Children starts the afternoon of the first date listed and ends with lunch on the last date. Please see:
Yoga Alliance RYTs and E-RYTs receive a 10% discount on the total cost for Sharing Ananda Yoga® with Children. To receive the discount, please tell us when you register: your name as it appears in the Yoga Alliance registry, and your city/state/country.
You can add extra personal retreat days before and/or after your program. Check availability and costs for the days and accommodations that you require.
Sharing Ananda Yoga® with Children starts the afternoon of the first date listed. It's ideal to arrive before 4 pm, if you are able to. That way, you can join in the afternoon session of yoga and meditation, which begins at 4:45 pm. Dinner is at 6:30. The first real gathering of your group is at 7:30 pm. If you need to arrive here after 5 pm, that's fine, but it helps us if you let us know at 800-346-5350. We can also put aside a dinner for you if you need to arrive after 7 pm. The program ends with lunch on the last date. Please see our Daily Schedule.
See Transportation and Directions whether you are coming by plane, car, bus or train. Our Frequent Questions page answers many of the questions you might have about How to Go on Retreat.
RELATED PROGRAMS