Dr. Shanti Rubenstone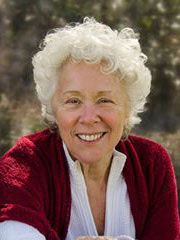 Dr. Shanti Rubenstone is the doctor you've always wished you could have. She is a board certified internist who received her medical education and training from Stanford University in the early 1980s. Her keen and compassionate attention to her patients' needs, her lively personality, and her brilliant insight make her outstanding in her field.
She has practiced internal medicine for many years and until 2004 taught physical diagnosis to second-year medical students at Stanford University School of Medicine, as well as the art, science, and skill of history taking.
In the last ten years she has developed a program called Transformational Medicine. Her goal is to help people see their lives as directional and progressive, and be able to take their next steps toward health and wellness.
Shanti is a minister with the Ananda Church and has lived in the Ananda Community in Palo Alto since 2002. Her medical practice and her life are guided by the teachings of Self-Realization as taught by Paramhansa Yogananda and Swami Kriyananda.
She treasures the countless opportunities she's had through practicing medicine to share intimate and life-changing moments with her many patients.