Nayaswami Naidhruva Rush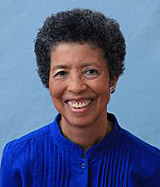 An expert in the teachings of Paramhansa Yogananda, Naidhruva Rush brings tremendous depth to her teaching and writing. For almost 40 years she has been living these principles and sharing them in her work as the long-time managing editor of Clarity Magazine, a publication devoted to sharing articles by Yogananda, Kriyananda, and others who are applying these teachings in their own lives.
Naidhruva has been a minister of Ananda for many years, teaching and acting as a spiritual advisor both in Ananda Village and Ananda Palo Alto.
Her first training was in law, and she discovered the joy of teaching as a law professor in the New York City area. She also served as an activist attorney, whose work included civil rights, trademark and copyright law. Currently she is Director of the Board of Advisors to an award-winning non-profit clinic.
In addition to her work as editor of Clarity Magazine, Ananda's quarterly online magazine, Naidhruva is the author of Change Your Magnetism, Change Your Life; editor of In Divine Friendship; co-editor of Swami Kriyananda: A Life in God; and co-author of The Ananda Cookbook.
Ananda's founder, Swami Kriyananda, writes that "magnetism is the most important thing in life." Naidhruva agrees: "An understanding of magnetism helps explain the seeming inequities of life. Through the lens of magnetism, everything falls into place."