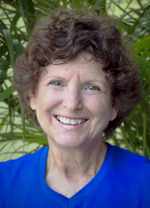 Asha Nayaswami
---
Asha\'s public lectures and writings over the past 35 years have reached thousands of student around the world. She serves as Ananda\'s global ambassador at the request of her lifelong teacher, Swami Kriyananda. With her unusual insight and clarity, warmth and wisdom, she helps us see how spiritual teaching can be woven into daily, ordinary life. She offers practical, real-life examples to guide, encourage, and support. She shares universal truths that unite the great religions.
Asha serves as the Spiritual Director of Ananda Palo Alto, California, serving the San Francisco Bay Area and on-line students wherever they may live.
She is a lifelong disciple of Paramhansa Yogananda, (author of Autobiography of a Yogi), and worked closely with Swami Kriyananda for more than 40 years. She is author of Swami Kriyananda As We Have Known Him, Loved and Protected, and Ask Asha.
Visit her YouTube channel
Inner Life with Asha