Sam McMillen
AnandaYoga® Therapist,Certified with International Association of Yoga Therapy, C-IAYT, and Ananda Yoga® Teacher, E-RYT-500, Weekend Retreat Facilitator, Instructor for 200 Hour Yoga Teacher Training

---
"I have witnessed tremendous positive change in people's physical, mental and emotional states through the use of yoga." - Sam
Sam's interest in yoga came through Yoga as therapy. After an injury to his lower back in the early 2000s, yoga helped him regain strength and mobility. The physical transformation was permanent. Sam no longer has issues from his original injury and enjoys more mobility than ever before. He became enthusiastic to help others use the yogic tools that had helped him so greatly. Currently, Sam offers weekends for reduction of stress, anxiety and yoga therapy. One can also book private yoga therapy sessions with him through the Ananda's Yoga Therapy Clinic. "Yoga is much more than a stretching routine from the East. The tradition also gives us valuable tools like meditation, mindfulness and breath work."
Sam decided to retire from owning and operating a construction company, and to take Ananda's Yoga Teacher Training. He felt that Ananda's mindful focus was something he'd found missing in many other styles of yoga. "Proper alignment of the physical body and its causal relationship to our mental and emotional states is an aspect of Ananda Yoga Therapy, which is key in healthy development."
Sam initially took Ananda Yoga Teacher Training to deepen his own practice of yoga, but by the end of the course he felt inspired to begin teaching yoga classes. Sam found profound joy in teaching professionally. Wanting to expand his inner joy and depth of knowledge, Sam became an Ananda Yoga Therapist. He now lives near Ananda Village where he works, as an instructor for the Ananda Yoga Teacher Training Program, and leads weekend retreats along with providing private Yoga Therapy Sessions.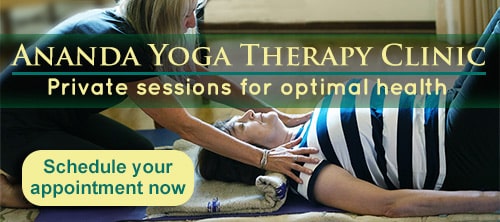 Programs scheduled for Sam McMillen: