Ananda Spiritual Travels: Pilgrimage Hosts
"Also, if you go to a place where masters have lived, the vibrations there will quicken your realization. That is the value of pilgrimage to holy places." –Paramhansa Yogananda
Ananda has a long history and deep experience in leading pilgrimages to holy sites around the world. Each Ananda spiritual travels host is lovingly attuned to the vibrations of the Saint or Master whose essence is imbued in the site we help pilgrims experience – the footpath which Jesus Christ walked, the place where Paramhansa Yogananda lived as a child, the cave which Babaji still energizes, the holy remains of King Ferdinand in the Seville Cathedral, the California home of Yogananda, the Temple of Light at Ananda Village, and so many more holy places imbued with higher consciousness.
We invite you to learn more about our travel hosts and co-hosts who will be your spiritual guides during our pilgrimages.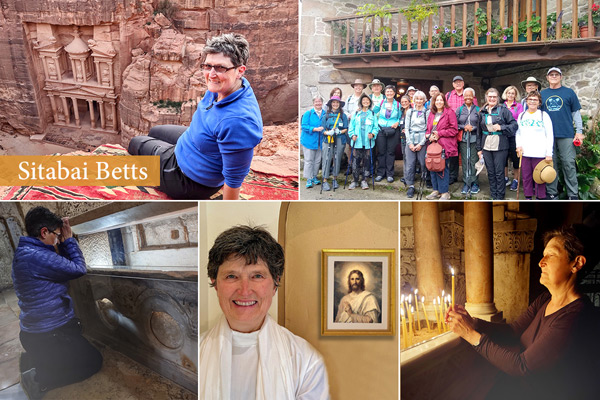 Holy Land Pilgrimage host, Camino de Santiago Pilgrimage host
Sitabai began her international travels with a year-long trip around the world in 1980, seeking out places of spiritual magnetism, as well as places which reflect the astounding beauty of God in Nature. Sitabai's joy and enthusiasm for cultures and holy places of the world is infectious. She has solo walked over 700 miles on the Camino de Santiago in Spain in 2017 from France to the end of Spain, and has done many more hiking and wilderness adventures. She loves sharing the magnificent locations and spiritual treasures that she has discovered with others. Sitabai has served and lived at Ananda since 1984, and among many jobs has helped to manage Ananda Village for 18 years. She has 4 grown sons and 2 grandsons. More about Sitabai...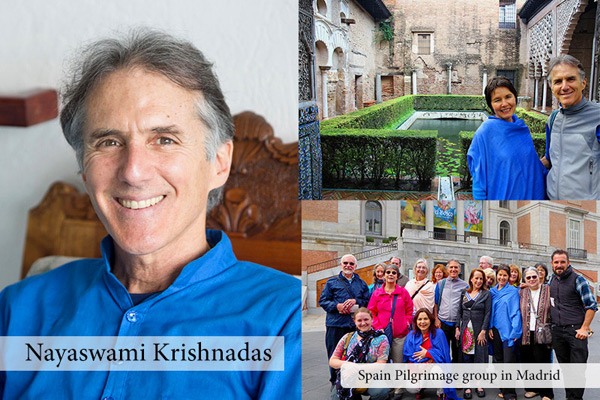 Ananda Village Pilgrimage host, Himalayan Pilgrimage host, India Pilgrimage host, Spain Pilgrimage host, Yogananda Pilgrimage host
Nayaswami Krishna Das is a long-time teacher and Ananda Minister, and has helped establish Ananda communities in Seattle, Portland, Dallas, and Los Angeles. In addition to leading four spiritual pilgrimages, Krishna Das is Manager of Guest Groups at The Expanding Light Retreat, and joyfully directs the Ananda Sevaka Program. More about Krishna Das...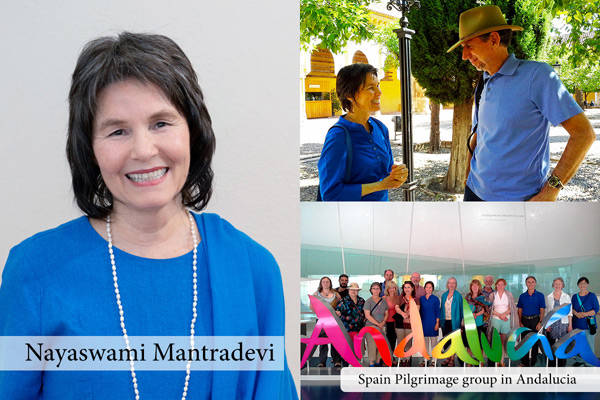 India Pilgrimage host, Kerala Healing Retreat host, Spain Pilgrimage host, Yogananda Pilgrimage host
Mantradevi has over many years developed a deep spiritual attunement to each holy place she escorts pilgrims to visit. Her inner wisdom about India and Spain is shared with all her guests through her warm and sensitive heart, and her joyful attitude is contagious. She has for many years been a spiritual teacher at the Expanding Light Retreat, an Ananda Community director, and a well-received spiritual artist. More about Mantradevi...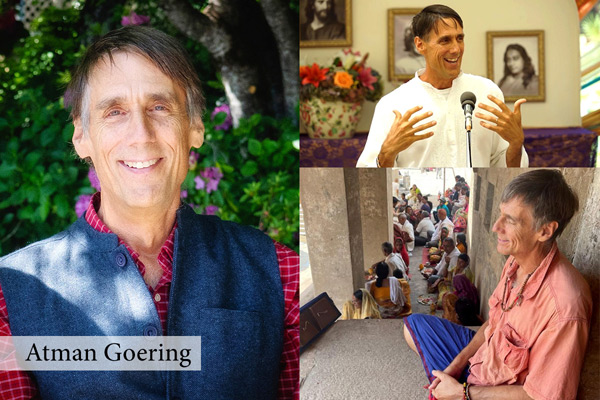 Holy Land Pilgrimage host
International travel has been an integral part of Atman's life for the last 45 years. He has travelled to numerous countries on five continents and lived for extended periods on three different continents and become fluent in three languages. He has always enjoyed experiencing the great diversity of cultures and environments that share this planet. Travel has helped him to better know himself. One's own character, assumptions, and habits, the good and the bad, come into focus when faced with new ways of being. His globe trotting led him to pursue in earnest the spiritual search and the regular practice of yoga and meditation. More About Atman...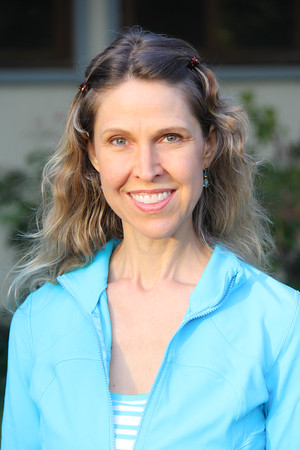 Camino de Santiago Pilgrimage host
'Satyana' in Sanskrit means 'truth', and our Camino de Santiago Pilgrimage co-host is deeply committed to sharing the truth of the yogic lifestyle and all the joy it brings. Satyana has taught Ananda Yoga and meditation since 2004, and she enjoys helping others find balance in life while aiming to achieve physical and spiritual goals. She is also a certified Pilates Instructor, Personal Trainer, Massage Practitioner, Reiki Healer, and Original Alignment Coach. She now has her own private studio at Ananda Village.
Satyana has a great love of foreign countries and languages and has done extended stays in Europe, Africa and the Caribbean. She lived for a time in Honduras and Colombia where she became fluent in the Spanish language, and is thrilled to be using her language skills as a translator on our Pilgrimage. Satyana loves being in the company of friends and family, and looks forward with an open heart to sharing friendship with our guests on the Camino de Santiago Pilgrimage. More About Satyana...