Pilgrimage to Spain & Portugal Overview
Nayaswami Krishna Das and Nayaswami Mantradevi will host the Spain Pilgrimage in May of 2023. Information on our webpages is up-to-date, however, we don't have pricing or reservations at this time. We invite you to join our stay connected list and we will send you notifications as pricing and reservations are available.

Connecting with Higher Consciousness in Ancient Spain & Portugal
History, Culture, and Deep Spirituality – View the Old with New Eyes
The main reason for pilgrimage is for your own soul experience. To deepen and tune into your innate spirituality through the examples of great saints. We'll explore history in "real time" so to speak, with a spiritual perspective, emphasizing Eastern interpretations of Western beliefs.
Another aspect of this pilgrimage is the opportunity to observe the progression of history in a new light. To see how the efforts of great souls, who did much to lift the consciousness of their times, have affected and shaped today's culture. As history is vast, lineages confusing, time frames innumerous, we follow the threads of several souls whose lives had enormous impacts on Western consciousness.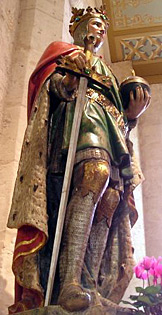 King San Fernando III – a Saint and a King. Paramhansa Yogananda said that in a former life he was a Spanish king, famous for driving the Moors out of Spain. San Ferdinand III was that king. It's very interesting how he began bringing unity into the Spanish culture and religion as far back as the 1200's.
San Fernando III's body lies in the Great Cathedral of Seville, incorrupt since 1252. A highlight will be attending the special ceremony on the one day of the year that they unveil his tomb, allowing his body public view. The Giralda Tower of the Great Cathedral houses 24 bells and has a bird's eye view of the city.
King Alfonso X, "the Wise," King San Fernando III's son, took up where his father left off and made huge strides forward in historic preservation, religious translations from many cultures, codes of law, new judicial systems, music, art, games, codes of conduct—he helped the culture of his times move up in consciousness. His scope encompassed all of Europe and was the forerunning energy for the Renaissance movement.
Visiting the castles where these great souls lived, seeing the cathedrals, a gigantic mosque, universities, and other good works they began, enlightens one's mind as to how our culture and times came into being.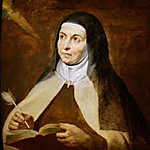 Saint Teresa of Avila and Saint James are the patron saints of Spain. Saint Teresa's birthplace is Avila, an awe-inspiring medieval city, constructed in 1090, one of the oldest and most beautiful cities in Spain. St. Teresa was the central figure of a movement of spiritual and monastic renewal, borne out of her inner conviction and honed by ascetic practice. The picture of her life unfolds upon visiting the monasteries where she lived, had visions, loved God and died.
St. John of the Cross and St. Teresa of Avila are often described as "mystics." Close friends and allies, the consequences of their unflagging work has lasted well beyond their lives, and are still in place today. Seeing the old towns, homes and monasteries they lived and walked in brings them to life, making them more real as people in one's mind. No doubt, being around the spirited, highly intelligent, high-minded Saint Teresa and St. John of the Cross, with their quick witted senses of humor, would be a highlight of one's life.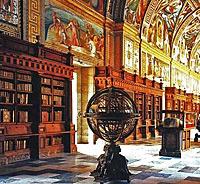 Not to be missed, the Royal Monastery of San Lorenzo de El Escorial is one of the most fascinating places. Palace, historic museums, art galleries, a royal pantheon, Regia Laurentina Library, one of the most important historic libraries in the world, with 45,000 printed works from the 15th and 16th centuries. Original books of King Alfonso X and Saint Teresa are housed here. King Felipe II was meticulous in his designs, preservation and display. He himself lived like a pauper.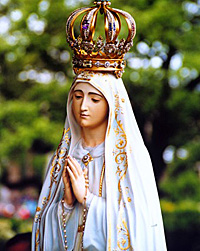 In Fatima the Virgin Mary appeared thrice to three shepherd children. The form that grew from those visionary appearances has given millions the opportunity to feel what can only be called holy vibrations. A huge plaza, cathedral, church and chapel; museums of the children's simple country homes; an evening procession that stirs the heart; ample time to roam and enjoy; lots of space to feel Her expansive Spirit.
You'll also see unique highlights of each city that otherwise might be missed. For example: the most important paintings in the huge Prado museum; fascinating edifices of spiritual, historical, and artful inspiration; access to high views of the cities and countryside; restaurants with chefs of the highest caliber; and you'll walk the same centuries-old streets where saints lived and walked. Many places we visit are UNESCO World Heritage sites.
There is much more to the pilgrimage. Eleven cities on the tour, each with special offerings of beauty and depth of sprit to feed your mind and soul, giving you insights into the outer workings of history, along with insights into the inner workings of yourself.
Please see the itinerary sections for more details on the places visited on the tour.

Dining
We eat sumptuously and well! Our Spanish trip guide works closely with restaurant owners and chefs to plan a variety of enjoyable dining experiences filled with nutritious, delicious vegetarian culinary delights. All breakfasts and most lunches are included as part of your trip. Two meals a day, plus a snack, are usually ample, as the food is so plentiful. Specifics on meals provided will be in the day-to-day itinerary that you will receive on the first day of pilgrimage.
Breakfast: begin each day with a hearty breakfast, typically buffet style. Enjoy a warm café con leche or hot tea, fresh fruit, a variety of breads and cereals, warm potato torte, and a variety of condiments.
Lunch: this is our biggest meal of the day. Lunch in Spain is a leisurely affair with several courses included. A typical lunch can easily take two hours. It's a wonderful time for us all to connect, laugh and talk together. To save a bit of time, as each dish is individually made, we generally call ahead and set a menu, usually with two choices for the soup and main entrée. Our Spanish guide does an excellent job of choosing delightful options. Consulting with the restaurant owners and chefs, they design wonderful meals, working with everyone as to dietary needs and preferences. Non-veg options are often available, although sometimes we eat in vegetarian-only restaurants.
Dinner: we say "dinner on your own," (except for three dinners in Avila where three meals per day are supplied,) but we give restaurant suggestions and people can eat in groups if they wish.
A meal might include an appetizer, fresh hot soup with homemade bread, large platters of vegetables, various hearty entrée choices, platters of garden-fresh salad, delectable desserts and coffee or tea. We are confident that you will thoroughly enjoy the cuisine in Spain.

Accommodations:
Accommodations are in 4-star hotels and two monasteries that have been turned into comfortable retreat centers. Each one is close to the sights that are on the itinerary, making them easy to walk to. The hotels have a European historic ambiance, rather than a stark business hotel. The monasteries are charming, with an added personal, gentle and joyful touch of those who work there. Supporting the local economy is also an added bonus of choosing these places to stay.
For more details and to reserve your space, please contact Krishnadas
Testimonials
"What a wonderful trip we had…and as you predicted, it keeps on giving. Both Anna and I are spellbound by Spain and its history and spiritual depth. Once again, many thanks to Krishna Das and Mantradevi on the brilliant planning and organization".—R.B. Fresno, CA
It certainly was a very deep and inspiring pilgrimage. I'm very grateful for Krishnadas and Mantradevi's work, both before and during the pilgrimage, to make it easy for me to go deep into the spiritual opportunities at each place. — Kathleen M., Denver, CO

Pilgrimage changes you. When you wake up every morning and your eyes fill with tears because you realize how much you love God. —T.S., Palo Alto, CA

I feel exceptionally blessed that Krishnadas and Mantradevi were our Pilgrimage leaders. Their knowledge, balanced with their open hearted, loving soul approach is powerful and life-changing. Thank you, thank you, thank you.— G. B., Thousand Oaks, CA


Mantradevi and Krishnadas were kind and loving, well read and a great resource for all my questions and concerns. They both have warm dispositions and made me feel welcome and cared for from the very first day. Loved their sense of humor and well-organized manner.— M.D., Petaluma, CA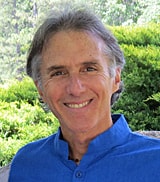 I am available to Zoom with you to answer your questions and share more about this amazing Paramhansa Yogananda & Swami Kriyananda: Kings of Higher Consciousness in Early Spain. Fill out the form below and I'll get in touch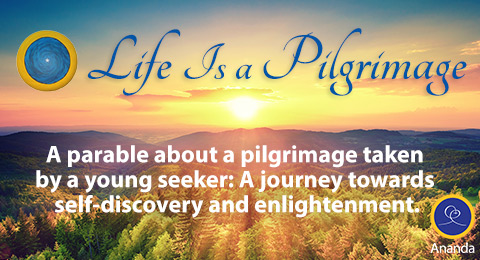 Life is a pilgrimage...travel with us, visit our retreat in California, join our online community
Helping you to connect with your highest Self - sharing the teachings of Paramhansa Yogananda