Yogananda's City of Angels Pilgrimage

Visiting the holy shrines of Sri Yogananda in Los Angeles + Encinitas
Leaders: Nayaswami Krishnadas and Brahmachari Sagar

Join us for a very special 7-day pilgrimage to visit the sacred places where Paramhansa Yogananda lived, wrote, and blessed the world from his California ashram and retreat.

Pilgrimage Highlights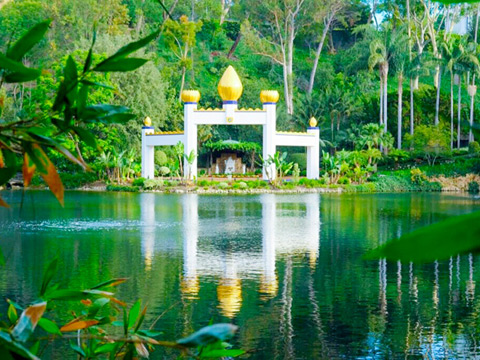 Lake Shrine: Yogananda's spirit permeates this magnificent 10-acre spiritual sanctuary dedicated by Master in 1950. Enjoy the beautiful gardens with plants from around the world; the Court of Religions honoring the five principal religions of the world; the Mahatma Gandhi World Peace Memorial where a portion of Gandhi's ashes is enshrined; a museum with exhibits on Paramhansa Yogananda's work; a temple on a hilltop overlooking the lake; and a gift shop with arts and crafts from India.
Hollywood Church on Sunset Blvd. This was the first church opened by Yoganandaji. Here he gave regular Sunday Services and Kriya Initiations.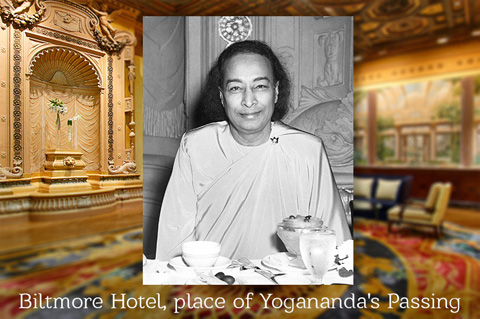 The Biltmore Hotel: Stately and beautiful to this day, it is where the 'Avatar of the Age', Paramhansa Yogananda, left his body on March 7, 1952.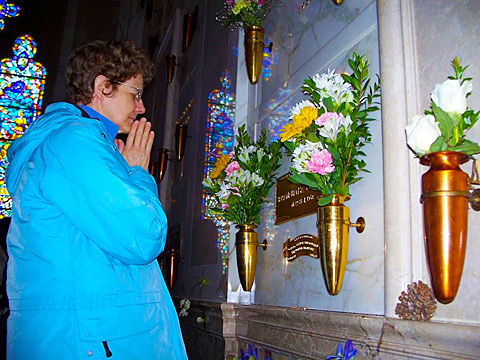 Paramhansa Yogananda's Crypt at Forest Lawn and visit to Mt. Washington
Spend time at Forest Lawn Mortuary in Glendale where Paramhansa Yogananda's body resides in the aptly named "Sanctuary of Golden Slumber". We will chant and meditate in this sacred crypt. The Master's presence and energy makes this a powerful place to feel His vibration.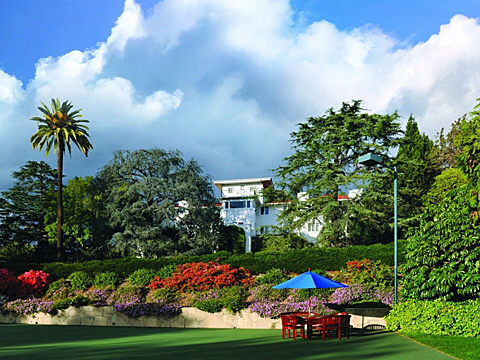 Mt. Washington: We will visit the worldwide headquarters of Self Realization Fellowship. Receive darshan in the Master's bedroom, one of the essential pilgrimage spots of this trip. Meditate in the "Temple of Leaves" where Yogananda would often sit in Samadhi.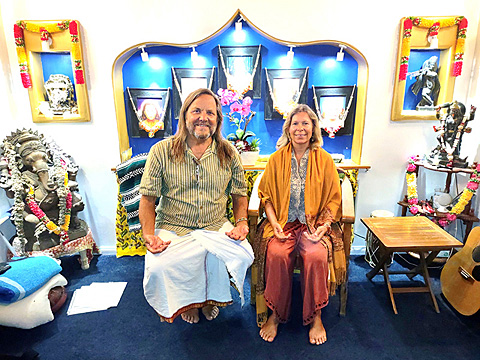 Our time in Encinitas will be at a relaxed pace, with more time to meditate, enjoy Kirtan and chanting. We will visit the famed SRF Meditation Gardens with magnificent views from the bluff overlooking the Pacific Ocean. Walks on the beach will allow us to absorb and assimilate all that has gone before on this pilgrimage, perhaps in our lives. We will visit with Casey and Anke creators of the beautiful Ananda Encinitas Temple of Joy.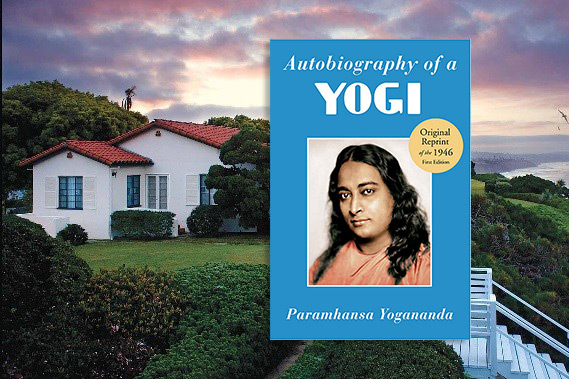 Encinitas Hermitage, deeply permeated with Paramhansa Yogananda's vibration, is where Paramhansa Yogananda wrote his Autobiography of a Yogi. We will meditate on the lovely grounds, and if open, will visit the Master's hallowed rooms.

Our Pilgrimage Hosts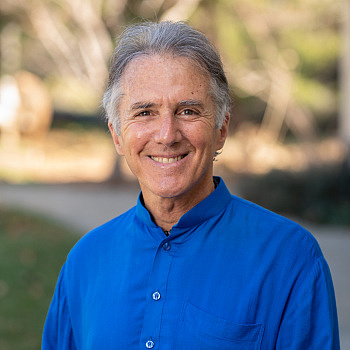 Nayaswami Krishnadas
Experienced pilgrimage tour leader, Nayaswami Krishnadas has for 18 years taken groups to holy places throughout India, Spain, Italy, Portugal, and the United States. He is a long-time Ananda teacher and minister and has an enthusiastic passion for sharing holy sites and the lives of saints. He helps you enter into the spiritual quality of each place so that you may have the fullest spiritual experience possible. He leads each group with insight into the spiritual path, stories, and the devotional practice of chanting, enhancing the trip with music and love for God. Krishnadas is lively, and humorous, and will make you feel at ease wherever you are.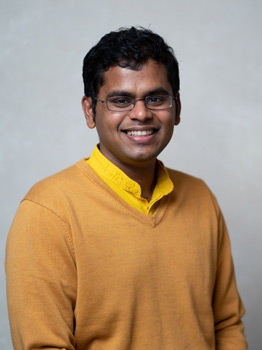 Pilgrimage Co-host: Brahmachari Sagar
Brahmachari Sagar serves in Ananda's Online Ministry teaching classes on meditation, karma and reincarnation, the yogic teachings of Jesus, and more. He has hosted pilgrimages for Indian devotees in India and co-hosted the Yogananda pilgrimage to Los Angeles. Being born into a family of kriya-yogis and reading the Autobiography of a Yogi at the young age of seven gave Sagar a firm start on the spiritual path. He has avidly studied spiritual teachings throughout his life and is very knowledgeable about Yogananda's teachings. Sagar is joyful, highly creative, and has a delightfully spontaneous sense of humor and enthusiasm for life that includes all those around him.