Holy Land Pilgrimage

In the footsteps of Jesus Christ in Israel
Oct 22 – Nov 6, 2023 Israel Pilgrimage
Nov. 6 - 10, 2023 Jordan add-on
Hosts: Sitabai Betts and Atman Goering

Overview: Holy Land and Jordan Pilgrimage
The benefits of our approach: Seeing our spiritual potential, Sharing the energy of the Divine, Top-Quality Accommodations & Meals, Preparing for your pilgrimage
Enjoy a relaxed pace and an uplifted vibration
Unlike typical tourist see-everything beat-the-streets itineraries, the pace of our Holy Land Pilgrimage is intentionally relaxed. We want you to be on vacation and able to absorb the highest vibrations of the Holy Land. We do all the work: we've arranged for exceptional lodgings and dining, all itinerary transportation, expert guides, and we've paced the days to embrace the beauty and inspiration of the sites while giving you time for meditation, reflection, rest and recharge. Israel is soaked in the joy-filled vibrations of Jesus and his disciples, as well as the women saints of Biblical times — and also of many centuries of devoted pilgrims whom have come in search of deep inspiration.
The vibrating energy of the divine
We have planned time in the holy sites for meditation, our opportunity to feel the deep and holy vibrations that are still very present in each of these places. Master Paramhansa Yogananda mentioned that where a Master has been, the spiritual vibrations never depart. Imagine the depth and reality of that for a moment when considering a trip to the Holy Land. We visit about 40 holy places, all dynamically vibrating with the energy of the divine - places made holy by Christ, St. John the Baptist, Christ's disciples, and places where the Divine Feminine vibration is still very strongly present.
One spiritual family
When you don't feel to join in meditation or sitting in silence at these holy places, you are welcome to enjoy an uplifting stroll through the scenic grounds of the captivating, uplifting shrines. Whether meditating, strolling, or simply soaking it all in, your spiritual efforts will receive a greater charge from the company of your fellow spiritually-seeking pilgrims, many of whom have dedicated their lives to the divine quest. On this trip, we are one spiritual family - and you feel this special gift that lasts long after you return home. You may make many new friendships that continue.

Your safety is our joy
Our pilgrimage puts special effort into creating an experience for you without worries of local political issues. Israel welcomes spiritual pilgrims of many faiths, and pilgrims are treated well. Our professional Israeli guide speaks Hebrew. He is known not only as an expert in history and archeology, but he regularly monitors current events for our safety. Itinerary modifications rarely occur; however, we are constantly aware and ready to make modified choices if we need to keep you safe. We've never encountered unsafe circumstances in our many years of leading pilgrimages to the Holy Land.
Seeing your spiritual potential
It is well known that some travelers find visiting the Holy Land oppressive because they focus on the great sorrows and tortures of Christ. Of course, one recognizes these elements through the "Greatest Story Ever Told," and doing so can sometimes lead to a sense of heaviness or sadness. Truly the story of Christ's unimaginable torture and crucifixion is one of the darkest moments in the evolution of mankind. Jesus wept in the Garden of Gethsemane the night before his arrest, and one can feel the depth of his tears when meditating there. The sorrow of Jesus is indeed real, but his ineffable joy and irrefutable knowledge that he was the Son of God is our focus. Jesus said, "ye shall do these things and more." He saw our spiritual potential, not our sins. In the Holy Land, the ineffable joy and teachings of Christ palpably come to life. This remarkable land steeped in the stories of Christ is not just "The Greatest Story Ever Told" - it is alive and vibrating with Christ's energy and his hopes for our spiritual growth and salvation.
Master Paramhansa Yogananda said that Jesus's greatest miracle wasn't raising Lazarus from the dead; it wasn't raising himself from the dead; it was his nearly last words on the cross when he uttered, "Forgive them, Lord, for they know not what they do." This is Christ's remarkable miracle of true, complete and non-judgmental forgiveness and love for every human being. Our pilgrimage focuses on Christ's astounding freedom in God, and his forgiveness of our wrong ways of living.
Our joy of traveling
Besides the glorious and inspiring spiritual boons of the Holy Land, let's not forget our joy of traveling! You'll also have plenty of free time to roam the streets of Jerusalem, walk the shores of the Sea of Galilee, enjoy the dramatic beauty and stillness of the Dead Sea kibbutz with an optional massage or nature hike, relax in the comfort of your conveniently located hotels, or, of course, enjoy fun times with friends and shop for souvenirs. Our pilgrimages are filled with fun, learning, and deep spiritual upliftment.
Join us in bringing Christ out of the story books and experiencing the living Christ - effervescently full of joy and freedom in God. We welcome all sincere truth seekers who wish to experience the true meaning of Christ, the saints, and the power of the divine feminine principle in the Holy Land.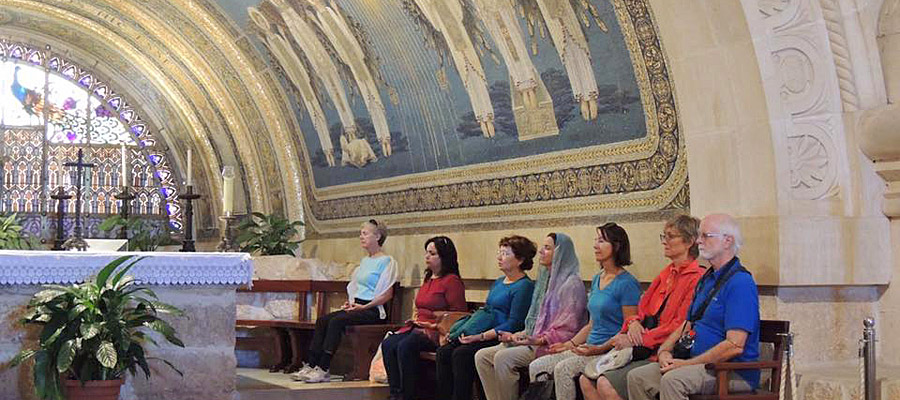 Top-Quality Accommodations & Meals
To help you relax deeply and be fully receptive to all this trip has to offer, we'll stay in beautiful 4- and 5-star hotels. We take the challenge out of international travel. Our Jerusalem hotel is located just inside the famous Jaffa Gate in the ancient walled Old City, it's streets narrow and much as they were in the time of Christ. Our hotel is located just a few short minutes' walk to the Holy Sepulchre Church where Christ was crucified and then buried in the sepulchre cave, so you can return to this most holy site as often as you wish. Our Galilee hotel is on the spectacular Sea of Galilee where you will be able to walk along the banks of the Sea. At the Dead Sea, we stay at a very lovely and relaxing traditional Jewish kibbutz spa that offers a relaxing stay with optional spa services.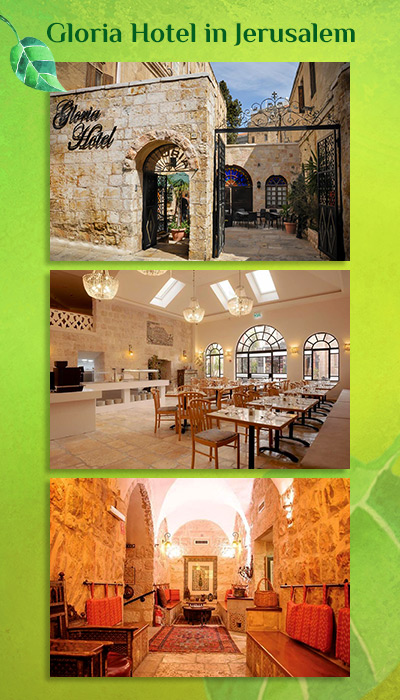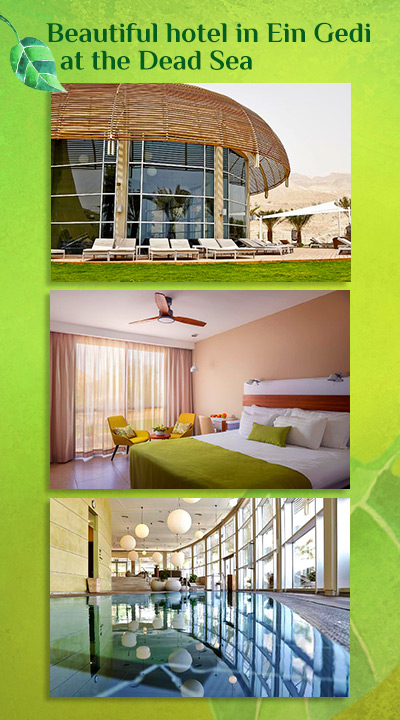 Food - glorious Israeli food!
Our pilgrimage includes all breakfasts and dinners every day (vegetarian or non-vegetarian options are available), often with traditional Middle Eastern food available that is remarkably plentiful and tasty. Eight lunches are included in the cost of the trip, while six lunches will be on your own on days when you are free to explore the cities of Tzfat and Jerusalem. Lunches on your own are a fun way to experience more of the Holy Land, and these may be found easily at upscale restaurants or at traditional falafel old-city street restaurants - a classic, not to be missed, highlight of any trip to Israel.
Preparing for Your Pilgrimage Experience
In the all-time spiritual classic, "Autobiography of a Yogi," by Paramhansa Yogananda, he wrote: "Wandering day after day over the Holy Land, I was more than ever convinced of the value of pilgrimage. The spirit of Christ is all-pervasive in Palestine*; I walked reverently by his [Christ's] side at Bethlehem, Gethsemane, Calvary [the Holy Sepulchre Church], the holy Mount of Olives, and by the River Jordan [where Jesus was baptized by John] and the Sea of Galilee [where Jesus mainly taught during his 3.5 teaching years]. Our little party visited the Birth Manger [in Bethlehem, Palestine], Joseph's carpentry shop [in Nazareth], the tomb of Lazarus [in Palestine], the house of Martha and Mary [in Palestine], the hall of the Last Supper [in Jerusalem]. Antiquity unfolded; scene by scene, I saw the divine drama that Christ once played for the ages."
(*in 1946 when the Autobiography was written, all of the Holy land was called Palestine, before the formation of the country of Israel.)
Yogananda also wrote an inspiring article a few months later about his travels to the Holy Land. "Antiquity was unfolded before my eyes—as depicted in the Divine drama. I was overwhelmed. May you all meditate so deeply that you will really behold Jesus yourself."
Not only are these holy sites in Israel and Palestine where Jesus walked, they are sites where Yogananda visited and felt that all were "true sites" where the history of Jesus's life is accurately memorialized in the correct location.
Additionally, Swami Kriyananda, on a personal pilgrimage in 1983, also felt extraordinarily deep inspiration from the living presence of Jesus Christ in the Holy Land. He was inspired to write a complete oratorio, "Christ Lives"— a deeply inspiring musical narrative of the life of Jesus. It has inspired thousands, and is often performed live in the full version in various Ananda Communities around Easter time each year. Here you will find the video of the full Oratorio performed at the Temple of Light at Ananda Village on April 15, 2022. Here also is an illustrated version of the Oratorio. Take time to focus on each element of the performance, it has greatly deepened many people's inner experience of the life and teachings of Jesus and helped bring the story of Christ to life when visiting the Holy Land.
This video shares about our 2018 Holy Land Pilgrimage. Our 2023 trip will be very similar, with some different sites, new leadership, and the add-on excursion into Jordan.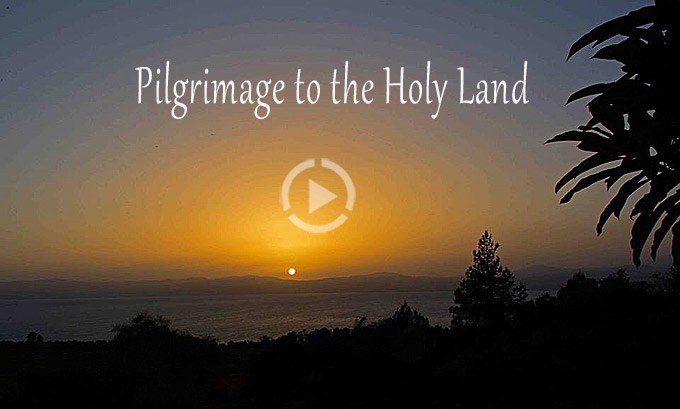 Jordan Pilgrimage Extension Overview
Continue the relaxed pace, the inspiration, and visit astounding sites in nearby Jordan
Of course in ancient times, political national borders did not exist in the Middle East. Jordan was simply part of the Holy Land. Today, we must cross an international land border to visit Jordan, and we assist our guests with this otherwise complicated crossing.
Our Jordan Pilgrimage extension will include many wonderful attractions, both of spiritual interest (where St. John the Baptist was beheaded, and where Moses is buried) and of cultural interest (the amazing ancient "Rose City" of Petra, the otherworldly Wadi Rum desert, and the ancient mosaic map of Jerusalem).
The Petra Pilgrimage Extension is only available to those traveling with us to the Holy Land who wish to continue with us on this extension. It conveniently departs from Jerusalem for Jordan on the same day that the Holy Land pilgrimage ends. Like our Holy Land experience, we will travel at a relaxed pace. Our Jordan extension features top quality hotels and meals for your relaxation and enjoyment. Our two experienced and delightful Ananda tour hosts will continue with us on the Jordan Pilgrimage Extension, and after we cross the border we will get a new professional tour guide for Jordan who is an expert for the remarkable sites we will be visiting.
You're in the neighborhood! Stay with us for the optional and memorable additional 5 days, 4 nights, in Jordan to visit more truly unforgettable sites.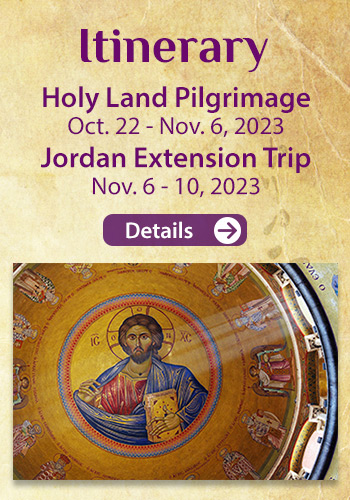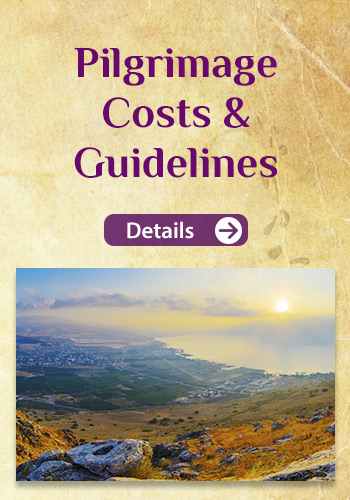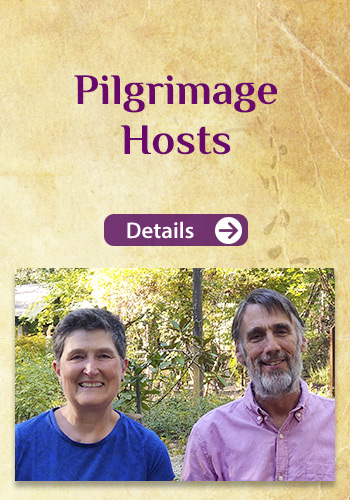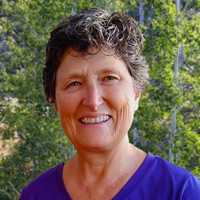 Contact Sitabai Betts, Holy Land Pilgrimage Host
I am available to talk by phone, or have a Zoom meeting, with you to answer your questions about this pilgrimage. Please complete the section below and we will be in touch with you soon.
Life is a pilgrimage...travel with us, visit our retreat in California, join our online community
Helping you to connect with your highest Self - sharing the teachings of Paramhansa Yogananda