Holy Land Pilgrimage Leaders
Ananda Spiritual Travel leaders, co-hosts, and in-country guides, all live by spiritual principles which connect them to higher truths, and each has had formative spiritual experiences which have shaped their lives and callings.
Our leaders are focused on supporting you to discover your spiritual heritage on our pilgrimage to the Holy Land - to more deeply understand ancient Israel before Jesus Christ, to experience His short lifetime through visits to where he lived and taught, and to come closer to the Joy of His life and to live more closely to that upliftment.
Learn more about our Holy Land Pilgrimage Leaders:
Sitabai Betts, Host
Atman Goering, Co-host
Dr. Joe Freedman, in-country tour educator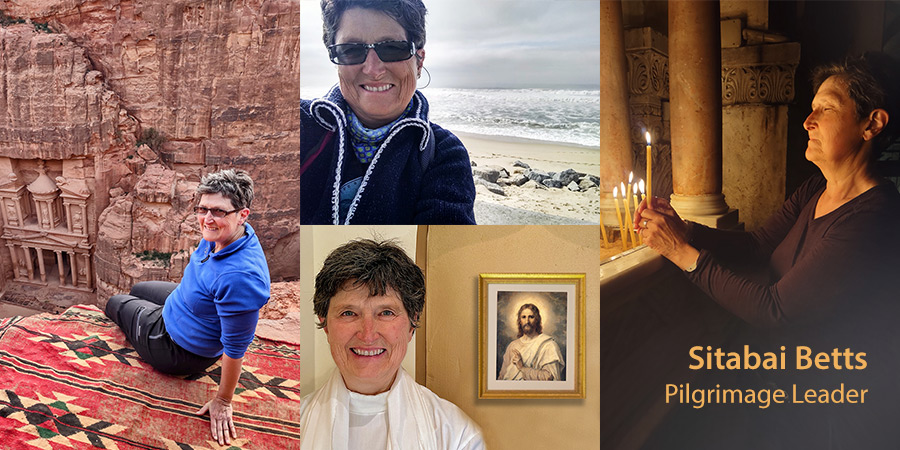 Sitabai Betts
Ananda Spiritual Travel Host, Ananda Lightbearer Minister, lives and serves at Ananda Village in Northern California
Sitabai is an adept and experienced international traveler, seeking extraordinary beauty and divine inspiration throughout her travels. She has visited many holy sites throughout Europe, India, and the Holy Land in Israel and Jordan – touching the Divine presence brought to earth through the saints, Mother Mary, Jesus Christ, and the great Masters of India. She is always on the lookout to share extraordinary experiences with others and has a genuine knack in finding and curating the best holy places that create our remarkable pilgrimage offerings.
Sitabai has walked the Camino de Santiago Frances Route from southern France to the coast of Spain, a total of over 600 walking miles in order to experience the dynamic living inspiration of the Camino and to develop our inspired one-of-a-kind Camino Pilgrimage. Sitabai regards herself as a citizen of the world and joyfully brings to her guests her knowledge and enthusiasm.
Sitabai is also an experienced hiker and backpacker in her nearby California Sierra Mountains, having solo hiked the John Muir 211-mile trail from Mt. Whitney, the tallest peak in the Continental US, to Yosemite National Park, as well as many other High Sierra trails for many decades. Sitabai has 4 grown sons, and has lived at Ananda Village since 1984.

From Sitabai:
"I get such a thrill from finding and sharing unique and special places of spiritual power and beauty with others. There is so much inspiration to share in this world, and so much goodness to focus on instead of all the problems of the world. I experience the joy of the Divine in every atom, every being, every moment, every breath!
My favorite quote by Paramhansa Yogananda, "Smile that perpetual smile, that smile of God. Smile that strong smile of balanced recklessness – that million-dollar smile that no one can take away from you." Come join me on a spiritual adventure and be prepared to smile!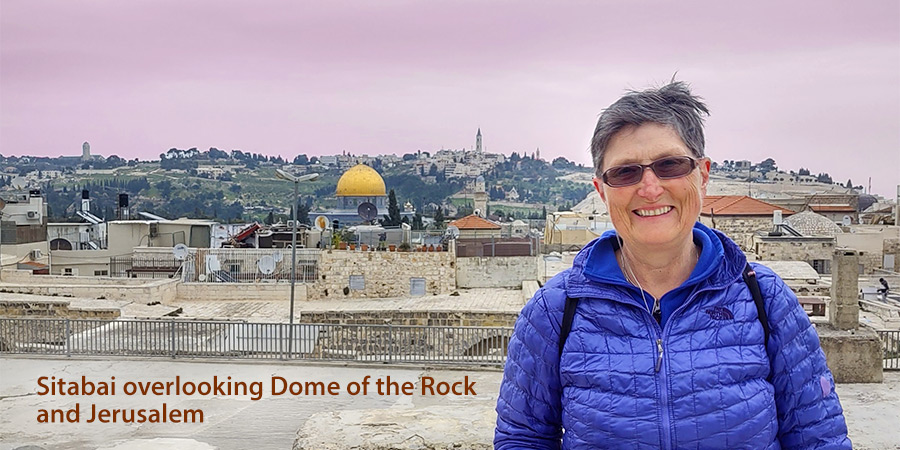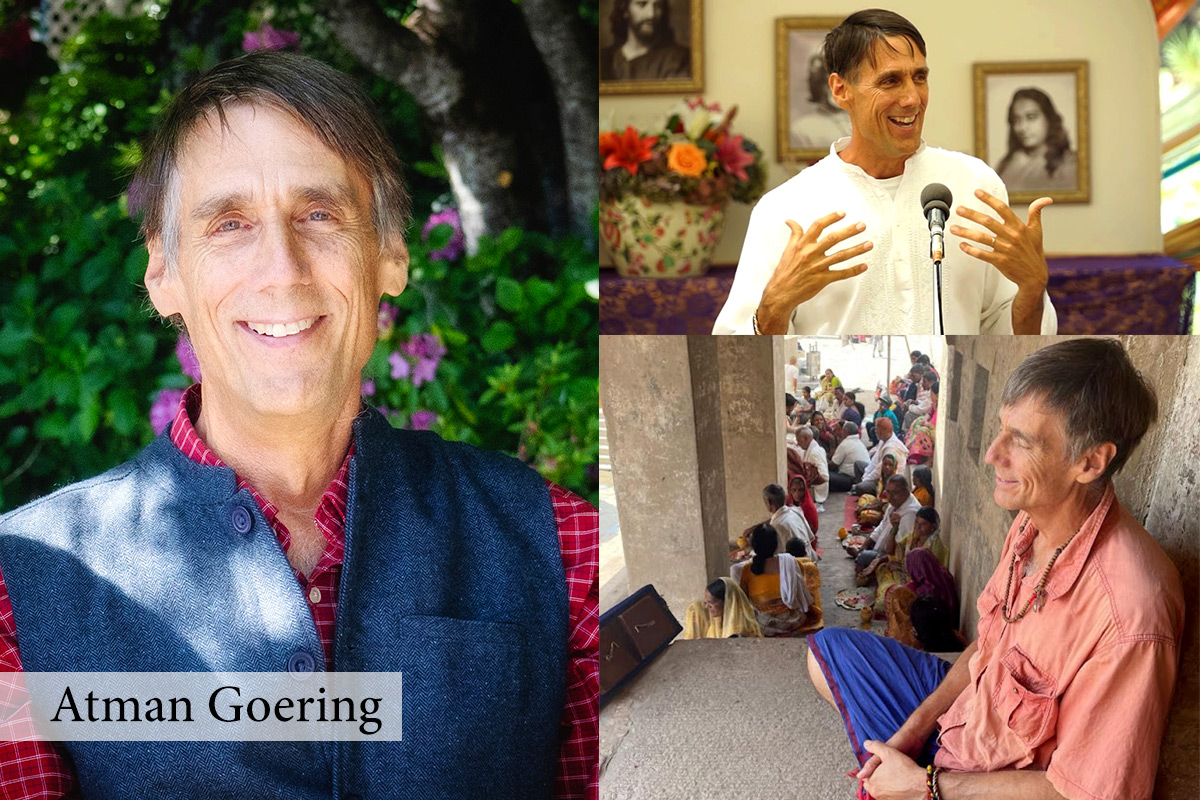 Atman Goering
Ananda Spiritual Travels Pilgrimage co-host
International travel has been an integral part of my life for the last 45 years. I have travelled to numerous countries on five continents and lived for extended periods on three different continents and become fluent in three languages. I have always enjoyed experiencing the great diversity of cultures and environments that share this planet. Travel has helped me to better know myself. One's own character, assumptions, and habits, the good and the bad, come into focus when faced with new ways of being. My globe trotting led me to pursue in earnest the spiritual search and the regular practice of yoga and meditation. As I grew in understanding, my travels focused more and more on pilgrimage: visiting places to tune into, through meditation and silent contemplation, the sacred vibrations that remain in places made holy by beings of higher consciousness, and the subsequent visitors who have sought to attune themselves to those vibrations. I have also found places of great natural beauty, especially mountain wilderness, to be a source of great inspiration and attunement to the Divine.
For the last thirty years my wife, Bhaktimarg, and I have made Ananda Village in California our home and we raised our son here. I have served as manager of both Ananda retreats and for the last twenty years as manager for the village. I also serve as a minister an Ananda Lightbearer and enjoy giving talks and classes sharing the incredible gift of Yogananda's spiritual teachings, illuminated by the inspiration and humor I have experienced in my own life. I am looking forward to smoothing the way for pilgrims joining us in the Holy land through both my experience on the spiritual path and my familiarity with meeting the surprises and adventures of pilgrimage. I am sure we will share an unforgettable experience. Please join us.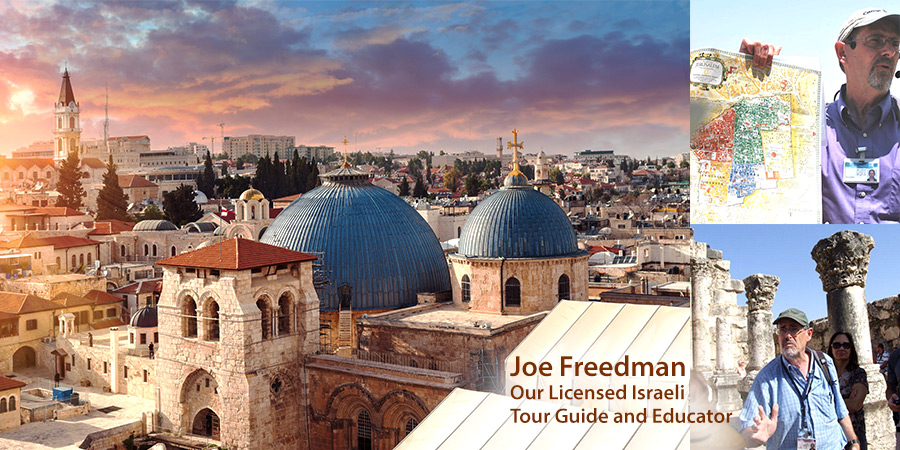 Dr. Joe Freedman
We are delighted to have Dr. Joe as our in-country guide once again - he was an outstanding tour educator for us on our 2018 Holy Land Pilgrimage, and many pilgrims became good friends with Joe.
Originally from St. Louis, Missouri, Joe holds an M.A. in Jewish Education from the Jewish Theological Seminary and a doctorate in education from Teachers College, Columbia University in New York. He moved to Israel with his family in 1980. While directing an organization that provided educational Israel experiences for youth and adults from North America, he earned his tour guide license issued by Israel's Ministry of Tourism in 1996. He now works as a freelance tour guide and educator. Joe has been the Tour Educator/Guide for many educational tours, and has experience working with all age groups and religious backgrounds – from teen and college-age experiences to senior adult trips. In addition, he has guided many Christian pilgrimages – from various denominations - as well as interfaith programs. Joe lives with his wife Sue, a geriatric social worker; in Jerusalem. They have four children and thirteen grandchildren (at this writing!).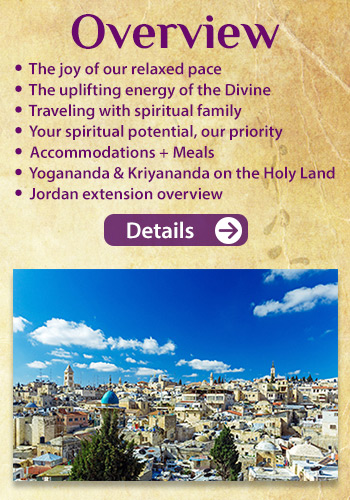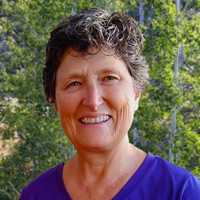 Contact Sitabai Betts, Holy Land Pilgrimage Host
I am available to talk by phone, or have a Zoom meeting, with you to answer your questions about this pilgrimage. Please complete the section below and we will be in touch with you soon.