India Pilgrimage Itinerary
Here is a sample itinerary. It shows the places we will go, although the order and details will change as we fine tune this next trip. The length of the pilgrimage is 20 days, 21 nights.
Arrival in Delhi
Pilgrims will land in New Delhi, the capital of India. We will send a driver to meet you and transport you to the hotel, in Delhi. The hotel is reserved for you beginning on the arrival date. The first day of activities will be the following day. Talk with Krishnadas for more information about getting from the airport if your plane comes in on another day.
Day 1
Our first day will have a sensibly late start. A 2-minute walk from our hotel is the Ananda Delhi center where we'll have an 11:00 am opening gathering and orientation, followed by lunch. We'll be joined by Keshava Taylor who, along with his wife, Daya, direct the Ananda Delhi center. Together we work as a team to bring you the best pilgrimage possible.
In the afternoon you have the option to visit Dilli Haat, an open-air textile market and food bazaar. Vendors gather from all over India with their indigenous wares, unique from their local region. There is a huge variety of merchandise at very good prices.
We'll return to Ananda Delhi Ashram for dinner. The ashram will serve as a home base for our pilgrimage. We'll return one more time during the trip, to "rest and re-group," Leaving some of our belongings in Delhi. To reach our destinations within India we'll take several one to two hour flights, some trains (first-class when available), and chartered buses. The Ananda Center in Delhi will also serve as a peaceful place for meditation, rest, and home-cooked meals.
Puri
Day 2
We take a morning flight from Delhi to Bhubaneswar, then take a bus to Puri, a small city halfway down India's east coast. For us, the highlight of Puri is Swami Sri Yukteswar's seaside hermitage and the place of his burial. (Sri Yukteswar was the guru of Paramhansa Yogananda. His life is richly chronicled in Yogananda's life story, Autobiography of a Yogi
We can meditate each day at the powerful Samadhi Mandir over the spot where Sri Yukteswar's body is buried. We'll also see the enormous Jagannath temple, and enjoy chanting and meditation on the beach. We'll spend four nights at a beach resort on the Bay of Bengal, with a sea view and within walking distance, along the beach, of Sri Yukteswar's hermitage. Our resort offers a sandy ocean beach, swimming pool, private terraces, excellent restaurant, and body care massages.
Days 3, 4 & 5
We'll offer Energization Exercises and meditation on the beach in the morning, and yoga and kirtan at sunset. Recounting stories from Autobiography of a Yogi, many of which took place in Puri, we'll feel the blessings of Sri Yukteswar and Paramhansa Yogananda become tangibly real. We'll also visit and meditate in the ashram of Bhupendra Nath Sanyal Mahasaya, disciple of Lahiri Mahasaya; and the Advaita Brahma Ashram of Totapuri Baba. Totapuri was the guru who gave Sri Ramakrishna the experience of Nirvikalpa Samadhi.
Our time in Puri will be fulfilling and inspiring, but not demanding. Our seaside location is very relaxing and recharging.
Kolkata, Serampore and Dakshineswar
Immeasurable blessings emanate from the places where Paramhansa Yogananda and Sri Yukteswar lived and meditated. That power is as alive today as always. Ananda has been leading pilgrimages to Kolkata, our most popular destination, for 35 years, and we share a deep friendship with Yogananda's family and other custodians of these shrines.
Day 6
Travel to the teeming city of Kolkata.
Day 7
A visit to Yogananda's boyhood home at 4 Garpar Road. It's now the residence of his brother's grandson, Somnath Ghosh. Somnath and his wife, Sarita, lovingly maintain the home and share it as a shrine. They will welcome us as one of the family, sharing stories, family relics, and photos. Many rare and original photos and paintings exist here that will inspire and delight you.
We'll visit, chant, and meditate in several rooms of this sacred house: the living room, where Sri Yukteswar would visit Yogananda's father; the small attic meditation room where, Yogananda said, "I found God," and where he communed with Divine Mother; and Yogananda's bedroom where Babaji came to give his blessing to Yogananda, who was chosen to take the timeless teachings of yoga to the West.
Along with deep vibrations and the blessings there, we'll enjoy lunch with Yogananda's family, lovingly served to us.
Watch a slideshow of past Ananda pilgrimages in Kolkata.
Day 8
After breakfast we'll bus to the home of Tulsi Bose, Yogananda's boyhood friend. Here, in this tiny out-of-the-way home filled with high vibrations, have gathered spiritual giants, who came for fellowship, chanting, and God-communion. Yogananda stayed here during his return visit to India in 1935-36, cared for by Tulsi's wife, Martan Ma. The residence later became the home of Tulsi's daughter, Hassi, and her husband, Devi Mukherjee, who authored the book, Shaped by Saints. The house is now owned and managed by Ananda. We'll meditate in this home, a veritable shrine in its own right, with many relics and treasures, including the beds of Sri Yukteswar and Yogananda.
We'll walk around the corner to the ashram of Bhaduri Mahasaya, the "levitating saint," whom Sri Yogananda wrote about in his Autobiography, and meditate there.
Day 9
We'll travel by bus to Serampore, the town where Sri Yukteswar had his hermitage, and where Yogananda spent 10 years in training with his guru. We'll meditate in a shrine built on the site of the hermitage. We'll then walk down Rai Ghat Lane to sing chants under the banyan tree where Babaji greeted Sri Yukteswar after he completed writing The Holy Science.
We'll also visit and have lunch with family members of Yogananda's older brother, Ananta. Durlov is Ananta's grandson and lives with his wife in Serampore. Durlove's mother, Meera, was married to Ananta's son Ramakrishna, and she became a close friend of Ananda. (read her memoirs here). We'll arrive back to our hotel early evening.
Day 10
Then we'll drive to the Kali Temple in Dakshineswar, just outside Kolkata on the banks of the Ganges delta. Yogananda visited this temple with his sister Roma and her husband. Here he entered cosmic consciousness, and the image of Kali came alive before him, granting his request that Roma's husband be spiritually awakened. We'll chant and meditate at this powerful spot.
Sri Ramakrishna, one of the best-known masters of modern India, lived at this temple many years along with Sarada Devi, his spiritual companion. We'll be able to meditate in his room, where he and his disciples spent many hours a day.
We'll also visit Cossipore, and meditate where Sri Ramakrishna had samadhi, and where he passed away. The deep peace that is felt in this ashram is incredibly healing and unforgettable.
Later we can visit the headquarters church of the Sisters of Charity, with Mother Teresa's tomb and the small room where she lived.
Day 11
Travel day from Kolkata to Varanasi
We'll visit peaceful, park-like, Sarnath, outside Varanasi, the place of Buddha's first discourse after achieving enlightenment.
Varanasi
Days 12, 13 & 14
The ancient and holy city of Varanasi (also known as Benares, and in ancient times as Kashi) radiates timeless wisdom. Many of India's greatest saints, like Adi Shankaracharya, Gautama Buddha, and Mahavatar Babaji lived here.
It was in Varanasi that Paramhansa Yogananda first met Swami Sri Yukteswar. And here lived the now famous, but ever humble, Lahiri Mahasaya who, with the blessing of Mahavatar Babaji, resurrected Kriya Yoga and began a quiet revolution that has spread and continues to grow around the world.
We will meditate at Lahiri Mahasaya's grandson's home which has relics and Lahiri's ashes. We'll see Dasaswamedh Ghat, on the river, where Babaji and his sister, Mataji, appeared before Ram Gopal Muzumdar. Another stop will be a boat ride to the temple of Trailanga Swami, Lahiri Mahasaya's 300-year-old friend, with whom he'd sometimes meditate. (He was featured in Chapter 31 of Autobiography of a Yogi).
Our hotel, a short walk from the Ganga, permits easy travel by boat. We will take a boat to the ashram where Ananda Moyi Ma lived, and where we'll have a morning meditation. We'll take a boat ride on the Ganga, chanting, meditating, and watching the sun rise; at sunset, from boats on the river, we'll witness a marvelous Ganga arati ceremony, complete with seven pujari priests. It's very dramatically Indian, and it is an unforgettable experience.
Day 15
Depart Varanasi and return to Delhi
Babaji's Cave
One of the highlights of this trip is the beautiful quiet hillside, in the foothills of the Himalayas at an elevation of 6600 feet, where Lahiri Mahasaya is said to have first met Mahavatar Babaji in 1861. Located here is the cave where Lahiri spent a previous incarnation. Babaji gave Lahiri Kriya Yoga initiation on this spot, thus launching its spread around the world. We'll spend most of a day together on this hillside, taking turns meditating in the cave itself.
This quiet area of the Kumaon region has a strong spiritual vibration and also offers saints, ashrams, and stunning Himalayan views.
Day 16
We'll take an early morning, 5 ½ hour train trip on the first leg toward Babaji's cave in the Himalayan foothills. Arriving in the town of Kathgodam, we'll then board buses for a ride through the hills.
We'll arrive late afternoon at our hotel near Ranikhet, where spectacular views of the Himalayas await us (clouds permitting!).
Day 17
Today will be a retreat day at our hotel overlooking the Himalayan mountain ranges and Villages below. This will be an opportunity for longer meditations, silent introspection and relaxation time, breathing the rarified air and absorbing the wonderful vibration of these magnificent mountains.
Day 18
After an early breakfast we'll take a two-hour bus ride through the extraordinarily picturesque hills to a spot not too far from Babaji's cave. We'll trek up the trail to meditate in the cave and on the surrounding hillside. Later in the afternoon we'll walk back down and return to Ranikhet in time for dinner. (Watch a slideshow of the Babaji's cave pilgrimage.)
Day 19
We'll drive back through the beautiful mountain foothills. Along the way we'll stop to meditate at the spiritually powerful ashram of Neem Karoli Baba, a renowned Kumaon Hills' saint, at Kainchi. We'll take an afternoon train arriving in Delhi late in the evening.
Day 20
Breakfast will be at your hotel, then meet for our closing satsang at the Ananda Ashram. The rest of the day is yours to get everything repacked and refresh yourself for the trip back home. Since many pilgrims have late night flights, your hotel room is reserved for this night. This also gives you the option of leaving the next day, but with morning check out.
You'll then return home feeling the deep blessings of pilgrimage for a long time afterwards. Go with Love!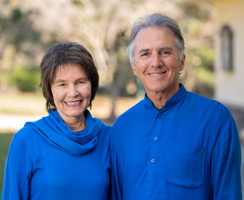 Contact us to learn more about this pilgrimage:
1.530.478.7522
Or, complete the form below.
We can Zoom with you, to answer your questions and share more about India Pilgrimage