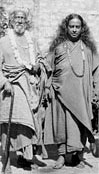 A Pilgrimage to the India of Yogananda
In the Footsteps of the Autobiography of a Yogi
October 23 – November 13, 2017

"God is simple. Everything else is complex. Do not seek absolute values in the relative world of nature."
These philosophical finalities gently entered my ear as I stood silently before a temple image of Kali. Turning, I confronted a tall man whose garb, or lack of it, revealed him a wandering sadhu.
—from Autobiography of a Yogi
The Transforming Power of Pilgrimage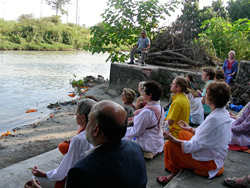 For thousands of years pilgrims have known that reverently visiting places made holy by saints, and feeling the sacred presence that still permeates those sites, opens one's heart and mind as nothing else can. Our Ananda Travels' pilgrimage will change and deepen you in ways you never would have thought possible. The memories of these experiences will last a lifetime, making God's presence an ever-deeper reality for you.
Multi-Level Benefits – Physical, Mental, Spiritual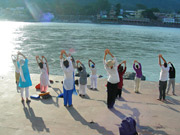 The benefits of traveling with our Ananda Travels leaders are many. You can know that all your needs for high standards of comfort, cleanliness, harmony, and meaningful travel will be taken care of. Our tour leader team from America and India are committed to help you feel cared for and safe at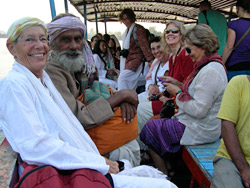 all times. We have long-term relationships with wonderful hotels, tour guides, and restaurants.
Our many connections in India insure that you will have a variety of unique and deeply moving spiritual and social experiences. You will experience both the exotic quality of India and the loving warmth and joy of its native people.
The details will all be handled expertly, and you can simply relax and "go with the spiritual flow."
This trip is extremely well thought out, based on years of experience, to give you countless opportunities for inner inspiration. Great saints and holy people have sanctified each place with their vibrations. The spiritual energy of our group—with everyone meditating and sharing together, tends to give each person a deeper experience of their own soul nature and of God's presence within. Traveling as a group often draws adventures and experiences that one might not have if traveling alone.
"The benefit of pilgrimage to holy places is not because of their rich history, but for the fact that divine blessings can be experienced when visiting them. Their very soil is impregnated with a higher consciousness." —Swami Kriyananda, founder of Ananda
Experienced Tour Leaders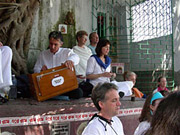 For over 30 years Ananda has led pilgrimages to places of spiritual power in India. This tour is led by experienced leaders, Nayaswamis Krishna Das and Mantradevi of Ananda Village in California, and Tyagis Keshava and Daya of Ananda Sangha, India. They love taking you to all of these special places. As tour guides they have much combined experience in leading trips. As long-time disciples and teachers, they can help to interpret some of what you encounter. They are all very warm and approachable, knowledgeable and dedicated to giving you the best possible trip. You will feel well taken of, loved, and befriended.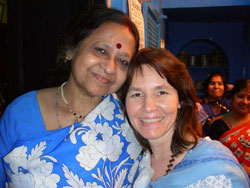 Over the years they have gotten to know family, friends, and disciples of many of the saints whose sites you will visit. Many of them love to tell stories and share their experiences and insights.
Ananda Travels' goal is to help you have a physically comfortable and deeply soul-satisfying trip.
Here are a few of the many places you will experience
See the
pilgrimage schedule
for a full description of the trip.
Day 1 : Delhi
Day 2/3 : Ranikhet
Day 4 : Babaji's Cave
Day 5 : Ranikhet/Delhi
Day 6 : Delhi
Day 7/9 : Puri
Day 10/11: Calcutta/Dakshineswar
Day 12/13: Serampore
Day 14 : Seramporer/Vrindavan
Day 14/15: Vrindavan
Day 16 : Taj Mahal/Delhi
Day 17/20: Rishikesh
Day 21 : Delhi/Free Day
Mahavatar Babaji's Cave: Lahiri Mahasaya met his guru, Babaji, in the Himalayas, and received initiation into the sacred Kriya technique. Meditate in Babaji's cave and enjoy stunning Himalayan mountain views.
Puri: Meditate in the Mandir where Sri Yukteswar's body is buried; visit the famous Jagannath temple and other holy sites.
Calcutta: One of the highlights is visiting Paramhansa Yogananda's boyhood home, where his family still resides. Here, he had countless spiritual ecstasies, as well as visits from Sri Yukteswar and many other saintly people. Meditate in his little attic room where, as he said, "he found God," and in the room where Babaji came to him. Listen to stories of Yogananda's life growing up in that home. We'll also visit the home of Yogananda's childhood friend, Tulsi Bose, which became Yogananda's home away from home. It is also filled with deep vibrations and holy artifacts.
Serampore: Yogananda spent his early years of discipleship years here in Sri Yukteswar's ashram. You'll also walk the lane to the bathing ghat and banyan tree where Babaji appeared to Sri Yukteswar.
Dakshineswar: The temple complex of Ramakrishna, where the famous Kali statue came alive for both Ramakrishna and Yogananda. Ramakrishna's bedroom and meditation rooms are also inspiring places to meditate.
Delhi: Visit Ananda's Centers in Gurgaon and Delhi, as well as the very inspiring Gandhi memorial. Shop in a marketplace that has crafted goods from all over India, and meditate in an ancient Jain temple.
Rishikesh: At the feet of the Himalayas, on the banks of the Ganges river, Rishikesh is blessed with the holy atmosphere of many ashrams, saints and sadhus. We will meditate along the Ganges and in various ashrams and caves, including the powerful Vashistha Guha (cave of the rishis), in Swami Sivananda's kutir (home) and his tomb at the Divine Life Society.
Agra: Experience the unforgettable Taj Mahal.
Vrindavan and Mathura are the most important places of pilgrimage for devotees of Krishna. Krishna was born in Mathura and spent His childhood in Vrindavan. There are over 5,000 temples in Vrindavan, dedicated to Lord Krishna, based on events from his life, many of them featuring miracles that happen every day.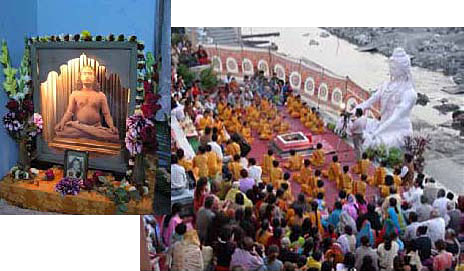 Testimonials:
A belated 'Thank you' to you and Mantradevi for the great leadership you provided during our pilgrimage this fall. Meditations in the morning, chanting and selected readings as we approached each destination helped us to prepare for deeply spiritual experiences. And you kept us all together, which was no small feat! When I looked at your photos, I was struck by how you both glowed with divine love. I can't thank you enough! —Barbara and Don
The holiness of sacred India touched my heart and soul in a way that nothing has ever done before. I was moved and changed deeply.
— P.L. California
Thank you for a wonderful trip of a lifetime. I am forever changed and so much more grounded after my return. My morning spiritual practice has been consistent and my meditations are coming along. All in good time.
—D.A., Los Angeles, Ca
I am very grateful to have been able to "Walk with The Masters" with you. My experience was often deeply moving and most always filled with inner joy! There were so many extraordinary "steps" we took along our path that my journal is bulging (happily)!
And the moments continue now that I am home & settling in....the sound of the waves yesterday took me right back to India. The quiet, calm, inner peace I feel seems hard to believe when one thinks of the "outer" madness of India. Needless to say I keep my passport ready and will go back soon....but never without you Angel Guides from Ananda! Namaste! Aummmm!
—J.B., Palo Alto, CA
For info & itinerary contact Krishnadas or call 530-478-7518, x7091