A Pilgrimage to the India of Yogananda

In the Footsteps of the Autobiography of a Yogi
The blessings of pilgrimage, and power of being in places blessed by saints, will change and deepen you, lasting a lifetime. The memories of sweet experiences making God's presence an ever deepening living reality within.
Not scheduled at this time.
Retreat Leaders
"My steps were eager as I returned to my Gurpar Road home. . .The darkness of the warm Indian night was suddenly lit with a wondrous vision. Haloed in splendor, the Divine Mother stood before me. Her face, tenderly smiling, was beauty itself." – From Autobiography of a Yogi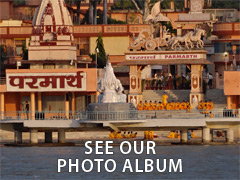 A spiritual pilgrimage to the places sanctified by Paramhansa Yogananda and the many saints and holy men and women he described in his Autobiography of a Yogi.
Come meditate in Yogananda's boyhood home; the little attic room where, as he said, "he found God," and in the room where Babaji came to him.
Visit the Kali Temple where the image of Kali came alive and spoke with Yogananda.
Visit Babaji's cave near the site he initiated Lahiri Mahasaya.
. . .and much more!
You will also have much opportunity to enjoy the culture, food, and experiences of many different areas of India.
This trip is extremely well thought out, based on years of experience, to give you countless opportunities for inner inspiration. Great saints and holy people have sanctified each place with their vibrations. The spiritual energy of our group—with everyone meditating and sharing together, tends to give each person a deeper experience of their own soul nature and of God's presence within. Traveling as a group often draws adventures and experiences that one might not have if traveling alone.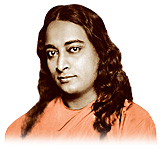 Here are a few of the many places you will experience
See the pilgrimage itinerary for a full description of the trip.
Mahavatar Babaji's Cave: Lahiri Mahasaya met his guru, Babaji, in the Himalayas, and received initiation into the sacred Kriya technique. Meditate in Babaji's cave and enjoy stunning Himalayan mountain views.
Puri: Meditate in the Mandir where Sri Yukteswar's body is buried; visit the famous Jagannath temple and other holy sites.
Kolkata: One of the highlights is visiting Paramhansa Yogananda's boyhood home, where his family still resides. Here, he had countless spiritual ecstasies, as well as visits from Sri Yukteswar and many other saintly people. Meditate in his little attic room where, as he said, "he found God," and in the room where Babaji came to him. Listen to stories of Yogananda's life growing up in that home. We'll also visit the home of Yogananda's childhood friend, Tulsi Bose, which became Yogananda's home away from home. It is also filled with deep vibrations and holy artifacts.
Serampore: Yogananda spent his early years of discipleshiphere in Sri Yukteswar's ashram. You will also walk the lane to the bathing ghat and banyan tree where Babaji appeared to Sri Yukteswar.
Dakshineswar: The temple complex of Ramakrishna, where the famous Kali statue came alive for both Ramakrishna and Yogananda. Ramakrishna's bedroom and meditation rooms are also inspiring places to meditate.
Delhi: Visit Ananda's Centers in Gurgaon and Delhi, as well as the very inspiring Gandhi memorial. Shop in a marketplace that has crafted goods from all over India, and meditate in an ancient Jain temple.
Rishikesh: At the feet of the Himalayas, on the banks of the Ganges river, Rishikesh is blessed with the holy atmosphere of many ashrams, saints and sadhus. We will meditate along the Ganges and in various ashrams and caves, including the powerful Vashistha Guha (cave of the rishis), in Swami Sivananda's kutir (home) and his tomb at the Divine Life Society.
: Experience the unforgettable Taj Mahal.
The Transforming Power of Pilgrimage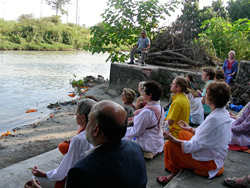 For thousands of years pilgrims have known that reverently visiting places made holy by saints, and feeling the sacred presence that still permeates those sites, opens one's heart and mind as nothing else can. Our Ananda Travels' pilgrimage will change and deepen you in ways you never would have thought possible. The memories of these experiences will last a lifetime, making God's presence an ever-deeper reality for you.
Multi-Level Benefits – Physical, Mental, Spiritual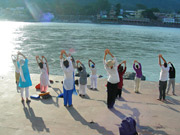 The benefits of traveling with our Ananda Travels leaders are many. You can know that all your needs for high standards of comfort, cleanliness, harmony, and meaningful travel will be taken care of. Our tour leader team from America and India are committed to help you feel cared for and safe at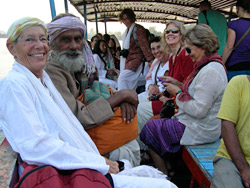 all times. We have long-term relationships with wonderful hotels, tour guides, and restaurants.
Our many connections in India insure that you will have a variety of unique and deeply moving spiritual and social experiences. You will experience both the exotic quality of India and the loving warmth and joy of its native people.
The details will all be handled expertly, and you can simply relax and "go with the spiritual flow."
This trip is extremely well thought out, based on years of experience, to give you countless opportunities for inner inspiration. Great saints and holy people have sanctified each place with their vibrations. The spiritual energy of our group—with everyone meditating and sharing together, tends to give each person a deeper experience of their own soul nature and of God's presence within. Traveling as a group often draws adventures and experiences that one might not have if traveling alone.
"The benefit of pilgrimage to holy places is not because of their rich history, but for the fact that divine blessings can be experienced when visiting them. Their very soil is impregnated with a higher consciousness." —Swami Kriyananda, founder of Ananda
Experienced Tour Leaders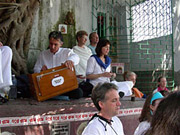 For over 30 years Ananda has led pilgrimages to places of spiritual power in India. This tour is led by experienced leaders, Nayaswamis Krishna Das and Mantradevi of Ananda Village in California, and Tyagis Keshava and Daya of Ananda Sangha, India. They love taking you to all of these special places. As tour guides they have much combined experience in leading trips. As long-time disciples and teachers, they can help to interpret some of what you encounter. They are all very warm and approachable, knowledgeable and dedicated to giving you the best possible trip. You will feel well taken of, loved, and befriended.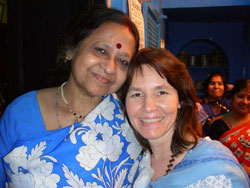 Over the years they have gotten to know family, friends, and disciples of many of the saints whose sites you will visit. Many of them love to tell stories and share their experiences and insights.
Ananda Travels' goal is to help you have a physically comfortable and deeply soul-satisfying trip.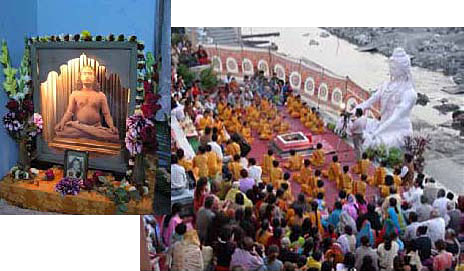 Testimonials:
A belated 'Thank you' to you and Mantradevi for the great leadership you provided during our pilgrimage this fall. Meditations in the morning, chanting and selected readings as we approached each destination helped us to prepare for deeply spiritual experiences. And you kept us all together, which was no small feat! When I looked at your photos, I was struck by how you both glowed with divine love. I can't thank you enough! —Barbara and Don
The holiness of sacred India touched my heart and soul in a way that nothing has ever done before. I was moved and changed deeply.
— P.L. California
Thank you for a wonderful trip of a lifetime. I am forever changed and so much more grounded after my return. My morning spiritual practice has been consistent and my meditations are coming along. All in good time.
—D.A., Los Angeles, Ca
I am very grateful to have been able to "Walk with The Masters" with you. My experience was often deeply moving and most always filled with inner joy! There were so many extraordinary "steps" we took along our path that my journal is bulging (happily)!
And the moments continue now that I am home & settling in....the sound of the waves yesterday took me right back to India. The quiet, calm, inner peace I feel seems hard to believe when one thinks of the "outer" madness of India. Needless to say I keep my passport ready and will go back soon....but never without you Angel Guides from Ananda! Namaste! Aummmm!
—J.B., Palo Alto, CA
For info & itinerary contact Krishnadas or call 530-478-7518, x7091
For more information, please send us a Question or Comment:

Receive monthly news and inspiration.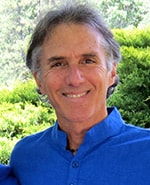 Spiritual Travel Host, Meditation Teacher, Director of Guest Services, Ananda Minister and Counselor
What is a nayaswami?
An exceptionally knowledgeable and gifted meditation teacher, Nayaswami Krishnadas shares his passion for meditation with dynamic enthusiasm. Over the last three decades he has taught thousands of people, from all over the world, how to meditate.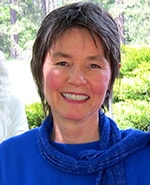 Ananda Minister and Counselor, Raja and Hatha Yoga Teacher, Spiritual Travel Host
What is a nayaswami?
Nayaswami Mantradevi teaches with insight, clarity and joy, gained from over 35 years of meditating and sharing yoga philosophy. Her concern for others is one of her key qualities, and she has the innate ability to communicate and apply spiritual principles to real life situations. Her classes are creative and experiential, with humor and discussions keeping them lively and interactive.
Accommodations, Meals, Transportation
All hotels, restaurants, and menus have been personally inspected by Ananda. We'll stay in clean, Western-style, comfortable but not luxurious 2- or 3-star hotel rooms with attached bath. Buffet meals include a variety of Indian, Western, and Asian dishes.
We'll fly Delhi-Puri, Puri-Kolkata, and Kolkata-Delhi. We'll take air-conditioned trains Delhi-Rishikesh and Delhi-Kathgodam. Other transportation will be by bus.
Weather
October and November are the perfect time to be in India. It should be warm and dry without being overly hot.
Costs
We don't yet know what private rooms will cost, so that is an estimate only. We do not expect it to be higher, but cannot guarantee that.
| | |
| --- | --- |
| Length of stay | 21 nights |
| Double occupancy | $5045 per person |
| Single occupancy: | Add $995 |
Special note: If you book a shared room and you or your roommate decides to change to private accommodations, BOTH of you will need to pay the single occupancy rate (provided another room is available, of course). Also, if you request a shared accommodation but there is no one to share with you, you'll need to pay the single occupancy rate.
Payment
In order to reserve your space, please submit a down payment of $1000 with your reservation form.
Earlybird discounts: We need to receive your full payment by Apr 1, 2017, in order to get the Earlybird discount.
Cancellation Policy
If you cancel by August 15, 2017, your payment will be refunded, less a $300 cancellation fee. If you cancel after August 15, 2017, any refunds will be subject to the terms and conditions of any travel/hotel fees, our tour company and other providers in India, plus any other charges incurred on your behalf by Ananda Sangha. .
Price Includes:
All ground and air transportation in India, within the itinerary
Accommodations in each destination
Two meals per day for 11 days, usually breakfast and dinner and 3 meals for 7 days
All required tips and taxes
Professional local guides, and tour leaders from Ananda
Price does not include:
Flight to and from India; passport and visa fees; travel insurance; excess baggage charges; most lunches; items of a personal nature - laundry, snacks, beverages other than those included with meals, room service, any transportation outside of group activities, hotel telephone or internet, donations at shrines and to Yogananda's family, medical care should you need it.
Passport
You will need a passport that is valid until March 2018. If yours expires before March 2018, you must renew it before you request your visa. If you need a new passport, or need to renew one, do so immediately by going to travel.state.gov. You will find instructions there.
Visa
The easiest way to obtain a visa is to go to a near by Indian Embassy, or go to the web-site: www.cgisf.org
Please check with Krishnadas before filling out your visa application for the special information you will need to include on your application:
Krishnadas will be available to assist you in getting the right application form (depends where you live) filling it out, and sending it.
Flights
You can fly on your own to Delhi. The airport designation is DEL. We will arrange your pick-up from the airport to the resort.
We will be happy to help book your flights and we can travel together to India. At this time, the cost appears likely to be about $1450 round trip. (We will give you an exact figure at the time you wish to book.)
Connecting Flights
If you will be coming from cities other than San Francisco, please arrive early enough to ensure that you will not miss the international flight to Delhi!
If you are coming from California
Please arrive at San Francisco by 10pm, the day of the travel.
If you are coming from other states
It is advisable to arrive a day earlier to San Francisco.

Here is a complete schedule of the pilgrimage. The order of any given day may change a bit, but the city destinations and what we'll be doing are described. The length of the pilgrimage is 21 days, 22 nights.
Arrival in Delhi
On Monday, October 23, late evening, most pilgrims will land in New Delhi, the capital of India. A bus and tour guide will meet the group upon arrival and take everyone to the Vinaya hotel, in Delhi. Talk with Krishnadas for more information on getting from the airport, especially if your plane comes in earlier or on another day. The hotel is reserved for you on this night, Monday, October 23, as the first day of activities will be on Tuesday, October 24.
Tuesday, October 24, Day 1
Our first day will have a sensibly late start. A 2-minute walk from our hotel is the Ananda Delhi center where we'll have an 11:00 am opening gathering and orientation, followed by lunch. You can change dollars for rupees at this time, also. We'll be joined by Keshava and Daya Taylor, who direct the Ananda center, have been organizing the Indian logistics of our trip, and will travel with us, helping Krishnadas and Mantradevi lead the pilgrimage.
In the afternoon you have the option to visit Dilli Haat, an open-air textile market and food bazaar. Vendors gather from all over India with their indigenous wares, unique from their local region. There is a huge variety of merchandise at very good prices.
We'll return to Ananda Delhi Ashram for dinner. The ashram will serve as a home base for our pilgrimage. We'll return two more times during the trip, to "rest and re-group." To reach our destinations within India we'll take several one to two hour flights, some trains (first-class when available), and chartered buses. Leaving some of our belongings in Delhi will allow us to travel around India with smaller bags. The Ananda Center in Delhi will also serve as a peaceful place for meditation, rest, and home-cooked meals.
Babaji's Cave
One of the highlights of this trip is the beautiful quiet hillside, in the foothills of the Himalayas at an elevation of 6600 feet, where Lahiri Mahasaya is said to have first met Mahavatar Babaji in 1861. Located here is the cave where Lahiri spent a previous incarnation. Babaji gave Lahiri Kriya Yoga initiation on this spot, thus launching its spread around the world. We'll spend most of a day together on this hillside, taking turns meditating in the cave itself.
This quiet area of the Kumaon region has a strong spiritual vibration and also offers saints, ashrams, and stunning Himalayan views.
Wednesday, October 25, Day 2
We'll take an early morning, 5 ½ hour train trip on the first leg toward Babaji's cave in the Himalayan foothills. Arriving in the town of Kathgodam, we'll then board buses for a ride through the hills. Along the way we'll stop to meditate at the spiritually powerful ashram of Neem Karoli Baba, a renowned Kumaon Hills' saint, at Kainchi.
We'll arrive late afternoon at Woodsvilla Resort, our hotel near Ranikhet, where spectacular views of the Himalayas await us (clouds permitting!).
Thursday, October 26, Day 3
Today will be a retreat day at our lovely hotel overlooking the Himalayan mountain ranges and Villages below. This will be an opportunity for longer meditations, silent introspection and relaxation time, breathing the rarified air and absorbing the wonderful vibration of these magnificent mountains.
Friday, October 27, Day 4
After an early breakfast we'll take a two-hour bus ride through the extraordinarily picturesque hills to a spot not too far from Babaji's cave. We'll trek up the trail to meditate in the cave and on the surrounding hillside. Later in the afternoon we'll walk back down and return to Ranikhet in time for dinner. (Watch a slideshow of the Babaji's cave pilgrimage.)
Saturday, October 28, Day 5
We'll drive back through the beautiful mountain foothills, and take an afternoon train arriving in Delhi late in the evening.
Sunday, October 29, Day 6
This will be a free day in Delhi, with an optional outing to Akshardham, an immense Hindu Temple, intricately carved of sandstone and marble. Lunch and dinner will be at Ananda Center.
Puri
Monday, October 30, Day 7
We take a 7 am flight from Delhi to Bhubaneswar, then take a bus to Puri, a small city halfway down India's east coast. For us, the highlight of Puri is Swami Sri Yukteswar's seaside hermitage and the place of his burial. (Sri Yukteswar was the guru of Paramhansa Yogananda. His life is richly chronicled in Yogananda's life story, Autobiography of a Yogi.)
We'll meditate each day at the powerful Samadhi Mandir over the spot where Sri Yukteswar's body is buried in the sands. We'll also see the enormous Jagannath temple, and enjoy chanting and meditation on the beach. We'll spend three nights at Coco Palms Beach Resort on the Bay of Bengal, with a sea view and within walking distance, along the beach, of Sri Yukteswar's hermitage. The resort offers a sandy beach, a pool, and private terraces.
Tuesday & Wednesday, October 31 & November 1, Days 8 & 9
We'll offer Energization Exercises and meditation on the beach in the morning, and yoga and kirtan at sunset. Recounting stories from Autobiography of a Yogi, many of which took place in Puri, we'll feel the blessings of Sri Yukteswar and Paramhansa Yogananda become tangibly real. We'll also visit and meditate in the ashram of Bupendra Nath Sanyal Mahasaya, disciple of Lahiri Mahasaya, and Advaita Brahma Ashram of Totapuri Baba. Totapuri initiated Sri Ramakrishna in the higher technique of Nirvikalpa Samadhi.
Our time in Puri will be fulfilling and inspiring, but not demanding. Our seaside location is very relaxing and recharging.
Kolkata, Serampore and Dakshineswar
Immeasurable blessings emanate from the places where Paramhansa Yogananda and Sri Yukteswar lived and meditated. That power is as alive today as always. Ananda has been leading pilgrimages to Kolkata, our most popular destination, for 30 years, and we share a deep friendship with Yogananda's family and other custodians of these shrines.
Thursday, November 2, Day 10
A morning flight brings us north to the teeming city of Kolkata (Calcutta). We'll bus from the airport to our hotel, have lunch, and then drive to Yogananda's boyhood home at 4 Garpar Road. It's now the residence of his brother's grandson, Somnath Ghosh. Somnath, his wife, and two daughters lovingly maintain the home and share it as a shrine. They will welcome us as one of the family, sharing stories, family relics, and photos. Many rare and original photos and paintings exist here that will inspire and delight you.
We'll visit, chant, and meditate in several rooms of this sacred house: the living room, where Sri Yukteswar would visit Yogananda's father; the small attic meditation room where, Yogananda said, "I found God," and where he communed with Divine Mother; and Yogananda's bedroom where Babaji came to give his blessing to Yogananda, who was chosen to take the timeless teachings of yoga to the West.
Watch a slideshow of past Ananda pilgrimages in Kolkata.
Read Asha Praver's letters from Kolkata pilgrimage.
Friday, November 3, Day 11
After breakfast we'll bus to the home of Tulsi Bose, Yogananda's boyhood friend. Here, in this tiny out-of-the-way home filled with high vibrations, have gathered spiritual giants, who came for fellowship, chanting, and God-communion. Yogananda stayed here during his return visit to India in 1935-36, cared for by Tulsi's wife, Martan Ma. It's now the residence of Tulsi's daughter, Hassi. We'll meditate in this home, a shrine in its own right, with many relics and treasures, including the beds of Sri Yukteswar and Yogananda. Hassi will greet us, be with us, and serve us lunch. (Hassi's late husband, Devi Mukherjee, told many family stories in his book, Shaped by Saints.)
Then we'll drive to the Kali Temple in Dakshineswar, just outside Kolkata on the banks of the Ganges delta. Yogananda visited this temple with his sister Roma and her husband. Here he entered cosmic consciousness, and the image of Kali came alive before him, granting his request that Roma's husband be spiritually awakened. We'll chant and meditate at this powerful spot.
Sri Ramakrishna, one of the best-known masters of modern India, lived at this temple many years along with Sarada Devi, his spiritual companion. We'll be able to meditate in his room, where he and his disciples spent many hours a day. In early evening we'll drive back to the hotel.
Saturday, November 4, Day 12
We'll travel by bus to Serampore, the town where Sri Yukteswar had his hermitage, and where Yogananda spent 10 years in training with his guru. We'll meditate in a shrine built on the site of the hermitage. We'll then walk down Rai Ghat Lane to sing chants under the banyan tree where Babaji greeted Sri Yukteswar after he completed writing The Holy Science.
We'll also visit and have lunch with family members of Yogananda's older brother, Ananta, Durlov is Ananta's grandson and lives with his wife and sister in Serampore. Durlove's mother, Meera, was married to Ananta's son Ramakrishna, and she became a close friend of Ananda. (read her memoirs here). We'll arrive back to our hotel early evening.
Sunday, November 5, Day 13
We'll return to Yogananda's boyhood home. Along with more deep vibrations and the blessings there, we'll enjoy lunch with Yogananda's family, lovingly given to us and served in the dining room where Paramhansa Yogananda had many meals with his family.
After lunch we'll walk to the ashram of Bhaduri Mahasaya, the "levitating saint" that Sri Yogananda told about in his Autobiography and meditate there.
Taj Mahal in Agra
Monday, November 6, Day 14
This will be a travel day, flying into the Delhi Airport, continuing by bus to the ancient city of Agra, arriving at our hotel in time for dinner.
Tuesday, Nov 7, Day 15
Today we'll visit the Taj Mahal in Agra and have lunch in the elegant Trident Hotel before we depart back to Delhi where dinner will await us.
Rishikesh
The scenic setting of Rishikesh, along the beautiful river Ganges, is rich in variety and has a lively vibration. In the foothills of the Himalayas, it's the land of the rishis. Many saints have visited and founded ashrams in Rishikesh. We'll visit holy spots, special people and have time to browse the many shops and walk the streets of this ancient holy city.
Wednesday, Nov 8, Day 16
In the morning we'll take a train to Haridwar and then a short bus ride to Rishikesh. Dinner will be at our hotel.
Two highlights in Haridwar will be Keshabananda's ashram where some of Lahiri Mahasaya's ashes are encased in a Mandir in an outdoor temple where we can meditate.
In Haridwar also, is the ashram and tomb of Anandamoyee Ma, to whom Paramhansa Yogananda dedicated a chapter in his autobiography. We'll visit the ashram and meditate at the bathing ghat on the Ganges river across from her ashram.
Thursday, Nov 9, Day 17 to Sunday, Nov 12, Day 20
The next four days will be spent visiting the wonderful sites of Rishikesh. Mornings will start with Energization and Meditation on the banks of the Ganges, and breakfast at our hotel. Evening kirtans, at sunset on the beach are very special and uplifting.
Walking along the Ganges in the morning is a blissful and unforgettable experience. One of these days we'll walk, energize and have our morning sadhana at Swami Sivananda's ashram, in his Samadhi Mandir, and spend some time in the Bhajan Hall, where monks chant the Maha Mantra 24 hours a day, 365 days of the year. We'll take the beautiful walk back to have breakfast at our hotel.
Vashishta's Cave, 45 minutes up river from Rishikesh, is on a quiet stretch along the Ganges. Here is Swami Purushottamananda's ashram, where there is a big cave that has powerfully deep vibrations and is said to have been home to Sage Vashishta. At the river's edge we'll have a purification ceremony, symbolically offering our limitations and obstacles into the water's flow. We'll return to Rishikesh in the afternoon and have dinner at our hotel.
During our stay there will be free time for shopping or walking along the Ganges; we will have a special satsang with the saintly Vanamali Devi; we'll take a boat ride and attend the sunset arati ceremony at Parmath Temple on the Ganges: we'll also visit the inspiring Mother Miracle school, a non-profit school, training children and families living in an impoverished community in Rishikesh.
On our last day in Rishikesh an evening train will take us back to Delhi, to arrive late in the evening.
Monday, Nov 13, Day 21
Our last day is a free day in Delhi. Time to get everything repacked and refresh yourself for the trip back home. Since many pilgrims have late night flights, your hotel room is reserved for this night. This also gives you the option of leaving on November 14th, but with morning check out.
You'll then return home feeling the deep blessings of pilgrimage for a long time afterwards. Go with Love!
RELATED PROGRAMS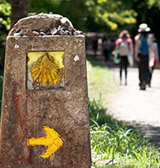 Sep 14–Oct 4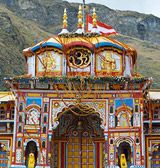 Sep 29–Oct 20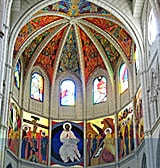 Pilgrimage to Spain & Portugal: Sacred Sites in Southern Europe
May 23–Jun 13, 2020